Croatia national park guide
Croatia's national parks of Plitvice and Krka attract millions of visitors each year, drawn in by the unspoiled landscapes and diverse wildlife. Here we pick out five of the best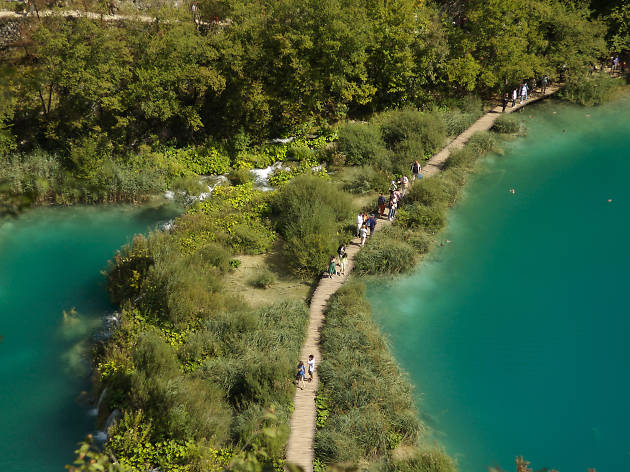 As well as beaches, festivals and seafood, Croatia offers some of Europe's most diverse wildlife. In total, more than 400 areas of the country are protected, including ten nature parks and eight National Parks. Read on for our guide to the five best.
Do you agree with this top 5? Think we've missed anything out? Facebook or tweet us your thoughts.
© Carly Calhoun/Time Out
About a million visitors a year make it to what is arguably Croatia's greatest natural attraction, the Plitvice Lakes. And yet there is so much to see that the occasional crowds crossing on the many bridges and walkways hardly matter. And this natural wonder is just off the main highway between Split and Zagreb, all too close to Zadar, a regular destination for scores of tourist buses through the year.
Set in the Lika region, known for its war-time hardships and fantastic lamb, Plitvice is home to 1,146 species of plants, 140 types of birds and 50 mammals. Lynx, wild cats, brown bears and deer number among the mammals, as well as skunks, martens, weasels and wolves.
Most of all, though, people flock here for the series of 16 continually changing, cascading, crystal-clear lakes. The dimensions of these lakes have been created from centuries of calcium carbonate deposits, which find home in and on algae, moss and bacteria. This deposit-and-plant combination creates a travertine barrier, a natural dam, which is growing by a couple of centimetres a year. This process, a singular occurrence and the reason why Plitvice is included on UNESCO's World Heritage List, means the bodies of water and the waterfalls linking them are always evolving.
Atop these morphing conditions, boardwalks – tasteful enough to appear natural – follow the contours of and criss-cross over the fantastically turquoise water. These walkways, set amid the surrounding beech, spruce and fir forests, give you a fish-eye view of the lakes and falls.
Regular trams travel the length of the most visited part of the park, a two-sq km fraction of its near 300 sq km, from the 12 upper lakes to the four lower ones, and the Veliki slap, or big waterfall. If you start early, you can easily see the area in a day. There are also electric-powered boats to transport visitors across the larger lakes above. Although the water looks divine, its greenish-blue colours changing according to the sunlight, swimming is strictly forbidden.
Plitvice has been a tourist attraction since the 19th century, with its first hotel set up in 1896. By then a conservation committee had been established, forerunner of the national park authorities of today. Tito had the area nationalised after the war. Plitvice made the UNESCO World Heritage list in 1979.
Almost incredibly, it was only a decade later that this area of outstanding natural beauty became the site of the first killing of the Yugoslav war, in 1991; the park did not come into Croatian control until 1995. For locals, Plitvice has added significance.
A handful of tourist-friendly eateries dot the park. The best known is Licka Kuca (Entrance 1, 053 751 024), open from April to October, a sprawling terrace offering the regional speciality of Licka juha sausage stew. Three hotels stand near Entrance 2, including the three-star Jezero (Velika poljana, 053 751 015), with doubles going for around 100 euros. Cheaper still is the nearby Plitvice (same phone number), renovated not long after the war.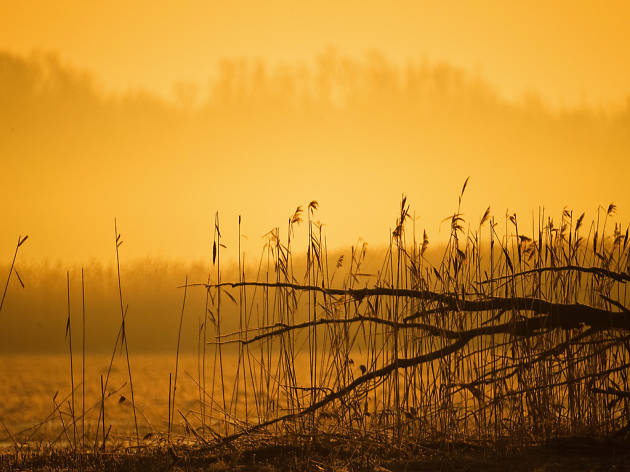 © Marin Topić
Near the confluence of the Drava and the Danube rivers, a natural maze of interconnected lakes, reeds, woodland and pasture, Kopa±ki rit nature reserve is one of the biggest areas of wetland in Europe. Visitors arriving by panoramic boat, horse or shank's pony can point their video cameras at nearly 300 varieties of nesting birds, including white-tailed eagles, black storks and green woodpeckers. The lakes also support a large population of carp, pike, catfish and perch – in certain areas of the 23,000-hectare site, angling and hunting are permitted – alongside an abundance of frogs, snails and insects, preyed on by those higher up the food chain, notably herons and cormorants.
The park is at its most spectacular during the spring and autumn floods, when a vast area remains under water for weeks at a time, creating a unique habitat. Woodland mammals include wild boar, pine martens and otters.
Kopački rit is a short drive from the Slavonian capital of Osijek ten kilometres away. Without your own transport, though, it's a trek.
The Visitors' Centre is outside the village of Kopa±evo, a 4km walk from the nearest bus stop in Bilje. From the entrance, there's a pleasant two-kilometre walk to the first dyke, from which you can see a partially sunken forest. This is also the start of the boat trip on Eagle One around the park that leaves from a well-signposted jetty (enquire at the entrance for departure times). Other attractions accessible by bike, jeep tour or car include the Tikve∫ Hunting Lodge. This was built for the Archduke Franz Ferdinand, later taken over by Serbian royalty, before becoming the favourite hunting resort of Tito.
Back in Kopačevo, the Zeleni žabac (Ribarska 3, 031 752 212) restaurant has a view of the park. In the park itself, Kormoran (031 753 099) is the best known of the eateries. Perch, carp and fiš paprikaš are the local specialities.
Nearby lodging options are limited; there are a few bed & breakfasts in peasant houses. Vas (Ribarska 82, 031 752 179) in Kopačevo has rooms in a scenic courtyard. Owner Tibor is happy to take you on a boat tour of the nature reserve, right by the bedroom window, and to lay on food.
Niagara is the nearest comparison you could possibly make. The 800-metre-long waterfall of Skradinski buk, the picture-postcard main draw of the Krka National Park, leaves onlookers in awe with its 17-step series of cascades. Holidaymakers dip in its pure pools beneath waters crashing down from 45 metres over their heads. But this key attraction, surrounded by boardwalks for easy access, is only one of many in this most versatile and surprising of Croatia's eight National Parks.
By the beautiful town of Skradin, near Šibenik in central Dalmatia, the Krka National Park is named after the 75km-long Krka river it practically encompasses. Krka, like Plitvice, is awash in the marvel and miracle of natural travertine. Where the two differ is the degree of interaction with nature. Where Plitvice has sheer wow power, Krka offers hands-on adventure. To find out, take the riverboat four-hour tour to Roški Slap waterfall. Backdropped by three towns on the riverbanks, 222 bird species, 19 types of reptiles, 18 species of bats and 860 plant types, and rushing tributaries leading to the Krka estuary and the Adriatic, give Krka its flavour.
On the way you can visit the park's strange treasure: Visovac. This man-made isle is home to a Franciscan monastery where monks still reside and where trainees spend a year enjoying occasional games of basketball and greeting tourists with enthusiastic waves.
As you arrive back on land, majestic swans swimming past local fishermen in threadbare sweaters and rubber waders, you realise that Krka isn't just one thing but many at once. It's a river, a gorge, a monastery, a collection of villages and a place from which people still feed their families. Visitors can also drop in on the stone houses of an ethno-village, its mills, traditional and working weaving looms, and the not-so-traditional souvenir shop.
Beside the recently opened Visitor Centre at the main entrance in Skradin now stands the three-star Hotel Vrata Krke, with 50 rooms and its own restaurant and bar. Trips to Krka can be arranged at reception.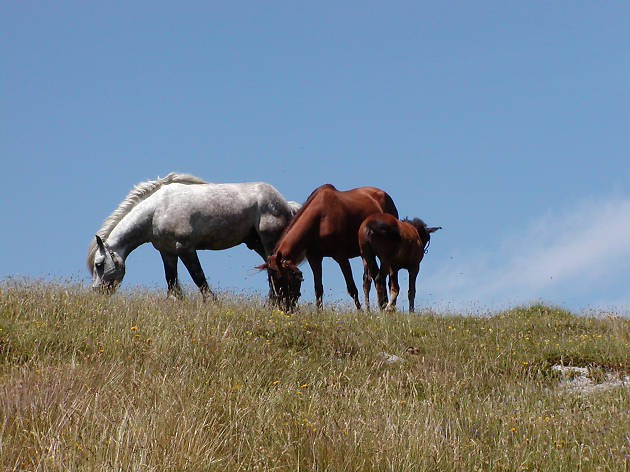 Velebit National park
In many ways, the lesser known National Park of Velebit provides the ideal Croatian outdoor experience. You can be atop mountains you've just hiked enjoying fantastic views of the peninsular and be swimming in the Adriatic down below within the hour.
An easy drive from Rijeka or Zadar, Velebit is much wilder and more remote than nearby Plitvice, covering 110 sq km of the mountain range of the same name. In the foothills nestle the remote village of Kuterevo and its bear sanctuary (Pod crikvom 103, www.kuterevo-medvjedi.hr), designed for brown bears separated from their mothers who would not cope in the wild. Some 70,000 visitors a year come to coo at the orphan cubs – there is a bear trail too.
Velebit is known for its staggering beauty and its unpredictable weather, sudden storms and freezing winds. Prepare yourself and your efforts will be rewarded.
From the North Velebit Information Centre at Krasno, a mountain village halfway between the motorway and the coast, the park entrance is a 45-minute slow climb along a bone-shaking and nerve-wracking thoroughfare through the trees. When you emerge onto the plateau, the sheer scale and beauty of your surroundings is surreal. From here, hiking options include the three peaks (each 1,676 metres high) or a trek to the botanical gardens and its 2,000 plant species.

Afterwards reward yourself with a hot drink or a warming schnapps at the Dom Zavizan lodge. Check for availability of dorm accommodation. For the more adventurous, the Premužić trail is well trodden but at 57km can take up to a week to complete. Sleeping huts line the route but there is no food available.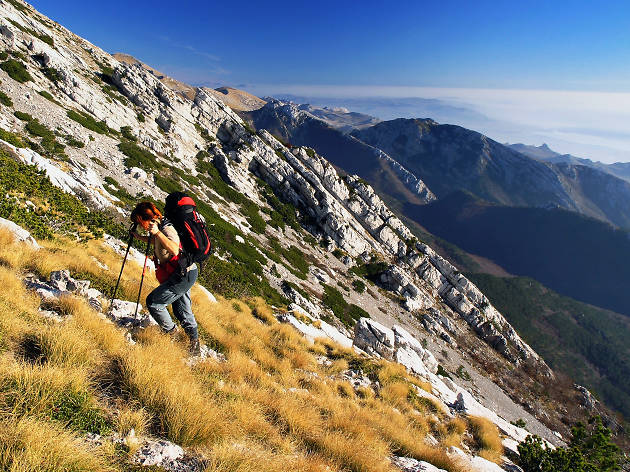 Aleksandar Gospic
On the southern slopes of the Velebit range, the stark karst river canyon of Paklenica attracts climbers of all ages and abilities. Paklenica is easily accessed from the Zagreb-Split motorway. The quality of the minor roads can be a hit and miss, but that can be an adventure in itself.
This part of the Croatian interior is lacking in mass tourism – and infrastructure. You might have trouble finding last-minute accommodation or hiring a bike, but plan it right and you'll enjoy stunning scenery without the hordes.
Smaller than its counterparts Velebit and Plitvice further north, Paklenica National Park is famous for the canyons of Velika and Mala Paklenica that reach from the sea right up to the mountain peaks. If Velebit is for committed hikers and hardy mountaineers, then Paklenica, with its warmer climate and weird rock formations, attracts casual walkers and amateur rock climbers. Easy, hour-long strolls take you from the sea's edge to a mountain hut. Located near Zadar, Paklenica is perfect for those who don't want to exert themselves or stray too far from the sun-lounger.
The wildlife you will encounter might not be as spectacular as around Plitvice but you could still see a golden eagle, a peregrine falcon or a chamois. Reptiles include the rare, poisonous Orsini's viper. Some 230 species of bird have been recorded, many nesting in the rocks and cliffs around the canyon. Hikers can look forward to some 200km of trails, climbers nearly 370 routes from easy to challenging. Check the website for details of the Mammut Big Wall Speed Climbing competition, held every year since 2000. Casual visitors can stroll around the half-dozen watermills, built in the early 1800s, one restored to full working order.
The park has a camping site (open mid March-mid November) by the main office building. Zadar is a short drive away for those who would prefer to stay in town.
More to explore