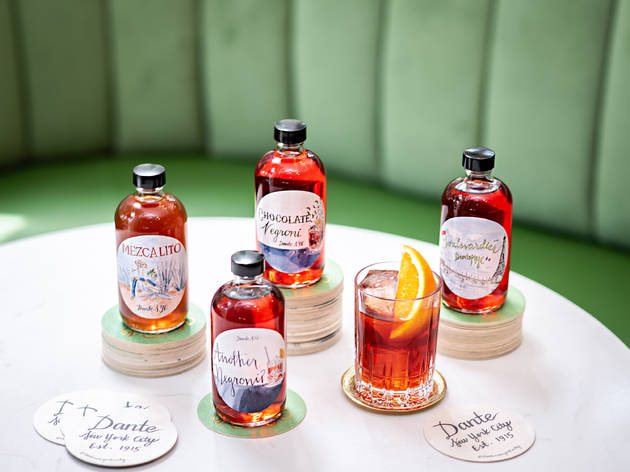 The case for keeping takeout cocktails around long after lockdown
They're a lifeline for bars and a huge perk for us. This one's a no-brainer.
Over the past 12 months, we've watched the hospitality industry relentlessly reinvent itself in order to survive. It didn't take long to realize that our cities' bars were in a particularly precarious situation – many didn't have food to package in to-go containers or elaborate patio setups to tide them over in the summer months. But then came the takeout cocktail.
Bars around the world – from London to New York to Hong Kong – began bottling up their signature sippers to go. It's been a win all around: Bar owners are able to continue doing what they love and paying the bills, while regulars can enjoy a taste of their favorite watering hole at home.
As the world begins to reopen and vaccines become more readily available, what becomes of the takeout cocktail? Some of the world's most influential bartenders believe that the trend has serious staying power – especially as we transition into a new normal in the coming months.
"People's habits have changed over the past year since the pandemic started, and I believe there will still be a strong demand for carryout cocktails," says Linden Pride, the co-owner of acclaimed bars Dante and Dante West Village in New York. "It's also an important revenue stream, which is crucial as we all begin to recover from the cost of the pandemic."
Dante pivoted to delivery and takeout early on in the pandemic, bottling up its world-famous Negronis, Martinis and Old Fashioneds so that New Yorkers could drink well in quarantine. A year later, despite reopening indoor service, the to-go program is still going strong.
But in many U.S. cities, it's not so much an issue of wanting to keep to-go cocktails around as it is being allowed to do so. Last year, when carryout cocktails were legalized in states like New York and Chicago, the laws were drafted up as temporary allowances to help bars weather the ongoing pandemic. Now, as those measures are set to expire, groups in New York, California and beyond are pushing for extensions or permanent legislation.
There's no reason why craft cocktails can't be enjoyed outside of the four walls of our favorite bars.
Julia Momose, co-owner of lauded Japanese bar Kumiko in Chicago, was at the forefront of those preliminary efforts last year. As part of grassroots group Cocktails For Hope, she helped temporarily legalize to-go drinks in the state of Illinois. That ruling will expire in May, but Momose says there's already a bill in the works that includes extending the allowance indefinitely or for at least five more years.
"Many of us will not be able to return to the revenue stream of a full bar straight away, so this element will play the vital role as the piece of the puzzle which must be put together to stay in business," Momose says.
Beyond the financial buffer takeout cocktails could continue to provide, there's also the fact that many customers have come to expect this kind of service over the past 12 months. It's not hard to imagine how these takeout programs could evolve over time.
At Kumiko, Momose and her team bottle everything from classic highballs and yuzu gimlets to more complex sippers, like the Triptych, with sake, shochu and purple sweet potato vinegar.
"Can you imagine visiting an incredible bar and being able to purchase a few cocktails to take home to share with friends, neighbors [and] family at the end of your evening?" Momose says. "This practice could raise our check average significantly while enhancing and elongating the guest experience."
Mia Johansson, the co-owner of Swift in London, says she believes that the cocktail market is in the beginning stages of catching up with the beer and wine industries, which are easily accessible at corner stores and supermarkets around the world. Why shouldn't bottled cocktails enjoy the same placement?
Back in November, Swift joined forces with top London bars Nightjar and Oriole to launch Speakeasy at Home, a boozy delivery service that shuttles elderflower gimlets and spicy margaritas to thirsty Londoners on demand. Johansson says that the program has acted as a "vessel" for connecting people, even when they can't be together.
"Bars have opened up the structure of how to enjoy hospitality – it doesn't need to feel rigid and 'best clothes on for a Friday night of drinks,'" Johansson says. "Cocktails are fun and should be treated as such whenever, however – responsibly of course."
Business has changed dramatically during the pandemic for these three bar owners, and even though there's an end in sight, the road to recovery will be difficult. Maybe it's time we come around to the idea of making to-go drinks a permanent fixture in the bar industry around the world.
"There's no reason why craft cocktails can't be enjoyed outside of the four walls of our favorite bars, especially after the changes in habits and rituals for so many people during the last 12 months of the pandemic," Pride says.
We'll be first in line as our favorite bars reopen, but we're certainly not opposed to being able to take a few drinks to go on our way out the door.
More post-lockdown quandaries
Getting the vaccine feels like it opens up a world of possibilities – and in many ways, it does. One of the first things you might consider doing after getting your shot is dining at a restaurant with a few friends to celebrate the occasion. But is it safe?