Heads up! We're working hard to be accurate – but these are unusual times, so please always check before heading out.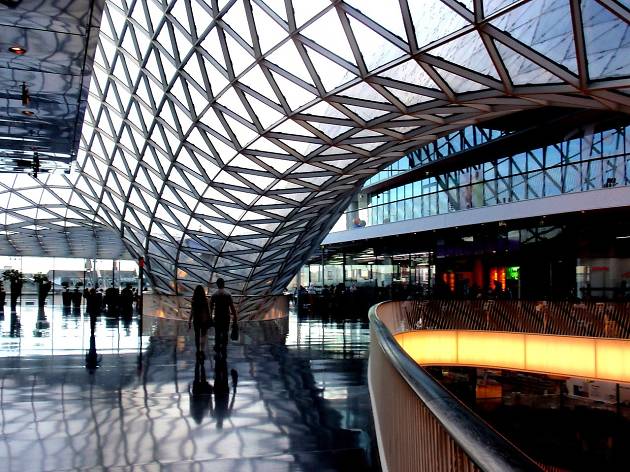 The 10 most beautiful buildings in Frankfurt
Take in the grandeur of Frankfurt's most stunning buildings—a mix of obscure modern designs and historic reconstructions
There is only one place in the world where half-timbered buildings seeped in old world charm are an eight-minute walk from Germany's highest tower: Frankfurt. The architecture in Germany's financial capital is as varied as it comes—it's undeniable that two world wars had an impact. However, a careful reconstruction effort combined with rich creativity tapped from a pool of talented architects mean a cityscape as strikingly diverse as its populous—a quarter of which have foreign citizenship. From a greenhouse formed as a cluster of flowers to a contemporary mall that sucks visitors in through a vortex, as well as one of the oldest churches in Germany, here are the ten most beautiful buildings in Frankfurt.
Most beautiful buildings in Frankfurt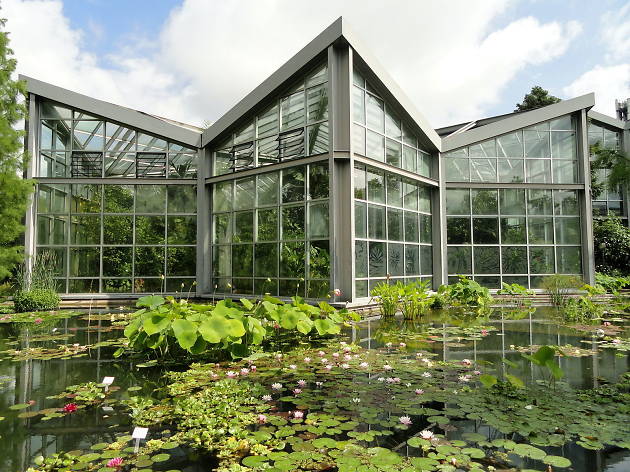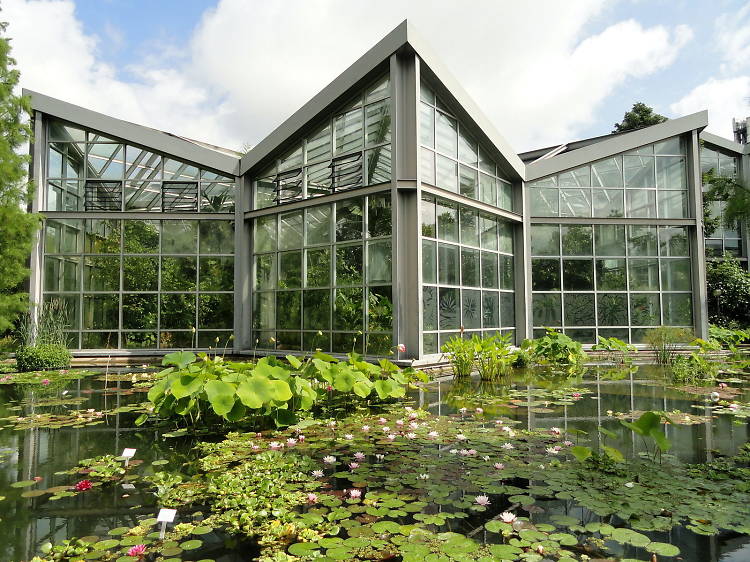 Photograph: Courtesy CC/Wikimedia Commons/Daderot
1. The Tropicarium Greenhouse at PalmenGarten
Picture a cluster of flowers rendered in glass and you'll be visualizing the stunning Tropicarium greenhouse at Frankfurt's 140-year-old botanical garden, PalmenGarten, home to 13,000 subtropical and tropical species. Designed by Gustav Schoser, Tropicarium consists of seven large and six small greenhouse units which reflect the waterlilies in a nearby pond. Ten different tropical climatic-vegetation zones divide plants into groups according to their natural habitats, from arid to humid tropics. While tickets to PalmenGarten are seven euros for adults, you'll want to drop another 1.50 to hop on board the Palmen-Express, an electric train that runs April through October.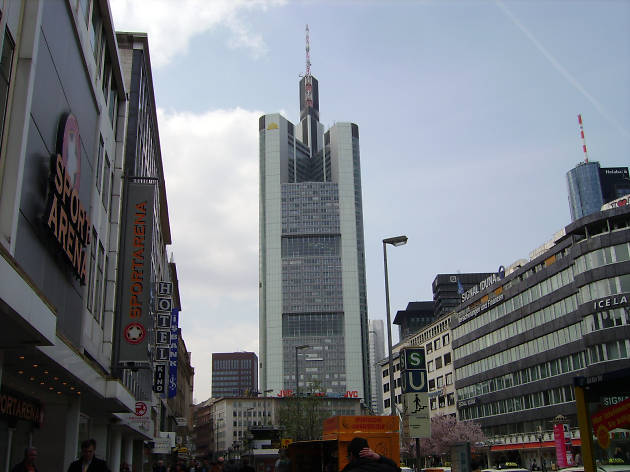 Photograph: Courtesy CC/Flickr/chaouki
Is it beautiful? Well, it's undeniably tall. A feat of engineering constructed of steel rather than the more cost-friendly concrete, the Commerzbank tower, designed by Norman Foster, was completed in 1997 and was once the tallest building in Europe. Now owned by electronics giant Samsung, it remains the tallest building in Frankfurt—and in Germany. A striking contribution to Frankfurt's skyline and the city's financial district, the Commerzbank tower stretches 259 meters high (300 meters with its antenna) and includes a 160-meter-high atrium and nine tiered 'sky gardens' which have garnered the building several awards for sustainability. Unfortunately, public access is limited. Tours, while free of charge, need four-months of preparation, are exclusively on the last Saturday of the month and only available to a minimum of eight and a maximum of 18 people. If that doesn't fit your needs, head to the south side of the River Main before sunset, and watch the sky darken and the tower's lights flicker on—then it truly is beautiful.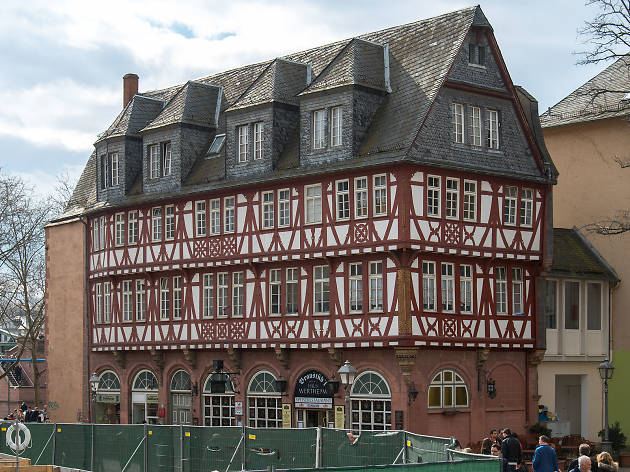 Photograph: Courtesy CC/Wikimedia Commons/Epizentrum
Talk about lucky. Haus Wertheim (Wertheim House) was the only timber-framed building in Frankfurt's old town to survive two wars. Located opposite the Historical Museum, the house was not particularly significant until it became the only one left—and representative of Frankfurt's architectural style. Built during the Renaissance around 1600, the house was restored for the first time in 1926, when the plaster was removed from the half-timber framing. At the cafe and restaurant on the ground floor, where antique porcelain and memorabilia cover walls, try a Frankfurter classic like eggs and parsley potatoes swimming in the traditional Frankfurter grüne Sosse (a creamy herb sauce).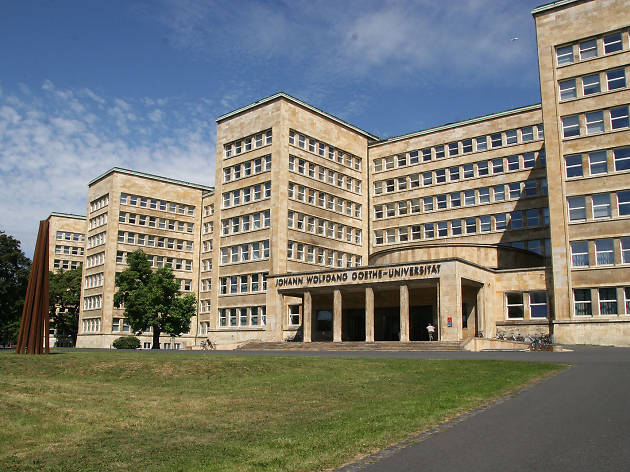 Photograph: Courtesy CC/Wikimedia Commons/Sith Cookie
A sprawling example of modernist architecture designed by Hans Poelzig, the IG Farben Haus in Frankfurt's Westend district was once the largest office building in Europe and the headquarters for Germany's largest chemical company—which supplied the deadly agent used in concentration camp Auschwitz's gas chambers. Built in 1930, it has six square wings connected by a gently curving 250-meter-long corridor. After the war, when it became known as "the Pentagon of Europe," the building was used by Allied forces, and then the U.S. government, which turned it back over to Germany in 1995. The building—still called IG Farben Haus by locals—is now the Westend Campus of the Goethe University Frankfurt. Stop by for a budget-friendly lunch in the University's cafeteria.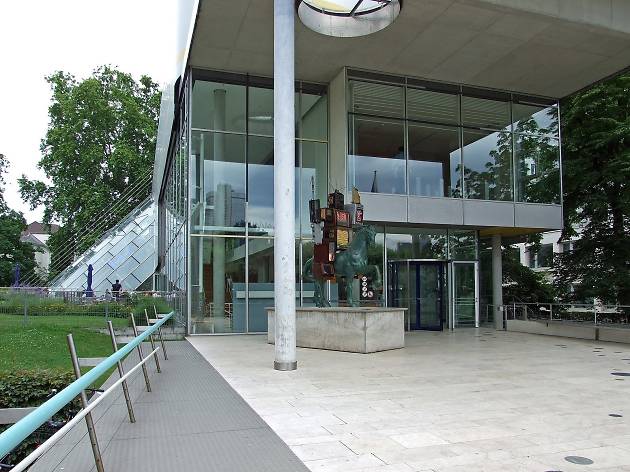 Photograph: Courtesy CC/Wikimedia Commons/I, Dontworry
5. Museum für Kommunikation Frankfurt
Perhaps the most beautiful of the museums along the south bank of the Main River, Frankfurt's Museum of Communication reopened in 1990 with a new building by German architecture firm Behnisch Architekten. To preserve a park and old-growth trees, the architects hid the main exhibition level of the modern glass and aluminum structure—which has won numerous
architecture awards—mostly underground. Transparency and openness reign inside, where visitors find a striking glass atrium and a wealth of information on the history of communication—extending back to the traditional African bush drum. The museum's former home is also worth a look; a historic sandstone mansion, it now houses administration offices and the library. Admission is four euros, age 16 and up.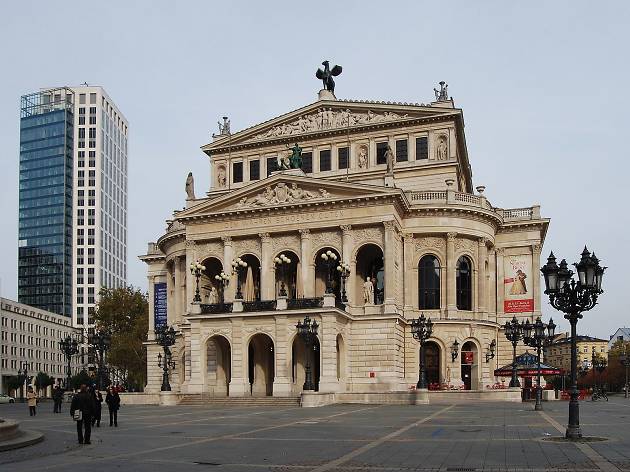 Photograph: Courtesy CC/Wikimedia Commons/Felix König
6. The Alte Oper Frankfurt
In its prime, the original Alte Oper Frankfurt was one of the most significant opera houses in the world, premiering operas by Richard Wagner and with Giacomo Puccini and Richard Strauss among the leading performers. While the 1880 building designed by Berlin architect Richard Lucae skated through World War I with only superficial damage, World War II left it a ruin. It wasn't until August 1981, thanks to a major fundraising effort by the city's citizens and world-famous artists and intellectuals, that the Alte Oper once again opened its doors. The extensive reconstruction included the restoration of many of the original decorations, reliefs, medallions, frescoes, tiles and mosaics. Today, the historic façade—complete with its original Pegasus statue centered on a tiered roof—hides a state-of-the-art concert venue drawing some 475,000 visitors to around 450 cultural events a year.
Photograph: Courtesy CC/Wikimedia Commons/ArcCan
With sections dating to the middle ages, the Römer is a three-story building complex that has served as Frankfurt's main city hall for 600 years. The complex consists of nine houses wrapping six courtyards—namesake Haus Römer is actually the middle building in a set of three facing the cobblestoned Römerberg square (home to the Frankfurt Christmas Market starting late November). At six centuries old, the oldest remaining rooms—the Römerhalle and Schwanenhalle—are located on the ground floor. The building complex is situated in the heart of Frankfurt's scenic 'new' old town on the Northern Main River bank. The old town reconstruction project revitalizes a 75,000-square-foot area that was more than 90 percent destroyed between Cathedral Square and the Römer.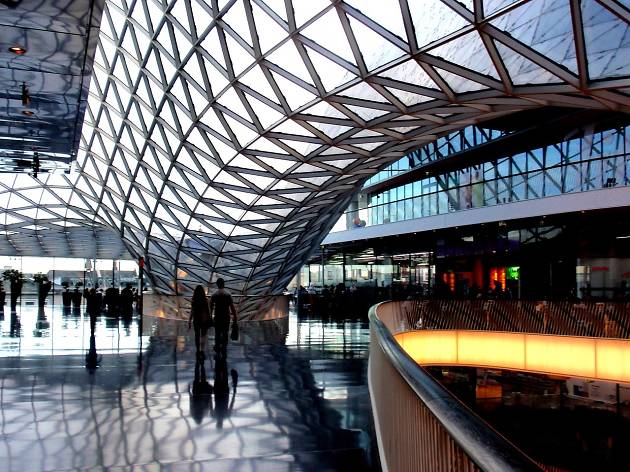 Roman architect Massimiliano Fuksas based the fluid shape of the mostly transparent shell of the MyZeil shopping mall on a river, which flows to form an undulating roof and plunges to draw natural light into all six levels. With a gigantic curved glass-and-steel facade housing 77,000 square meters of retail space, the mall opened in 2009 in the center of Frankfurt. Head
down the Zeil, Frankfurt's main shopping street, and look for a vortex—that marks the entrance. The mall is part of the Palais Quartier development project, which also includes two hi-rise buildings and the reconstructed Palais Thurn und Taxis, a palace from 1793.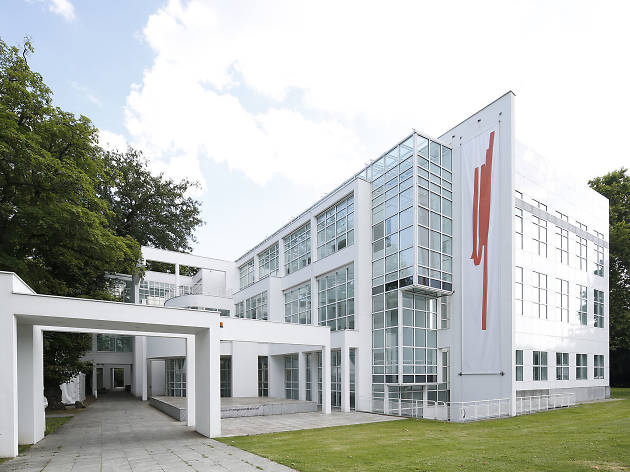 Photograph: Courtesy CC/Wikimedia Commons/Anja Jahn
9. Museum Angewandte Kunst
Star-architect Richard Meier successfully integrated a 19th-century Neo-classicist family villa into a modernist building complex to form the Museum Angewandte Kunst (Museum of Applied Arts). Unveiled in 1985, the three cube-like new buildings—recalling the shape of the villa—are placed in an L-formation. United with the villa, they form a square and enclose a leafy green courtyard. The museum offers changing exhibitions focusing on contemporary art as well as a small permanent collection. Unless you go on the last Saturday of the month when admission is free, the ticket price is a rather hefty 12 euros for adults. However, the museum is included in the 18-euro Museum Embankment Ticket, which gives access to 34 museums over a two-day period.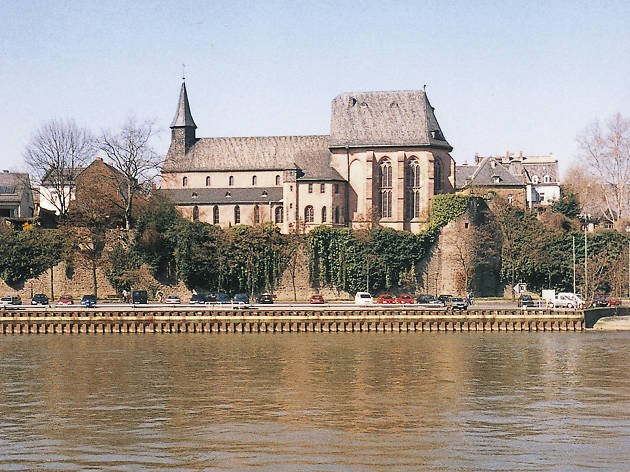 Photograph: Courtesy CC/Wikimedia Commons/kgberger
An extremely rare, nearly complete example of a Medieval church—one of the few surviving today—the Justinuskirche (Saint Justin's Church) in the historic Höchst district is the oldest building in Frankfurt and one of the oldest churches in Germany; it's also an extremely popular wedding venue. Constructed beginning in 830, the church's three-aisle basilica is nearly 1200 years old. The interior gained a choir area and an additional northern aisle around 1443. Guided tours are available, if you don't want to join one of the Catholic services held every week. From May through September, and around Christmas, the church hosts regular organ concerts on an organ dating to 1740. Unless it is summer—when the church gardens are a scenic stroll—dress warmly, as heating is limited.