Heads up! We're working hard to be accurate – but these are unusual times, so please always check before heading out.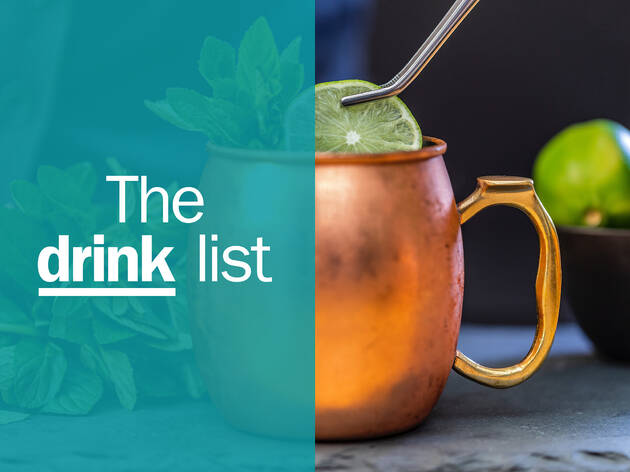 The 10 best Frankfurt bars
A huge expat population has helped revive this city's drinks scene. These are the Frankfurt bars that pack out every night
Breaking news: Frankfurt has shed its boring reputation. Sure, Germany's financial capital has always had plenty of brilliant things to do and attractions that pull in the crowds year after year. Frankfurt's best bars have always been a draw, too. But a steady influx of big business has transformed this city's population and reinvigorated its art and nightlife scenes (hats off to Brexit). At the last count, foreign nationals comprised nearly 30 percent of the city's residents. This international make-up, with its global know-how on what makes a great night out, has made way for a lively and diverse bar scene that's truly hard to beat.
Of course you can find craft beer in every city these days, but how about bottles from Frankfurt, Hawaii and Norway all under one roof? Thanks to studious mixologists, excellent cocktails also abound, many crafted with homegrown infusions. While not quite a singles bar, one bar-cum-club has a small enough dance floor to encourage friendly encounters. And whether it's in a sultry Prohibition-style bar that'd rival Paris's finest speakeasies, the perfect living room-like cocktail lounge, a back-to-basics pub or an underground wine bar where you can bask beside a roaring fireplace, you'll certainly find your tipple here (and some decent bar snacks, too). For tip-top drinks all night long, these are 10 best Frankfurter bars.
Drank somewhere on this list and loved it? Share it with the hashtag #TimeOutDrinkList. You can also find out more about how Time Out makes recommendations and reviews bars.
Best Frankfurt bars
Too lazy to leave the comfort of your seat? No worries – at Honky Dory bar, just dial up your drink. In this cocktail bar crammed with flea market finds from the 1930s and 1940s, seven wooden booths have black vintage rotary phones on speed dial to the bartender, who will deliver signature cocktails such as the Break Point (hibiscus vodka, apricot brandy, agave syrup, lime and pickled chilli) or Penicilin (Dewar's 12 scotch, honey, lemon, ginger and Laphroaig 10 scotch served in a syringe) directly to your table. You can also sit at the bar, which seats up to 22, or on the rooftop for views of the Frankfurt skyline. For a small bite, tapas-style dishes range from salmon and tuna tartare to Flammkuchen (a German pizza with crème fraîche, chopped onions and smoky bacon). While the name Hunky Dory pays homage to David Bowie, you won't find any rock 'n' roll memorabilia among the model sailboats, medicine bottles, badminton rackets and other trinkets inside.
Located in a Baroque building in the buzzing Alt-Sachsenhausen neighbourhood, Bonechina is more high-class house party than bar – you won't find a bar counter in the stylish living room-like blue-tiled interior. Instead, skilled bartenders mingle among guests and offer select wines and classic cocktails. The minds behind it say the experimental concept is 'a meditation on bars'. The bar's centrepiece is a blue porcelain elephant with origami-like folds, perched on a pedestal with house-made tonic water flowing from its mouth. Just 12 can fit in the small space, which doesn't serve food and is only open from Tuesday to Thursday. Speakeasy-style, you'll need to ring the bell to enter. In Summer, nab a seat at the bar's terrace on the narrow, picturesque street outside.
Hidden away in the low-key Bockenheim district, Bockenheimer Weinkontor was once a blacksmith's workshop – you'll need to cross under an arched cast-iron gate and go down some stairs to reach it. This wine bar draws oenophiles in both summer and winter with a cobblestone courtyard either blooming with green foliage or glowing from the log-fire hearth. Space for 150 drinkers comprises booth seating and bar stools topped with colourful pillows; simple wooden planks form the bar, where a selection of 50 German and European bottles from mostly family-run wineries start at just €4.50 a glass. Food-wise, there's Flammkuchen (German pizza) and small plates of cheese, salami and vegetables with houmous.
An Japanese-inspired spin on the speakeasy, Shuka Bar's drinks menu pays particular attention to exclusive sake. A bright mix of new and vintage furnishings fill the compact 48-square-metre space – think beehive-inspired pendant lights and moody red wallpaper swirling with peacocks and grapes. Hidden inside The Trip, Frankfurt's second 25Hours hotel which opened last summer, the bar has just 15 seats – ensuring a cosy night out if you're looking for somewhere date-y.
Don't be put off by the graffiti outside (and in the toilets), because Plank is a excellent place to kick back. Right by the Hauptbahnhof, it's a trendy cafe by day and a bar by night (booze is served from 6pm). And it's named after the pioneering krautrock producer Conny Plank, in case you were wondering. Food here ranges from pastries and cakes to shawarma plates, while the cocktail menu is inventive and heavy on gin and wine mixes.
Fans of gin, look no further than Logenhaus. In a historic villa bursting with vintage furnishings and accessories, this bar boasts some 80 varieties. The smartly dressed staff match the stylish interior – with mostly living room-style sofa and armchair seating – while classic cocktails and the in-house mixologist's monthly changing creations dominate the menu. Try the Last Word, an infusion of gin, chartreuse verte, maraschino and lime. This spicy drink was first concocted during the Prohibition era in the States, but forgotten for decades until Logenhaus introduced it to German palates. The bar's accompanying Night Saloon (a smoking lounge) leads on to a winding terrace area with English tea house-style tables and chairs.
Speciality cocktails and a place to get your groove on? Freshly minted bar-club Tanzbar 7-9 delivers both in a once-seedy, fast-gentrifying part of the city centre. Brass rod chandeliers loom over the bar's small, undefined dance floor, which due to its tiny size encourages conversation with friends old and new. The soundtrack is mainly house, while wall-mounted ceramic gorilla heads chomping on clusters of lights are a quirky reminder that you shouldn't be taking your dancing all that seriously. Rather watch? Settle down in an upholstered sofa and order up Le Gurk #3, which combines cucumber-infused gin with elderberry syrup, fresh lemon juice, ginger beer and cloudy apple juice.
Bohemian meets business at the Chinaski Bar, a restaurant by day and bar by night in the heart of the financial district, founded to toast the underdogs, anti-heroes and others that remain true to themselves (or so they say). While its website proclaims 'no bar, no disco', Chinaski is the perfect blend of both. An extensive drinks list has classics and signature cocktails – When a Man Loves a Woman (champagne, quince gin, lemon, almond and plum bitters) slips down silky smooth. Background beats to get you on the dance floor range from R 'n' B and hip hop to house. The 30-foot-long mural by famed graffiti duo Herakut also draws visitors. On Wednesday nights, a live band plays covers and dance classics, and free sushi comes with every drink ordered. Reservations are possible for four or more, with a minimum spend of 30 euros a head on Thursdays; on Fridays and Saturdays reservations can be made for up to six for a flat rate of 300 euros. While entrance with no reservation is free, you may have to wait in line and there's a strict door policy – dress sharp.
From wheat and honey lagers to pale ales from Hawaii and Norway, the Naïv menu is a beer lover's dream. In this bar and restaurant, you'll find up to 100 craft beers from around the world. One particular highlight is the Norwegian Sour Suzy, which tastes like a typical Berliner wheat beer, while the Gurken Goose riffs on sour beer brewing with its blend of salt, coriander and lactic acid. Naiv's own beer on tap is made with four different types of malt. Note the backdrop to the bar – 6,500 hand-laid wooden blocks. Combine that with warm red brick walls, solid wood tables and plenty of concrete, and you have the perfect industrial-chic backdrop for a solid night of swilling.
Based on the principle that good beer, good schnapps and good atmosphere are all you need, Normalkneipe (normal pub) in the Gallus neighbourhood was opened by two brothers in 2016 in an effort to revive Frankfurt's pub culture. The interior is intended to attract both young and old regardless of social status, with bar stools pulled up to a counter flowing with draught beer, schnapps and a limited selection of cocktails. You can also sit at sturdy wood tables and chairs in the dining area. Slot machines, a dartboard, two TVs showing uninterrupted sports matches, an eclectic mix of prints on the walls – including a nude Donald Duck – and rock-bottom prices bring the pub concept home.
And here's where you should eat...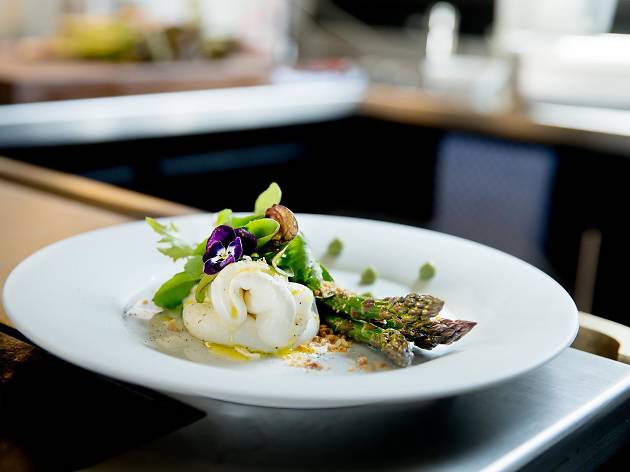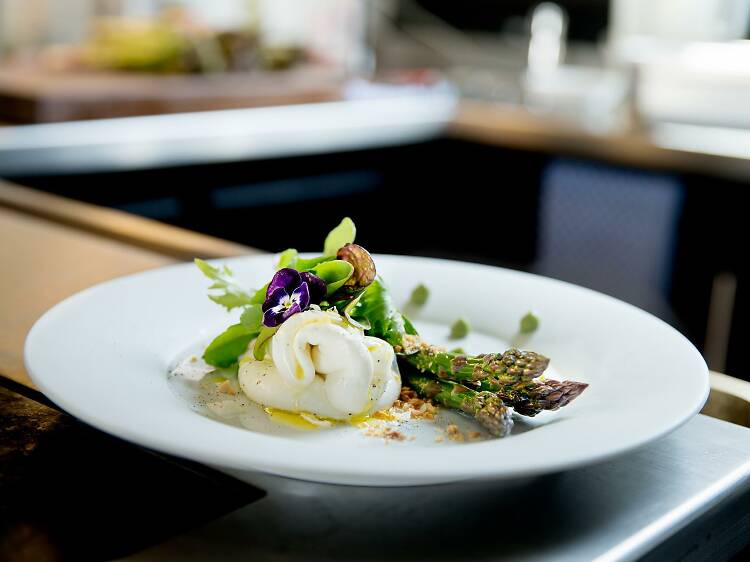 Grub in Germany varies depending on which federal state you're in. Since Frankfurt sits in traditional-minded Hesse, restaurants tend to serve heavy meats and sausages and the region's famous green sauce with boiled potatoes and eggs – oh, and Apfelwein (apple wine), of course.