The best things to do in Frankfurt
From apple wine-infused tours to scenic strolls this historic city is full of hidden gems worth exploring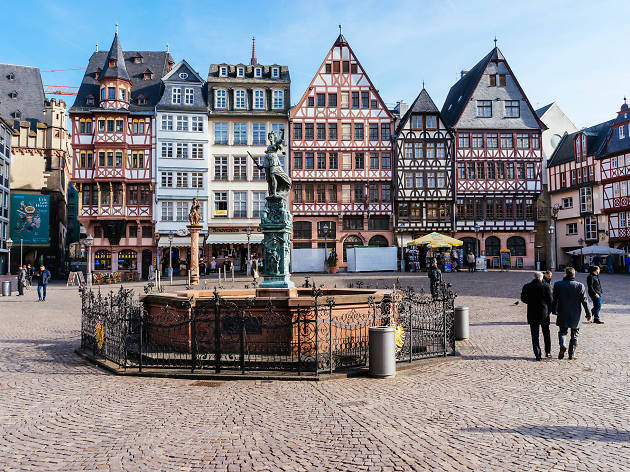 Frankfurt has a reputation that's more about straight-laced business than pleasure. It's not undeserved: The urban landscape of the largest city in the German state of Hesse is etched out by some of the tallest skyscrapers in Europe. Frankfurt is also the de-facto financial capital of Germany and home to many European and international corporate headquarters. However, dig a little deeper and you'll find a city of international denizens underneath the corporate shell, and rich cultural offerings catering towards their unique needs. Whether it's an acoustic concert series based on the principle of a blind date, a waterfront nightclub with what some say is the best sound system in Europe or a new, hip bike share program, there's plenty to do in Frankfurt without a suit and tie.
Best things to do in Frankfurt
1
Love discovering new bands? Music Sneak at Kultur- und Kongresszentrum Jahrhunderthalle is an experimental, monthly acoustic concert series based on the idea of a sneak movie preview—or a blind date. In a concert hall filled with up to 400 music fans, the evening's host introduces three acts of 30 minutes each, but the performers are not revealed until the show starts. The emerging artists come from various genres, meaning a single evening can take fans on a journey across multiple musical divides. Previous acts have ranged from singer-songwriters and rock to electronic, punk and indie-pop. There have even been poetry slams. Not sure it's for you? Check out videos of previous concerts and clips from featured artists on Music Sneak's website.
Read more
2
Some say the legendary sound system at this club is the best in Europe. Despite being named after blues musician Robert Johnson, techno beats are the calling here—and they come from both internationally renowned and locally-emerging DJs. The small, no-frills club in the Offenbach district consistently delivers memorable nights by concentrating on what's important: the music. The DJ operates from the same level as the main room's dance floor, which holds less than 100 people—that's a special kind of intimacy worth facing the door policy, which can be strict. Step on to the terrace wrapping the small building to soak up views of the river Main. The club's Facebook page is up to date with all upcoming shows, even if the proper website isn't.
Read more
3
To try all the regional culinary specialties Hesse has to offer in one spot—and on the cheap—head to Erzeugermarkt Konstablerwache, the state's largest farmer's market. Cured meat, hearty German brown bread and assorted cheeses provide all the sandwich fixings you need, and you can wash it all down with apple wine. Dedicated to preserving traditional techniques, the market features stalls from more than 50 of the region's farm collectives, and many of the artisanal goods are organic, from certified producers. This is also an excellent place to try Grüne Sosse (green sauce, a tangy sour cream blended with herbs). To appreciate Handkäse with Musik ("hand cheese with music"), an oddly translucent cheese topped with chopped onions and caraway seeds, you'll have to get over the pungent odor.
Read more
4
Pedal around the city on a Byke
Melt away those heavy German meals away in no time by hitting the city on two wheels. Downloading an app from bike share program Byke will get you on a snappy blue-and yellow ride—better looking and easier to handle than the cumbersome tanks provided by rival outfit Deutsche Bahn. The bikes cost just 50 cents every 30 minutes or 3 euros a day, and the system requires no fixed locking point, meaning you can leave the bike wherever you finish your ride. The app is in English (unlike the website), and with a few clicks and a credit card or Paypal account, you'll be on your way. In addition to integrated lanes throughout, the 50-mile GrünGürtel-Radweg (Green Corridor Bicycle Path) wraps around the entire city. For a shorter route, try the six-mile path around the Höchst industrial park.
5
Beer? Sorry, not the libation of choice in Frankfurt. Apfelwein (apple wine), a light and tart drink of fermented apples, is the state beverage, and you can combine it with a tour of the city's major sites on the weird and wonderful Ebbelwei Express. Set to a boisterous soundtrack of German drinking music, this vintage tram organized by the local transport authority stops at 29 major landmarks in a round-trip tour lasting approximately one hour–whew! Luckily, the ticket is valid all day, so you can get off and on as much as you'd like and take the tour at your own pace. Downloading the accompanying podcast (there's no guide on board) will give you an overview of the monuments and memorable sites along the way. A bottle of apple wine and a bag of pretzels is included in the ticket price.
Read more
6
Find the best of Frankfurt cafe culture on the picturesque upper Berger Strasse. On Wednesdays and Saturdays a weekly farmers' market is held near the Bornheim Mitte metro station, between the old clock tower (Uhrtürmchen) and Saalburgstrasse. You'll pass that and head north, away from the city center, to where dozens of restaurants and bars offer outside seating at the first suggestion of spring in the air. The half-timber buildings are all original, and date from the 1600s. When the sun sets, the street glows with candles and lanterns. While Berger Strasse is an excellent destination for a reliable German meal, you could also try spaghettieis—vanilla ice cream squeezed into spaghetti-like noodles, served with strawberry sauce—from one of the many ice cream parlors.
Read more
7
From an unassuming outpost, this tiny Japanese supermarket popular with the local lunch crowd offers top-notch sushi at surprisingly low prices. Pick your own combination, or choose from the chef's freshly made rolls of the day: They're stacked in wooden boxes behind the glass counter. While you're waiting, browse the shelves of the market section, which have everything you need to prepare sushi at home, from wasabi paste to hard-to-find kitchen accessories. During off hours, a few high tables inside and out provide seating, but space is limited, so if the weather is good your best bet is to take a to-go order to the banks of the Main River, just a five-minute walk away.
Read more
8
Every other Saturday, Flohmärkte Schaumainkai—considered by many to be Frankfurt's best flea market—opens on the tree-lined southern bank of the Main river. Grab a coffee or a piping hot apple wine and wander down the river through the bustling stalls, where you'll find an eclectic assortment of wares ranging from second-hand toys to locally made clothing, used bikes, crafts, antique furniture and art, with the Frankfurt skyline serving as a distinguished backdrop. You might want to combine the trip with a visit to one of the city's museums; nine are nearby, among them the Liebieghaus Skulpturensammlung, which displays sculpture in a late 19th-century villa.
Read more
9
A culinary dream awaits at the Kleinmarkthalle, where nearly 160 market stalls spread out over 16,000 square feet sell fresh prepared food, produce and flowers. From cured meats and wine to honey, dried fruit, nuts, handmade pasta and cheese, just about every craving is satisfied at this food-lovers paradise. In addition to regional delicacies, you'll find imports from all over Europe and beyond. Note the most popular venders by the lines they have around lunch time, and don't miss a terrace bursting with flower boxes on the second level, where a small wine shop run by family-owned local winery serves wines which pair well with food purchased from below.
Read more
10
While many European cities have rebuilt buildings destroyed during World War I and World War II , only Frankfurt decided to turn back time on an entire district. Scheduled for completion in 2018, Frankfurt's "new" old town, the DomRömer Quarter, revitalizes a 75,000-square-foot area that was more than 90 percent destroyed between Cathedral Square and the Römer (a building dating to the Middle Ages). Already home to some 200 of the city's residents, the old town development project has 20 new buildings and 15 replicas—among them Stadthaus, a brand-new community and conference center—integrated with shops, cafés, museums and plazas. Learn about the project and hear some of the history behind the reconstructed buildings during this two-hour walk offered by Frankfurt's tourism office.
Read more
More Frankfurt sights
Frankfurt is so much more than Germany's business center; and as you go from attraction to attraction, you'll notice the kindness of the locals that gives this city a small-town feel.
Read more