Your ultimate guide to Frankfurt
Discover the best things to do in Frankfurt, including restaurants, bars, attractions, tours and more...
The best Frankfurt restaurants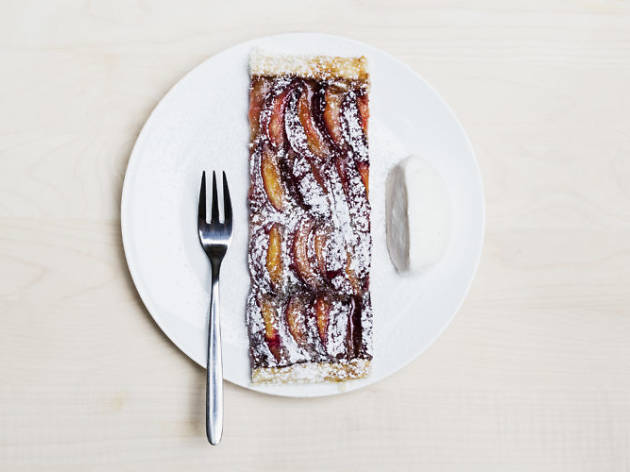 Emma Metzler
Emma Metzler's beautiful decor and design makes it look like an extension of an exhibition space—fitting for a restaurant in the city's museum embankment (Museumsufer) and on the grounds of the sleek Museum für Angewandte Kunst. The spacious bistro's sleek lines are softened by colorful artwork on the white walls, lobster-red furniture pieces, a wall of glass blocks and thick, navy blue curtains. Flower arrangements adorn the tables and strings of lightbulbs hang from above. The service is impeccable, and the food comes served like a masterpiece; the French-German menu includes a couscous with beets, yogurt and dukkah (a mixture of herbs, nuts and spices) for lunch or fennel bratwurst for dinner. If the weather is nice, eat outside and take a walk over the Eiserner Steg bridge after your meal, especially at night when you can see Frankfurt's skyline alit before you. If you visit on the last Saturday of the month, your museum entrance is free.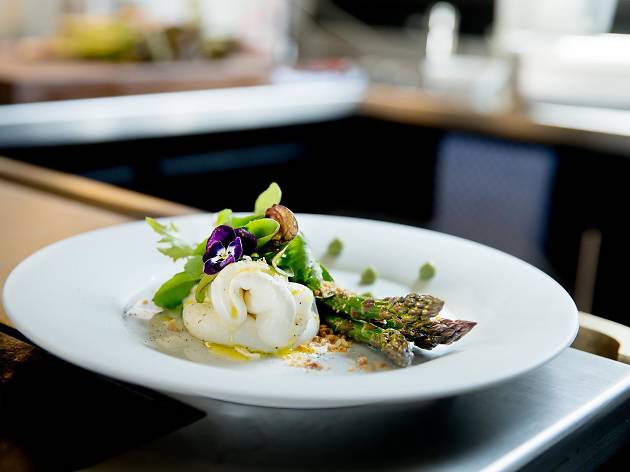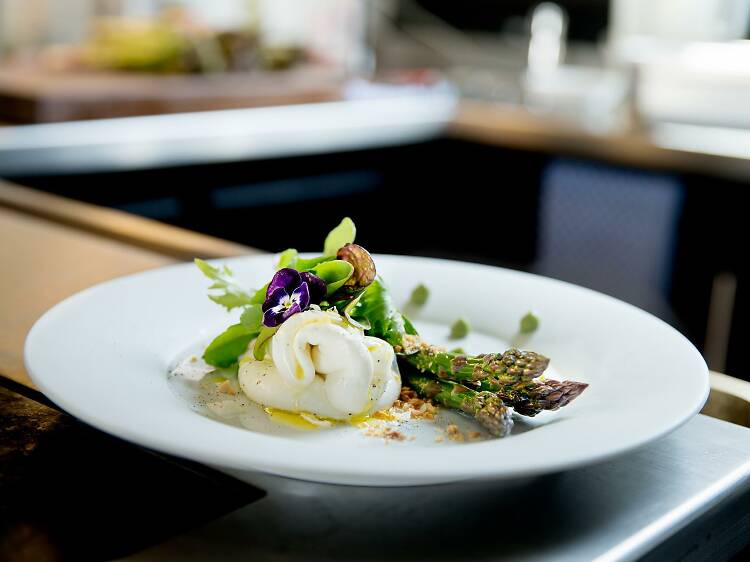 Seven Swans
Only two vegetarian restaurants in Germany have a coveted 2018 Michelin Star, and Seven Swans is one of them. Don't rush down the Mainkai or you'll miss the narrow building—Frankfurt's narrowest, in fact—that houses it. Considered among the best restaurants in the world, Seven Swans offers a seasonal menu (choose from five or six fixed courses) using regional ingredients like fennel, leeks, pumpkin, apple and asparagus; take a look at the restaurant's well-curated Instagram page to see the extraordinary attention to detail on every plate. Reservations here are a must, and the intimate candlelight dining, complete with a view of the Main River, is optimal for two people.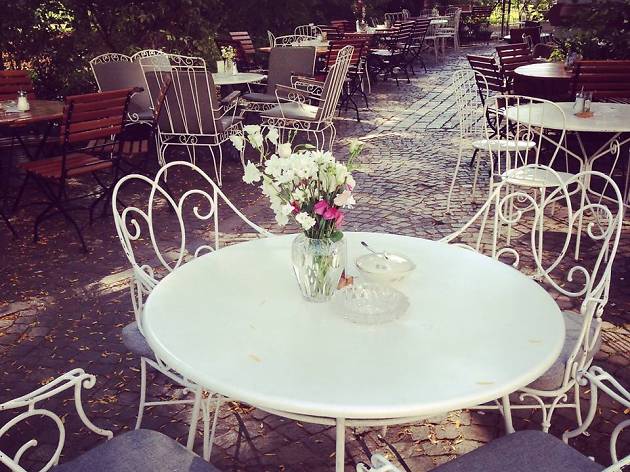 Café Maingold
Don't miss this charming café, located on the quiet, eastern end of the busy Zeil shopping promenade close to the city's zoo. Once you enter beneath the green striped awning you'll find an eclectic dining space with reclaimed furniture and mirrors, separated into distinctly-decorated rooms (our favorite has red walls and a sofa upholstered in gold velour). In the main dining space, lamps glow just brightly enough to illuminate the stunning, gold floral wallpaper. Maingold's daily menu includes fresh salads (like one topped with grilled halloumi cheese, pomegranate seeds, pistachios and pomelo), soups and pastas, like penne with marinated chicken or the standout, homemade gnocchi. For dessert, try the brownie-in-a-glass with coffee, and if you're dining in the summer, try snagging a table on the terrace beneath twinkly string lights. Reservations are strongly recommended by phone; the restaurant's website is badly outdated, but its Facebook page is updated regularly.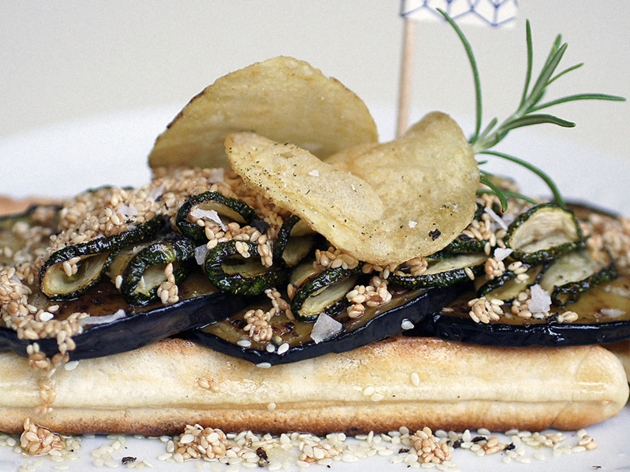 GOOSE Gourmet
GOOSE's sweet charm is not just the Citroën food truck it's housed in, but the owners themselves. The über friendly business partners, Gökhan Kaba and Patrik Bruch, take their truck to locations across Frankfurt, serving up waffle creations for lunch and dessert. Among the available toppings are caramelized goat cheese, beet mousse, grapes confit, vegetable chips, sliced mussels, roasted pine nuts and sweet potatoes. For sweet tooths, Kaba recommends the peanut butter cheesecake with salted caramel or double chocolate brownie. In addition to their mobile efforts, GOOSE also offers a catered dinner for a minimum of ten people at their private restaurant space on Ludwigstraße, close to the central train station—in March 2018 they'll sell lunch there, too, in a 45-person space open to the public. Check their Facebook page for the truck's latest location, or send them an email to get details further in advance.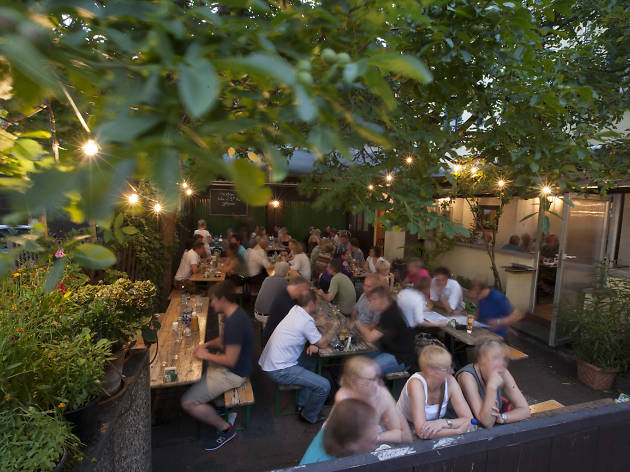 Atschel
You'll receive a warm welcome befitting a regular in this old-school establishment low on frills and high on hospitality. Founded in 1849, today's Atschel seats patrons at communal wooden tables, beer hall style. The walls are adorned with framed vintage drawings of apples, and Art Nouveau ball lamps emit a warm light for a homey feel. Feast on hearty local cuisine like grilled pork knuckle with sauerkraut and bread or the region's specialty dish—cold green sauce, or grüne Soße, made chiefly with local herbs and sour cream and served with boiled eggs and potatoes. Don't leave without tasting Frankfurt's quintessential drink, refreshing Apfelwein (apple wine), which is more sour than sweet. Traditional Bembel pottery hangs above the bar, and specials are written in German on chalkboards along the walls. Be warned: Atschel, located in Sachsenhausen, only takes cash and larger groups should reserve a table in advance.
See more Frankfurt restaurants
Discover the best things to do in Europe
See more