Girona's best burgers
At these restaurants the humble burger is transformed into a gastronomic delight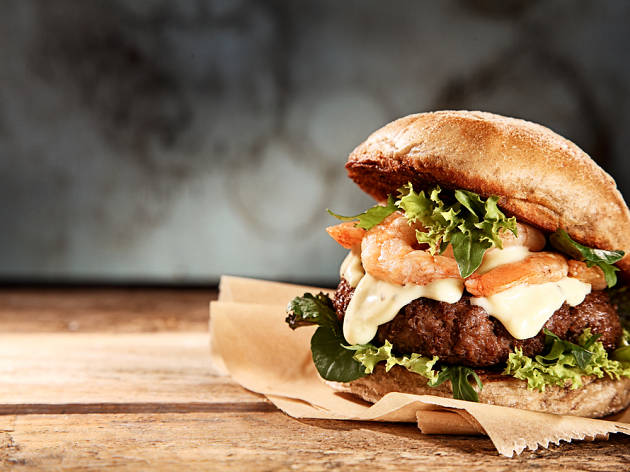 When you just can't decide what to eat, but know you want something fast and delicious, there's not much that can beat a good burger. Let's admit it: we all like to overdo it every now and then. But don't worry, if it's a quality hamburger, apparently it's not so bad for you. Here, then, is a selection of what we think are the best burgers in Girona, the ones you can eat without feeling too guilty.
This is the place to try signature hamburgers made with local ingredients and by hand, just like in the good old days. At Km0 they use meat sourced from nearby Figueres, and fruit and veg grown by local farmers to go with their burgers. The bread, which is suitable for coeliacs, is like a hamburger roll but with more consistency, and the meat is cooked just the right amount making it really flavourful. They have beefburgers, like the Michelin, with foie gras and marmalade of strawberry, rocket and apple; and chicken burgers, such as the Chicken Road, where the meat is coated with 'panko', a kind of Japanese breadcrumb that actually contains no bread, and served with honey and mustard mayonnaise. But the one we really recommend trying is the burger made with Empordà duck. It's really succulent and comes with caramelised onion and fig jam. Finger-licking good!
Read more
The hamburger society. That's the nickname that Kruskat's given itself, a big place where you're bound to find the burger that you fancy because you can choose the ingredients you want. From the type and quantity of meat to the sauce, each person can choose the Kruskat burger they want according to their own preferences. To go with your selection, they have a range of the most classic salads plus extras such as nachos with cheese, tomato, guacamole and jalapeño sauce, chicken wings with barbecue sauce and nuggets. And the menu of imported beers is extensive. 
Read more
Enter La Terra and you'll instantly feel like getting out your Moleskine notebook and drawing sketches, writing poetry or jotting down some chords of that song you've been composing. Stories bloom in bars like this one on C/Ballesteries, a place full of creativity and charm. Sit down on the cushions by the windowsill and look at the houses that back on to the river Onyar. If the day's not great, take your time, enjoy a tea, a fresh juice (check out their juice of the day, you might be surprised by a new combination), a craft beer or a home-made hamburger. Even if it's just to walk on the mosaic floor and check out the decor, it's definitely worth spending some time there.
Read more
For some years now, this has been a great option for fast food in the centre of Girona at any time of the day. König has become a local institution for anyone looking to fill their tummies quickly with good, well-priced food. In its early days, it had clear German leanings ('könig' means king in German), with sausages and hambugers their main dishes, but as time's passed, they've incorporated more local dishes. Tapas (their 'patates braves', fried potatoes served with spicy sauce, are renowned in Girona), salads, more Catalan-style sandwiches, foccacias and bagels complete an extensive, varied menu. They have eight restaurant including two in the centre of Girona, Vilablareix, Figueres and Barcelona, and the kitchen is open non-stop. There's always time to 'have a König'!
Read more