Heads up! We're working hard to be accurate – but these are unusual times, so please always check before heading out.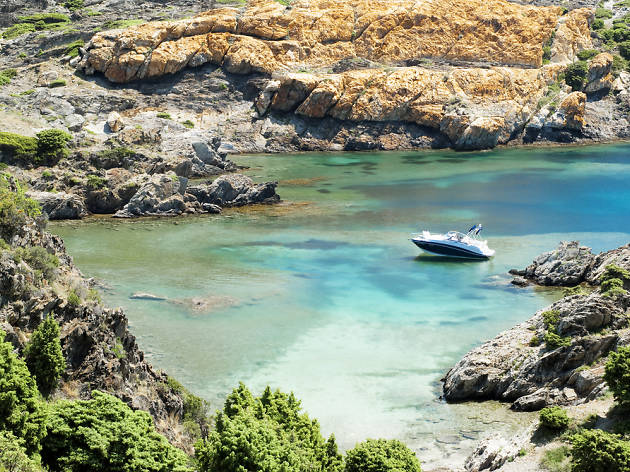 A perfect day at Cap de Creus
Our guide to having an unforgettable day at the end of the world
The Cap de Creus (Creus Cape) is one of the most amazing places on the Costa Brava. A paradise with sea and mountain landscapes that will stun you. And the best part is that even though it can seem as though it's right at the end of the world, you can get to it with a short car journey. For that reason (and basically because we're some of the biggest fans ever of the Cap de Creus), we've put together this short guide with outings, beaches and restaurants that you should try if you're heading to the area. As well, of course, as exploring the natural park.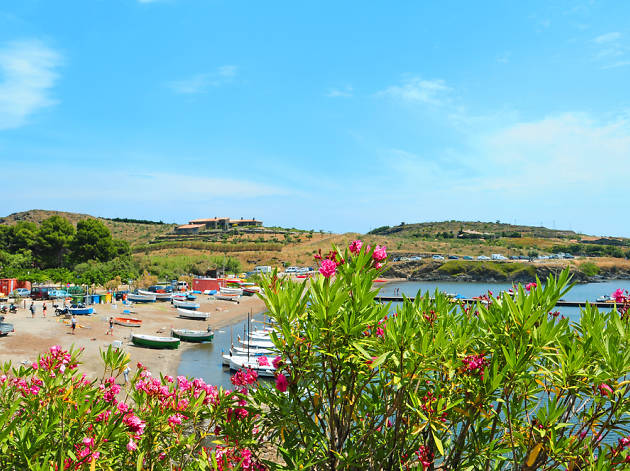 © nito
Camí Antic from Cadaqués to the Cap de Creus
Let's start the day with a walk. This is one of the most popular local routes, but it's definitely worth it because along its 14km you pass many beautiful coves. In fact, if you really want to capture the magic of the Cap de Creus, follow the old path that goes from Cadaqués to the lighthouse. During the first section of the itinerary, you walk along roads, but once you get to Portlligat, it really gets good: the beaches of Sant Lluís and la Guillola, expansive lands featuring abandoned vines and, finally, the famous local lighthouse. For the return journey, some people opt for the road only, while some mix road and path. In total, it's about four hours of walking, and every minute is really, really worth it.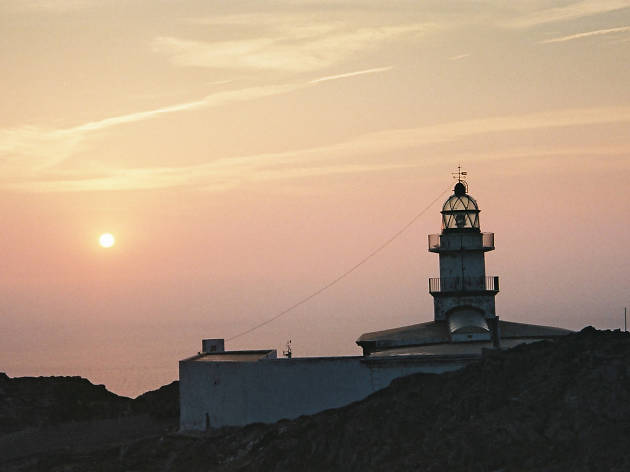 We imagine that you'll arrive at this restaurant in the lighthouse (or 'far') of Cap de Creus tired, and maybe even exhausted. Before you head back, make sure you take advantage of your visit to have a cold glass of vermouth or even just a sparkling water. It's been 25 years since a British biologist fell in love with this old barracks of the Guàrdia Civil, and he decided to create a restaurant that also has a few bedrooms to rent; over the years, the place has gained a cult status, particularly for its New Year's Eve parties, and also because in the middle of winter you can head there to experience the gusts of the tramuntana wind. Some say that that premises, which is clearly a boho kind of place, needs some renovations and that in high season, it can take a long time to be served. We don't think that's a problem because just to get there and look out over infinity is worth it.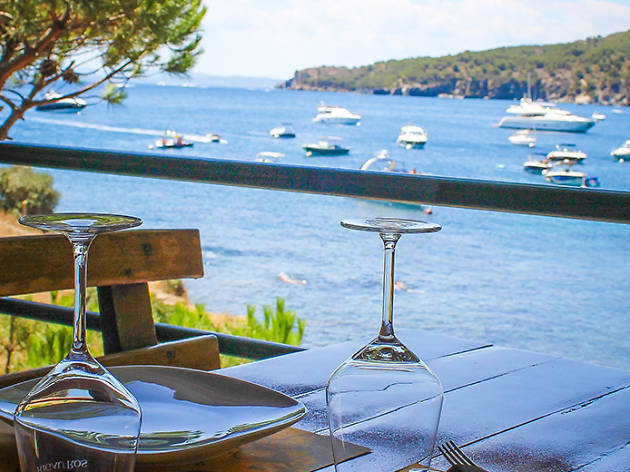 Another option is to dine at La Pelosa. This restaurant-beach bar is found in the cove ('cala') of the same name (close to the Natural Park of Cap de Creus and the now-closed El Bulli restaurant), and in next to no time it's become one of the best on the Girona coast. Traditional home cooking where real love for the ingredients is clear: that's what you'll find there. Even though the menu is pretty long, their main specialities are rice dishes and, obviously, fish from the nearby Bay of Roses. Two unmissable options: the rice stew with lobster (you'll probably want to find out the recipe, but no matter how hard you try, they're never going to reveal it), and the 'fideuà' noodles. If you don't fancy either of those, whatever fish you order will definitely be delicious.
After lunch, put on your sun cream and start a tour of the local beaches. The first one we recommend is Cala Culleró. It's not just any old cove ('cala'), it's the setting for stunning beauty and incredible geology, with rocks in the form of animals, sculpted by the saltwater and the tramuntana wind. The most well-known was the inspiration behind one of Salvador Dalí's most famous works, 'The Great Masturbator'. If you get tired of admiring the rocks and playing at spotting animal shapes with your kids, you can sunbathe on the small patch of sand (where nudism is acceptable). What makes Cala Culleró really special is swimming in the crystalline waters, letting yourself be stunned by the surroundings and allowing your mind to wander where it will. And, if you like, taking photos to put up (and win plaudits) on Instagram.
Both Salvador Dalí and writer Josep Pla talked about our second beach recommendation, but few people have seen it with their own eyes. You get to it from the Cap de Creus lighthouse, descending on foot along a dry riverbed for about half an hour until you reach a lovely spot with the softly rounded contours of broom bushes that is the complete opposite of the harshness you find in some other parts of this wild coast. What you'll find there is a welcoming sandy stretch that gives on to a section of sea sheltered from the local tramuntana winds, and has water that is completely transparent and calm. In addition it's home to an extensive range of sealife – bear in mind that this fauna is fiercely protected. It's truly beautiful and if you decide to sleep overnight there during early summer, feeling the sun on your face at dawn will doubtless be one of the most intense experiences of your life.
Between Cala Tamariua and Cala Fornells you'll find Cala Cativa, a (very) small virgin beach close to Cap de Creus that's unknown to most people. The best way to get there is via the Camí de Ronda coastal path that goes towards Cala Tamariua or, if you have one, by kayak. If you go accompanied, don't expect to find space for your towel because it's unlikely you'll all fit. Cala Cativa hides an amazing history: the remains of a first-century boat that was transporting 100 amphoras of wine between L'Hospitalet de Llobregat (a neighbouring city of Barcelona) and Narbonne in France.
The Cova de s'Infern (Cove of Hell!) is, by a long way, one of the most incredible geographical accidents in the Cap del Creus. Visiting it is an amazing experience. It's basically a rock that, thanks to water erosion, has gradually been shaped into a kind of cove with a natural swimming-pool inside it. Take a dip there and you will practically arrive at nirvana. The name, incidentally, comes from the red colour you can see in the water as the sun is rising. To get to it, you need to walk about 10 minutes from the lighthouse.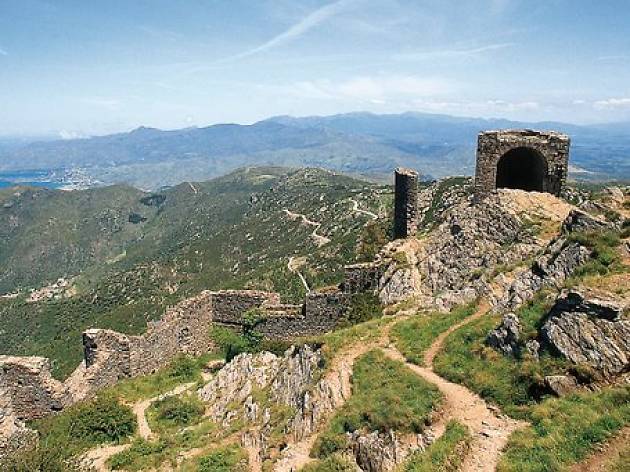 From Sant Pere de Rodes to Sant Salvador de Verdera
Alternatively in the afternoon, you could also take advantage to do a short walk, just some 1.6km. It goes from the monastery of Sant Pere de Rodes to Sant Salvador de Verdera, the highest point in the Cap de Creus. From the monastery, follow a footpath that zig-zags its way up the mountain. About halfway along the path, you have two choices: one route that skirts along the mountain via the crest, and the one that goes to the left towards the castle. It's the latter that we've chosen. The climb is not excessively difficult, but it's not a total breeze either. In any case, when you get to Sant Salvador de Verdera and you look around you, you'll understand why it's worth the effort: the Bay of Roses, the Canigó massif, the Bay of Lleó, the mountain range of Albera... Breathtaking.


Perhaps we're trendy in some ways, but we can't think of a better way to finish our tour of Cap de Creus than in this one-time society bar in Cadaqués, where for some years, locals could converse with the likes of Man Ray and Salvador Dalí. Today it's a gastrobar where they serve signature tapas, and is run by Manel Vehí, the fourth generation to be at the head of this family business. Vehí has trained with some of the best chefs in the world (at restaurants like El Bulli, Jaleo and Criterion) and now he's one of the most famous barmen on the global stage. You have to try the tapas and any of the cocktails – you'll be amazed.
Not quite ready to call it a day? Then head to the Xiringuito de Cala Jóncols. If there was a world ranking of 'xiringuitos' (beach bars), this would certainly be close to the top. And that's because it's in front of possibly the most perfect beach hotel ever (without wanting to offend anyone). The hotel is a modest house that hardly stands out among the lunar landscape of Cap de Creus, surrounded by pine and olive trees, cut off from the rest of the world, and without coverage for your mobile. To complete the image of perfection, three generations of one family run the place and if there's nothing you fancy on the set menu of the day, they will rustle something up for you (of course – there's a grandma in residence). But let's focus on the xiringuito: it was inaugurated in 1981, is open between approximately June and September, and is chic without going over the top, groovy without being a hive of modernity. On Fridays and Saturdays in the summer, there are DJs and live music. You have to drive along a track to get there, and you shouldn't use GPS because you'll get lost. But it's all worth it. Really worth it.