CCA: Centre For Contemporary Arts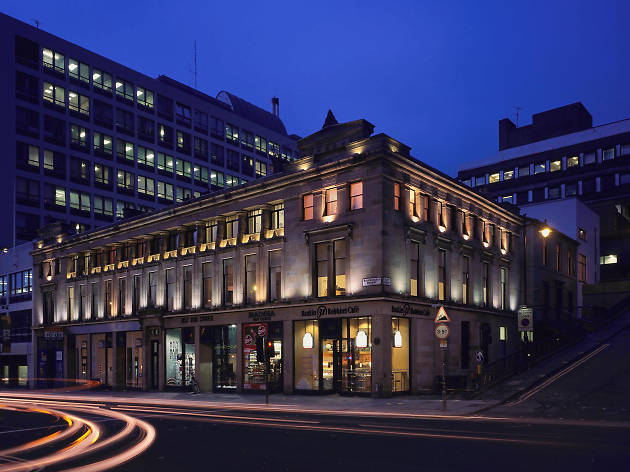 Time Out says
A creative hub that hosts film screening, concerts and more. The CCA also has an art gallery that features six large-scale exhibitions every year
It's taken a long time to find its flow, but Glasgow's CCA (Centre for Contemporary Arts, to give it its full title) is now more vibrant than ever.

Incorporating an art gallery, performance space, café, cinema and offices, this multipurpose creative hub can host everything from exhibitions and film screenings to concerts and DJ sets all in the course of the same day. Established in 1992 on the former site of boho multimedia arts space the Third Eye Centre, it's a highly ambitious construction of old stone cut through with new metal. It unites four core buildings, including the 19th-century Grade A Listed Grecian Chambers in Sauchiehall Street and an old townhouse to its rear, through a central glass-roofed courtyard that's ringed with bridges and walkways.

The CCA curates six major exhibitions a year, by both national and international contemporary artists. The independently run Café Saramago (a rebirth of the CCA's food and drink concession) has helped to draw together the many varied strands of what the CCA stands for, and is spread across two sites – the bright courtyard at ground-level and the dedicated bar space overlooking Scott Street at the east entrance. The drinks, and especially the food – which includes tapas-style small plates, Mediterranean-inspired sandwiches and mains, and freshly baked organic breads and cakes – are consistently excellent.

As a concert space, the CCA has also begun to really come into its own. Its 300-capacity main venue having played host to the likes of Camera Obscura, PAWS, Veronica Falls and Oneohtrix Point Never in the last few years, and been used as a hub for festivals such as experimental music weekender Counterflows and indie all-dayer Stag and Dagger. Independent shops Aye Aye Books and Welcome Home are located in the CCA's entrance area, respectively selling a wide range of publications and craft and design items by independent producers.


Details