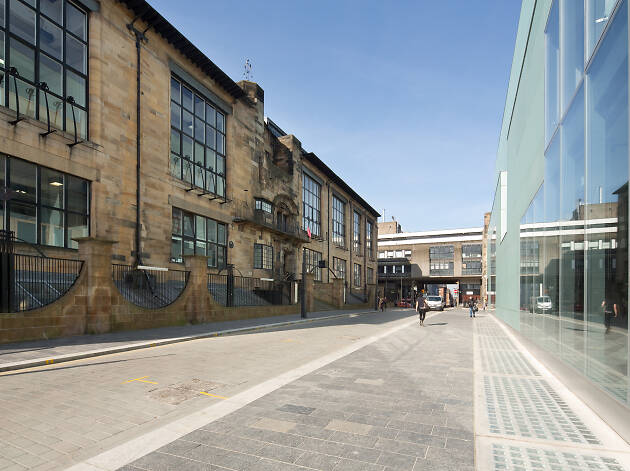 Time Out says
[In June 2018, another fire broke out in the Mackintosh Building and the £49 million restoration project was put on hold. Sadly, the future of the entire structure is now in question.]
In May 2014 when a fire ripped through the Glasgow School of Art's historic century-old main building – legendary local architect Charles Rennie Mackintosh's defining masterpiece – art and architecture lovers the world over held their breath, fearful this iconic structure was about to be lost for ever. But thanks to some heroic work by firefighters, against the odds the vast majority of it was saved and disaster averted, with the exception principally of the beautiful Mackintosh Library – which was tragically completely destroyed.

It will be years before the building is fully functional again, but it speaks volumes of the mysterious mastery of Mackintosh, who masterminded the building of the Art School between 1897 and 1909, that even blackened and smelling of soot, with several of its dramatic panelled windows blown out, it still looks noble and majestic. It doesn't do any harm that the brand new Reid Building, opened in spring 2014 ironically just weeks before the fire, now stands adjacent to the beloved old Mack, providing it with a strikingly modern counterpoint.

Alumni of the Art School, one of the most venerable art colleges in the world, include several Turner Prize nominees and winners, including David Shrigley, Richard Wright and Cathy Wilkes. Even if you're not a student, past or present, there are plenty of reasons to visit. Mackintosh lovers need no invitation – even if tours of the building and access to the Mackintosh Museum are curtailed for the foreseeable as restoration and rebuilding work continues. The Art School's legendary students' association The Vic – which was extensively redeveloped as part of the Reid Building project – is another must visit. By day it's a quality café-bar, serving global street food dishes and quality beer at affordable prices. By night, it's one of Glasgow's most vibrant and atmospheric leftfield entertainment venues, booking the kind of live music, clubs, installations, performance art and crossover happenings you simply won't find anywhere else in the city.
Details