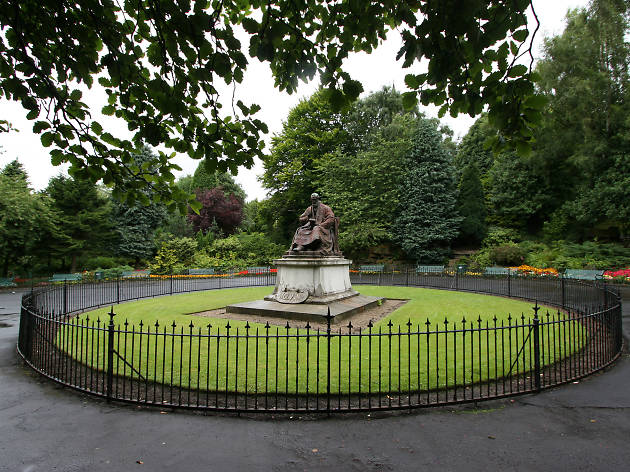 Glasgow's green heart has something for everyone, with attractions including a skatepark, croquet greens, a bandstand and an art museum
Kelvingrove Park is more or less the heart of the West End, tying together several of its neighbourhoods and most famous sites and attractions. On a clear, bright morning, the view from the top of the hill at the entrance from Park Circus, down across the River Kelvin towards the spires of Glasgow University and the Kelvingrove Art Gallery and Museum might just be the finest in the city.

Originally created in 1852 as the West End Park, Kelvingrove's purpose was to provide relaxation and recreation opportunities for the new middle class flocking westwards out of an increasingly overcrowded and dirty city centre. While Glasgow may have changed a great deal around it in the intervening century and a half, Kelvingrove's fundamental appeal hasn't altered much. It's a popular place to unwind among all, from families pushing prams to dog walkers, exercise enthusiasts, and in particular – come warm days during term time – students lounging in the grass.

With buzzing Gibson Street running along the park's northern edge, and An Clachan Café in the south-east corner, refreshments aren't far away. But like all public spaces in Glasgow, note that you can't consume alcohol, and police probably won't hesitate to hit you with a spot fine if they catch you failing to abide. In terms of attractions, as well as The Kelvingrove Art Gallery and Museum, which is at the south-west corner, Kelvingrove Park also boasts the newly-restored historic Kelvingrove Bandstand on Kelvin Way, which hosts concerts in summertime.

There's a skatepark, bowling and croquet greens (which were used as venues for the 2014 Commonwealth Games), and various statues and monuments, including the extravagant Stewart Memorial Fountain, which was built to commemorate Lord Provost Robert Stewart's achievement in the mid-nineteenth century of providing the city with fresh water from Loch Katrine. Alas, constantly pumping fresh water to the fountain is seen as too extravagant, so it's rarely switched on.
| | |
| --- | --- |
| Venue name: | Kelvingrove Park |
| Contact: | |
| Address: | Glasgow |