The Queen of Pop – or 'her that fell over at the Brit Awards' as she's now better known to younger music fans – has announced dates for her 35-city Rebel Heart World Tour, which will conclude in Glasgow just before Christmas on December 20. Kicking off in Miami in August, the tour will follow the release of Madonna's 13th studio album 'Rebel Heart', which was released last Friday.
Madonna's star as a recording artist has undoubtedly fallen (sorry) a bit in recent years – her last set, 2012's 'MDNA', sold 2 million copies, about half of its predecessor 'Handy Candy', and just a tiny fraction of what she used to shift in the late 1980s and early 1990s, when her records routinely sold in the tens of millions. But don't doubt for a moment Madge's incredible and enduring box-office clout as a live performer, particularly since she inked a $120 million contract with Live Nation in 2007. Madge's last tour in support of 'MDNA' in 2012 took a whopping $305 million worldwide, making it the 12th highest-grossing tour of all time. 2008-9's Sticky and Sweet Tour, meanwhile, took a more-whopping-still $408 million, placing it fifth in the list of highest-grossing tours of all time, and making Madonna the highest grossing solo artist and the only female artist in the top 10 list of history's most profitable live music sojourns.
Madge still reigns supreme when it comes to epic pop concerts, then, and judging by her TV performances in recent weeks in support of 'Rebel Heart', including at the Grammys and the Brits, we can expect a typically all-action affair, full of dramatic costumes, pseudo-mystical symbolism, ripped backing dancers and aerobic choreography belying her now 56 years of age. In honour of one of music's all time greats and her sure-to-be sensational tour finale in Glasgow at the end of this year, here's a round-up of five of Madonna's finest moments.
Like A Virgin, 1984
The world had no idea what was about to hit it when Madonna finished recording 'Like a Virgin' at the Powerplant Studio in New York in the summer of 1984. Before the end of the year it would become her first of many US number one singles, and stay on the top of the chart for six weeks. When she performed the song on the nascent MTV Video Music Awards, writhing in a wedding dress on top of a wedding cake before dry humping the stage, family groups and conservatives went bananas, and a new pop culture icon was born.
The Conical Bra, 1990
Emblematic of Madonna at the very pointy peak of her powers, as a provocateur supreme whose latest album 'Like A Prayer' clashed Catholic imagery with overt sexuality, the pink satin conical bra and corset ensemble designed by Jean-Paul Gaultier and worn on her Blond Ambition Tour in 1990 have gone on to become as famous as any other garment in pop history. So much so that one fan paid $80,000 for a set of Madge's old undies in 2012.
Ray of Light, 1998
Madonna's career looked to be tapering off in the mid-1990s, until she exploded back with this song, written with English producer William Orbit. A major dance hit packing big emotional punch, 'Ray of Light' revitalised Madonna's appeal and proved that she could still remain both relevant and commercially robust. It won two Grammy Awards and is routinely voted as one of fans all-time favourite Madonna songs.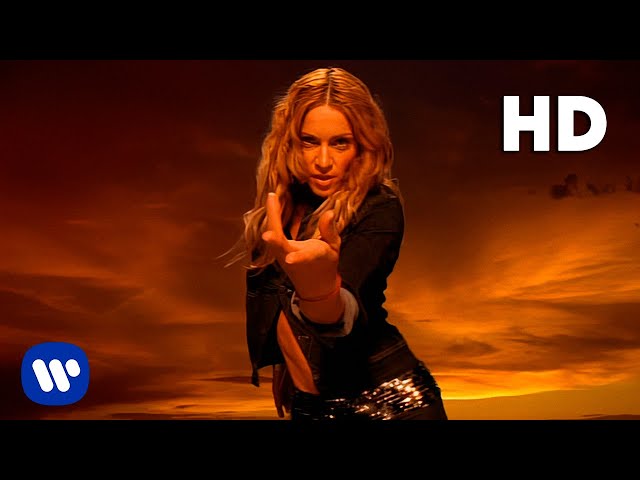 Free Pussy Riot, 2012
Madonna has a howling habit of putting her foot in her mouth politically, be it by once referring to Barack Obama as a 'black Muslim', or more recently likening France to Nazi Germany for its anti-Semitism. But she did a brave and noble thing on stage in Moscow in 2012, when she spoke out passionately and a length in support of gay rights for Russians, and in defence of the Russian feminist punk rock protest group Pussy Riot – members of which were then in prison on trumped-up charges of 'hooliganism'. Russian president Vladimir Putin reportedly threatened Madonna with jail for promoting 'gay behavior' in his country as a consequence. It's perhaps unsurprising to note that there are no Russian dates presently scheduled on Madonna's Rebel Heart World Tour.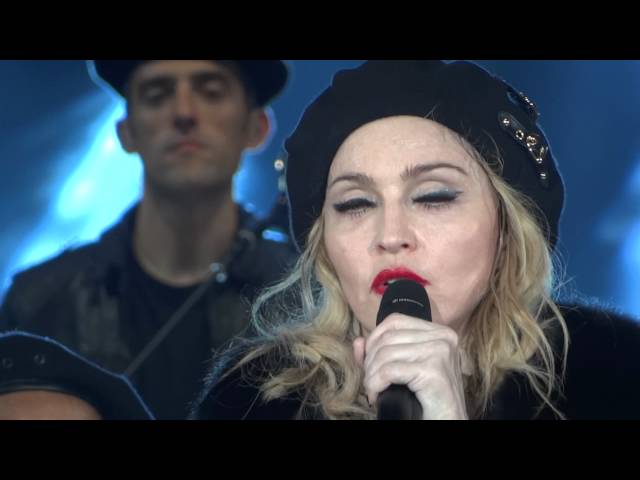 The Fall, 2015
It meant she pipped the night's big winners Sam Smith and Ed Sheeran to the front cover of every newspaper in Britain the next day, albeit for reasons she'd rather forget: when Madonna fell down some steps at the 2015 Brit Awards – the fault of a malfunctioning cape which was supposed to have been yanked off by a backing dancer but instead dragged her by the throat – the footage went viral with indecent haste. But it provided at least one talking point from a otherwise catatonically dull event, and allowed Madge to remind the world of the resilience and professionalism that made her a star in the first place, as she clambered back to her feet and got on with the show. Even when Madonna's down she's up.