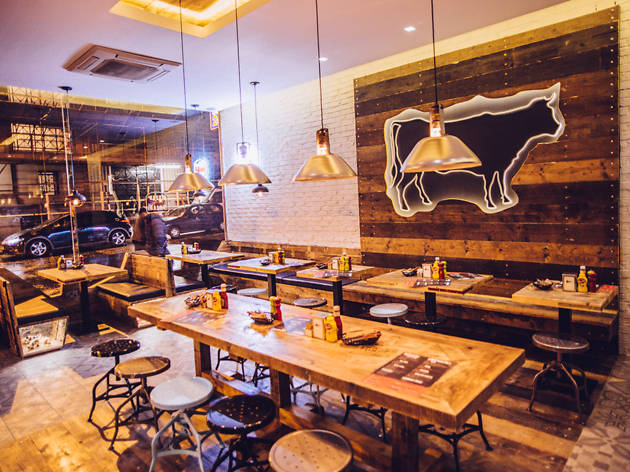 One among many restaurants to have sprung up in Glasgow in recent years in response to growing appetite for gourmet burgers, Bread Meats Bread on the corner of St Vincent and Renfield Street – not to be confused with the nearby and very similarly-titled but unrelated Burger Meats Bun, which opened not long afterwards – does exactly what it says on the tin and so much more. Their towering, toppings- stuffed dry-aged Scotch beef pates served in soft brioches buns inside colourful patterned greaseproof paper pockets are as watering for the eye as they are the mouth.
With their 'no freezers, no microwaves' policy, all the ingredients are bought-in and prepared fresh daily – and in an open-kitchen too in case anyone wants to check – ensuring flavours are as new as the day. The burgers come in red label (with added spicy Sichuan nduja pork sausage), green (seasonal veggie mix) and black label (premium cuts "house blend") variants, as well as a frequently- changing "cult burger" special. Big floor-to-ceiling windows make the most of the restaurant's busy city-centre street-corner location, and the bustling feeling is mirrored inside with diners eating elbow- to-elbow at simple chunky wooden tables, benches and booths, between exposed brick-walls and beneath stylish pendant lamps.
Toppings range from The Classic (just salad and pickle) to the Fullhouse (America cheese, smoked brisket, gravy) to signature blockbuster The Wolf of St Vincent Street (double bacon and pulled-pork in BBQ sauce). Sides include all your standard potato-y things, plus a few less-commonly-spotted options such as tobacco onions, bacon chips and caramelized fries. If you don't like burgers – and it's weird that you'd go here if you don't, but anyway – there are beef, pork, chicken and grilled cheese sandwiches to be savoured, plus gourmet hot dogs, salads and poutines. Note that it's walk-ups only – first come-first served – so you'll need to be quick for a table at peak times.
Venue name:
Bread Meats Bread
Contact:
Address:
104 St Vincent Street
Glasgow
G2 5UB