Meatspace: Glasgow's new steakhouses
With new grills cropping up at a dizzying rate, now is the time to start chomping your way through the city's sizzling steakhouse scene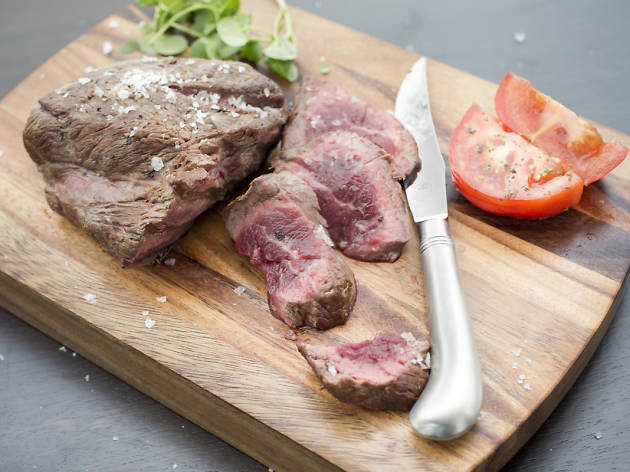 In Glasgow, the seasons change and the colours change but there is always something new. In the city where Michelin star cooking never really took hold and gastronomia molecular bounced off the upper atmosphere (propelled in no small part by the city's love of its excellent cheap eats), the latest restaurant fashion is among the oldest of dishes. It comes courtesy of investment in kitchen equipment, it comes with a sense of fun, it comes in polite surroundings and it comes on a wooden board in premises with bare stone walls – but it comes.

In 2013 and 2014, half a dozen new venues opened across Glasgow, all making a big deal of their beef. They joined more established restaurants where you can depend on a top class steak ­– the Butchershop Bar & Grill, the Grill Room at the Square and the Restaurant at Blythswood Square for example – to give local diners more choice than ever before in terms of where and how they eat their meat. It's not all fillet and sirloin of course – other dishes are available.
Glasgow steakhouses
Actually within Glasgow Central Station in its old cellars, with an arched ceiling in the main dining area, bare white walls, marble and blue lighting, Alston Bar & Beef was one of Glasgow's most on-trend 2014 debuts. It's a bar as a well as a restaurant, big on gin and cocktails, although the venue's name tells you all you need to know. Aside from the house burger, made from rump aged for 35 days, steak is the big thing with all meat coming from crossbreed cattle in the Scottish Borders – Aberdeen Angus and Limousin – grass fed then dry aged for at least 35 days. Standard cuts are D-rump, fillet, rib-eye and sirloin; the bone-in rib and the club steak are bigger while you could also choose an assiette of assorted steaks or a porterhouse. Your vegetarian friend will be having the pea and roquefort risotto.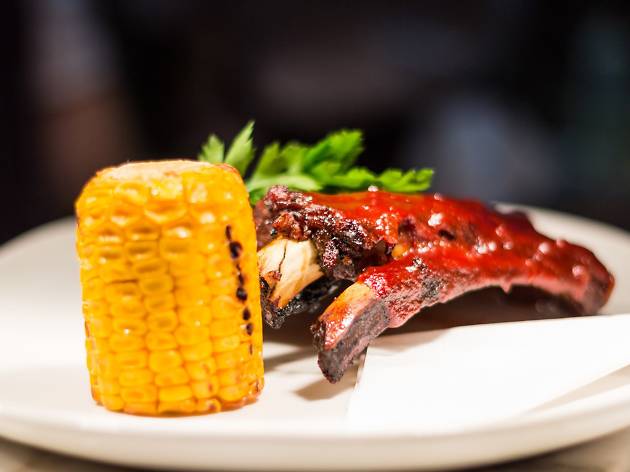 © Ann-Margaret Campbell
In a handsome city centre building dating to the Edwardian era, the Anchor Line takes its name from the shipping company that once occupied the premises. Old pictures and prints cover the walls, the bar area is very chic and contemporary although the décor more generally is a modern take on old-fashioned and classy. The grill section of the menu offers Scottish beef, dry aged for three to five weeks, cooked on a Josper chargrill then served as fillet, rib-eye, sirloin or as a fairly large T-bone. Sauces to accompany the steak include an adventurous gorgonzola while the toppings are garlic king prawns, half a lobster or roasted bone marrow. Other grills include chicken, ground rib burger, rack of lamb and St Louis ribs – also halloumi and vegetable kebabs.
Restaurants, Contemporary European
Hutchesons' Hall is a splendid Merchant City building dating to 1805 that originally served as a school for boys. Derelict for some years, it was extensively refurbished and opened as a foodie pleasure palace in 2014 over three floors with café-bar, restaurant and private dining. You can come here for breakfast, or just for a drink, but the restaurant in the old Grand Hall is very impressive and so are the steaks. In ascending order of size you can have a fillet, sirloin, a pretty big côte de boeuf – or the chateaubriand for two. They all come with confit tomato, chips or mash, and a sauce of your choice which feels reassuringly traditional. If steak ain't your thing, Hutchesons also makes a feature of its seafood.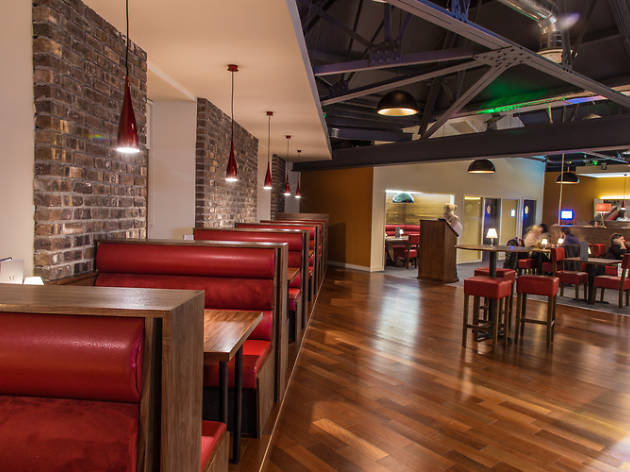 The McMillan Bar & Chop House South Side
There has been a McMillan in Norby Road, between the West End and Victoria Park, for some years now but in 2014 the owners ventured south of the Clyde and opened a second venue. Modern, bustling and family-friendly, it operates as a bar-café-restaurant so you can start eating at breakfast time and still be enjoying a beer at midnight. The main menu ranges over burgers, fish and chips, vegetarian risotto and more but the steaks and chops occupy pride of place. The beef is hung and aged on the bone for 30 days – you can choose premium Scottish or slightly more expensive Aberdeen Angus. Either way it comes in fillet, rib-eye, rump or sirloin cuts; there is also a large T-bone on the list and fillet steak for two. Other grills include a Barnsley chop and a veal T-bone.
Yet another debutante, Marco Pierre White brought his eponymous chain to Glasgow's Hotel Indigo in 2014 which means there are now eight Steakhouse, Bar & Grills across Britain as well as five of his New York Italians. It's not often that the city plays host to a celeb chef however – albeit in franchised form – so people did sit up and pay attention. Modern plush décor is supplemented by pictures of the man himself, the overall menu is decidedly British while the steaks are aged for four weeks, served up as fillet, rib-eye, sirloin or T-bone – they all come with chips, grilled tomato and onion rings. The one maverick touch is the Marmite butter you can have as an accompaniment.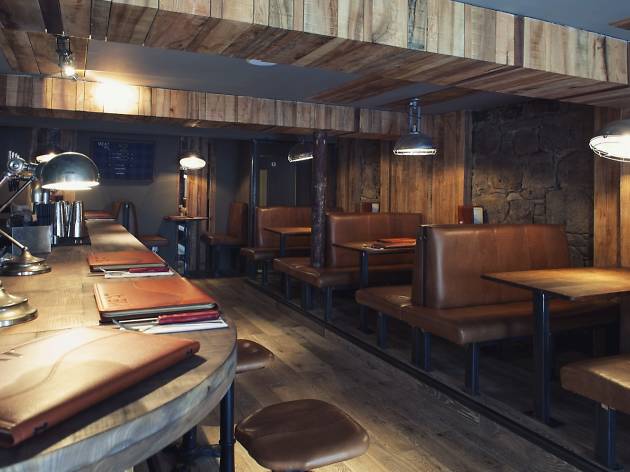 © Kris Kesiak
Hipster beef is not a chunky chap in a plaid shirt who works out a lot. Hipster beef, and other meats, is exactly what you get at Meat Bar. There is exposed stone, muted lighting, wooden fittings, booths and barstools – all the seating in masculine brown leather. To complement the look, the menu has sliders with pulled pork or rabbit, they slow-cook some items in a pit oven (venison ribs with chocolate and stout glaze for example, or smoked rabbit and bacon meatballs), they have some remarkable burgers, tasting plates and more – and of course steak.

All the beef comes from a premium wholesaler who sources it from a small group of Scottish farms with admirable quality standards, it's dry aged for 40 days then Meat Bar gives it to you as the cut of the day. Bone marrow butter, chimichurri or pepper sauce is extra – as are sides like triple-cooked fries with truffle and parlsey, mac cheese or smoked bbq beans.
More to explore