Six of the best Indian restaurants in Glasgow
Craving some korma? Pining for paneer? Read on for our list of the best Indian eateries in Glasgow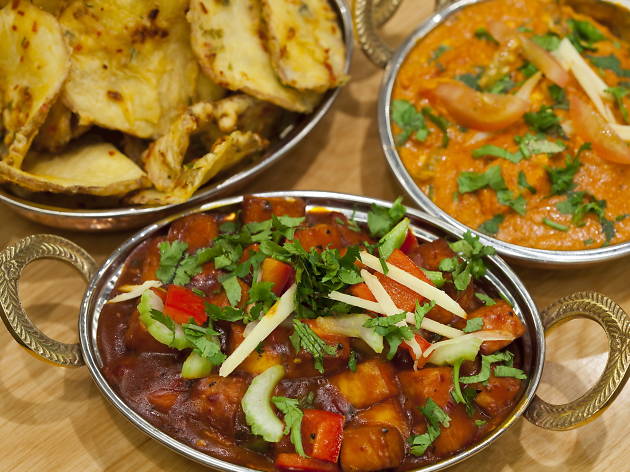 Glasgow loves curry. The oldest Indian eateries in the city include the Koh-I-Noor on North Street and the Shish Mahal on Park Road, both going since the 1960s, giving them Methuselah status in local restaurant terms. Meanwhile in the Curry Capital of Britain awards, running since 2001, Glasgow has won four times and finished as runner-up on three occasions against some stiff competition; other winners include Birmingham, Bradford, Leicester and West London. But the best thing? Glasgow's best Indian restaurants - like many of its best restaurants in general - are often cheap eats, too.

Given the sheer amount of time that has passed since Glasgow clasped curry to its methi-scented bosom however there have been major changes in the city's Indian restaurant trade. New venues have come along while older ones have passed down through families where younger Scottish-Asians take a different approach to business, interior design and menus than their Punjabi grandfathers might have done more than half a century ago. As a result there is no shortage of good Indian restaurants, but picking Glasgow's top half dozen remains a mug's game – someone's favourite is always going to be left out and arguments will rage. If you think we've missed a good one, let us know in the comments box below.
Indian restaurants in Glasgow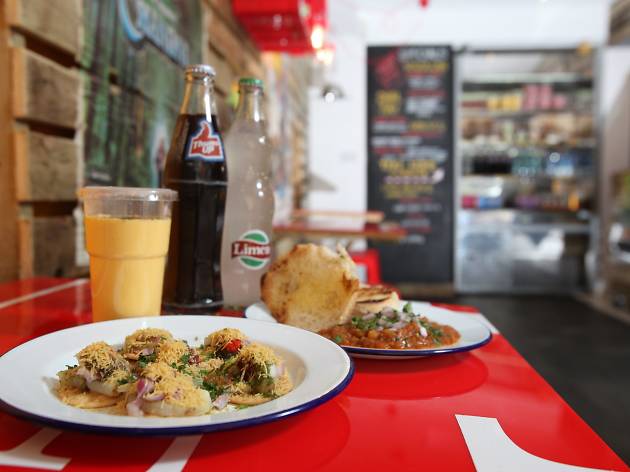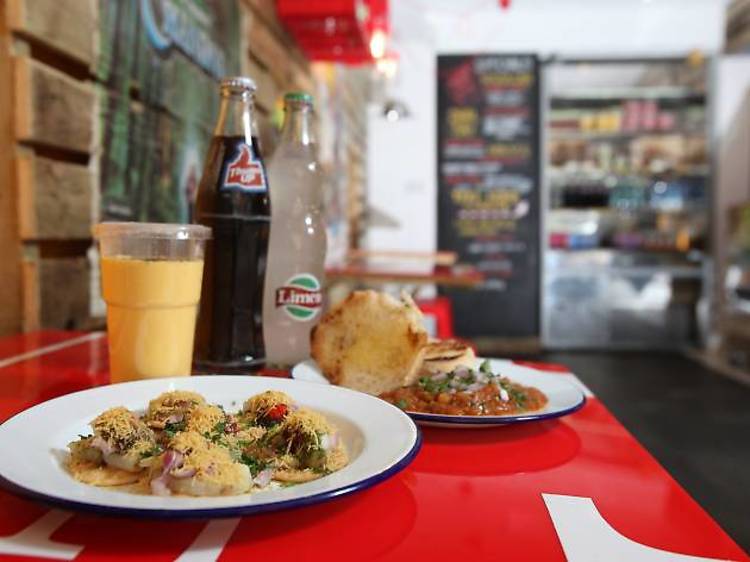 Marc Turner
Babu Bombay Street Kitchen
It's fairly new – open since 2013 – it's in the city centre and it's not a restaurant. Babu Bombay is essentially an Indian street food takeaway with a breezy, Bollywoodish look; there are a few tables if people want to sit in, and it's unlicensed but you can BYOB. Here you find breakfast chapatti wraps, Indian soft drinks, dishes like keema pau (lamb in garam masala sauce with peas, red onion, lime juice and coriander, plus a buttered and toasted morning roll on the side), fist food like the inestimable Frankie (a kind of French toast chapatti stuffed with curry), sandwiches, the curry of the week and more. People pop in for takeaway snacks and meals from morning until teatime while other customers treat it as a mini-café. A fabulous addition to Glasgow's roster of Indian eateries.
Part of a small chain of restaurants in Glasgow, Edinburgh and Stirling, the Sauchiehall Street branch doesn't have a door as much as a small entrance arch. Inside the décor is opulent in intent, with warm colours, while the menu covers all bases from starters like haggis pakora or marinated, grilled scallops to familiar curries like saag gosht (lamb and spinach), a Himalayan hot pot (curried lamb or chicken stew) and a king prawn chettinad from South India (king prawns with mustard seeds, curry leaves, black pepper and chilli).

You might argue that any kitchen casting its net this wide isn't really going to deliver real regional authenticity but in its own way Kama Sutra is the perfect contemporary representative of Glasgow's curry love affair. It looks a bit exotic, it's a bit special and it delivers what the customers want – even if that's haddock and chips or a sirloin steak.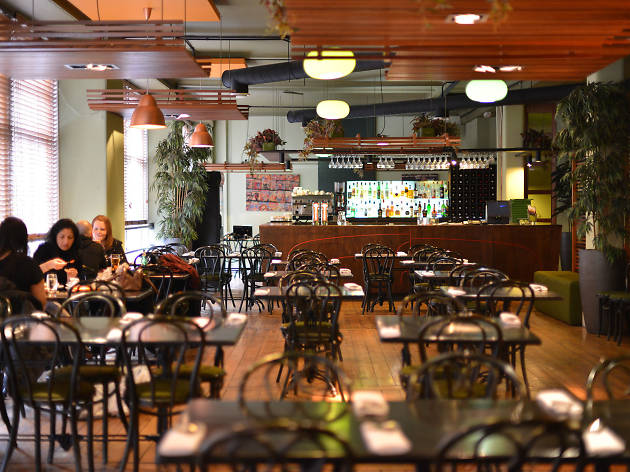 Restaurants, South Indian
A first floor venue in the Merchant City, Dakhin has had a reputation as being one of the city's more interesting and inventive restaurants since it opened more than a decade ago. Specifically South Indian, it has a spacious and open dining room while the menu features dishes based on rice pancakes and cakes (dosa, uttapam and idli). There are good seafood choices with monkfish and prawns, meats like chicken and lamb cooked with coconut and a very respectable vegetarian list: aubergines in peanut and sesame seed sauce with mustard seeds and tamarind for example (ennai kathrikai).

When Dakhin appeared on the scene in the noughties it was a refreshing departure from Glasgow's traditional Indian eateries with their aspirational décor and heavy sauces. It still is. The Dhabba along the street at 44 Candleriggs is Dakhin's North Indian sister restaurant – it's pretty good too.
One of Glasgow's favourite Indian restaurants at the moment is not even exclusively Indian – KoolBa is more of an Indo-Persian affair. Given the role of the Mughal Empire in the cuisine of the subcontinent, how can anyone quibble? With its booths, its bare stone and tasteful oriental decorative touches, the menu switches from Iran to the Punjab and back. There are starters like mirza ghassemi (smoked aubergine in tomato sauce with egg and garlic) and channa poori (chickpea curry in fried, puffed bread); mains like shashlik (marinated and grilled lamb on a skewer with salad, dressing, mixed peppers and onion) or the eternally familiar lamb bhuna. KoolBa also has a better beer choice than your average Indian restaurant.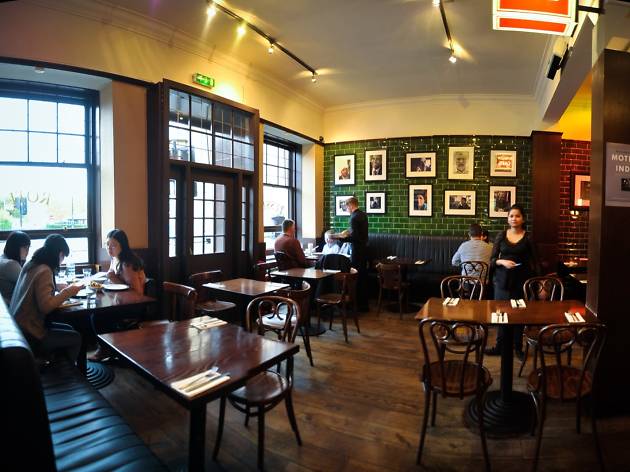 Mother India now forms a mini-empire of outlets in Glasgow and Edinburgh including the original restaurant on Westminster Terrace in Glasgow's West End – see their website for details – so it might be a little controversial to pick its nearby café as the leading exponent of its craft. What the café does however is offer the ideal way to enjoy Indian food: small, tapas-like dishes that you can share with your dining companions, or the chance to try several different flavours even though you're eating solo.

Sitting directly opposite Kelvingrove Art Gallery and Museum, the premises have simple décor, mildly ironic wallpaper and a bustling feel when busy. A typical selection of dishes might bring South Indian ginger lamb with coconut and tamarind, some reassuring chicken pakora, chilli fish cakes and perhaps a simple naan on the side. All tapas dishes are priced £3.75 to £6.25; sundries up to £2.25.
On a prominent corner site at the bottom of Byres Road, Usha's arrived in summer 2014 promising vegetarian and vegan food in smart, split-level surroundings. It bills itself as a street food venue – tapas-sized dishes occupy much of the menu – although the décor could hardly be less street. There is an excellent choice of pakora, puri and South Indian items, vegan and gluten-free options are clearly marked (although you do wonder if they should have strayed off-piste), and there are added Chinese and Mexican bits and bobs including Indo-Italian pizza. Upside: you can have aubergine pakora, spinach and potato curry (aloo palak) and a rice pancake (dosa) with tangy lentil sauce (sambhar) and be a very happy diner. Downside: it can feel a little corporate, like a franchise waiting to happen.
More to explore