The best things to do in Seoul
The South Korean capital is booming and has something for everyone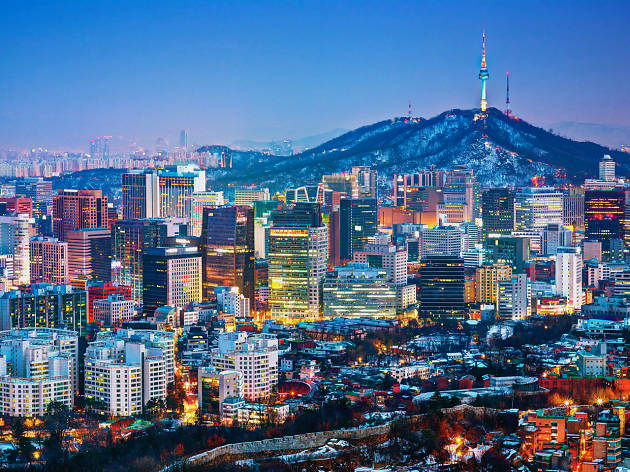 There are many reasons to visit Seoul. The city boasts an eclectic mix of attractions, ranging from a Unesco World Heritage-listed shrine and palace to colourful markets and a vibrant nightlife. And that's without mentioning the food, K-pop, the countless cafés... Basically, there's tons to do and see in Seoul. But whatever you're interested in, here are our recommended must-sees while you're in town.

Not interested in Seoul? How about Okinawa or Hoi An?
The best things to do in Seoul
Explore Ikseon-dong, a neighborhood on the rise
Built during the Joseon Dynasty, Ikseon-dong is an old neighbourhood with one of the largest concentration of hanoks (traditional Korean houses) anywhere in South Korea. Home to everything from craft beer bars and quaint cafés to tea houses and the cutest convenience store anywhere, hit it up before it ends up on every hipster to-do list.
Visiting the palaces is a must
Yeah, it's a totally touristy thing to do to hit up Changdeokgung Palace (pictured, 99 Yulgok-ro, Jongno-gu, 110-360), Gyeonbokgung and Deoksugung. Still, you gotta appreciate these places for their awesome history, architecture and aesthetic. Do a little walking and learn a little something while you do so as you check out these historic gems.
Get naked at a jjimjilbang
Korea's jjimjilbangs range from small, wood burning 'well-being' centres to giant entertainment multiplexes complete with video arcades, nail salons and restaurants. Folding towels into lamb-like hats is an art form and ladies have hot seats to help warm their wombs. Seoulites come to jjimjilbangs to meander happily in and out of boiling hot saunas and often bring the whole family along. You'll get hours of entertainment and come out soft and scrubbed, for just $75-$110. Not sure where to go? We suggest our go-to: Dragon Hill Spa in Yongsan (40-712, Hangangno 3-ga, Yongsan-gu).
Feast on Korean barbecue
Korean barbecue can now be found from Beijing to Nairobi, but there's nothing like getting your fill (and then some) of grilled meaty goodness in Seoul itself. You can also find just about any kind of barbecue imaginable here, from eel to Jeju Island black pork belly to cow intestine. Expect to leave dinner clutching your bulging belly, reeking of grilled meat and beaming. Our recommendation: Wooraeok (62-29 Changgyeonggung-ro, Jung-gu, 100-330), which has been serving naengmyeon, noodles in icy cold broth, since 1946 and is one of Seoul's most famous old restaurants.
Experience 'bang' culture
'Bang' literally means room in Korean and with a great number of personal space-hungry Seoulites living with their families in small apartments, locals love themselves some bang away from home. There are PC-bang, board game-bang, DVD-bang, and multi-bang that combines everything. Most bangs are open 24 hours and come available with refreshments, snacks and sometimes even ice cream. PS: some DVD-bangs and multi-bangs provide tissue boxes and they're not for the sad movies. Still, for something more above board, try Board School (118 Eoulmadang-ro) and get your game on.
Grab a coffee at Hakrim Dabang
Opened in 1956, Hakrim Dabang (2/F, 119 Daehak-ro, Jongno-gu, 110-524) is one of Seoul's oldest dabangs, or traditional coffee houses. In its younger years, Korean students fighting for democracy came here to discuss philosophy, literature and art. Customers of all ages come here to chat and sip their beverages, which are undoubtedly much better tasting than the instant coffee once served in places like Hakrim. Their homemade cream cheese cake, which is more custard-like than cake, is also a popular item.
Eat something weird at Gwangjang Market
Going back 110 years, Gwangjang Market (88 Changgyeonggung-ro, Jung-gu, 110-833) was originally Korea's largest hanbok (traditional clothing) and silk goods market. These days, it's the country's hottest market for tasty street food. A number of the food stalls have gained cult status: Mayak Gimbab (which literally means 'narcotic gimbap') is famous for its addictively delicious miniature gimbap rolls, consisting of rice in a special sauce of mustard, sugar, and soy sauce wrapped in crispy dried laver. Eunseong Hoejib is well known for its daegu maeuntang, a spicy and rich cod fish stew that will leave you sweating and asking for more. And you can't leave without trying the bindaeddeok, crispy mung bean pancakes stone ground and fried right in front of you; or the jokbal, a sweet, salty and chewy pork hock dish; or any of the noodles... and the list goes on. With 90 places to eat, you'll have your pick of vendors and plenty of reason to come back again and again.
Dance the night away at Cakeshop
Nightlife in Seoul means you and the metropolis in the ring. The first two rounds, consisting of dinner and drinks, are easy. Get to a club and that's where you really sweat. We recommend Cakeshop (Itaewon-ro 134, Yongsan-gu, Seoul, 140-863), probably the trendiest club in Itaewon right now. It's not that spacious, but famous foreign artists stop by whenever they're in town. Hiphop and electronic sounds rub shoulders, and there are party programs full of new concepts each week.
Getting there and where to stay
Flights
Cathay Pacific (cathaypacific.com) and Korean Air (koreanair.com) both offer direct daily flights from Hong Kong to Seoul's Incheon airport from $3,287 and $4,007 respectively.

Hotel W-Seoul Walkerhill
The South Korean capital's must-stay location, W-Seoul (177 Walkerhill-ro, Gwangjin-gu, +82 2465 2222; wseoul.com) is less a hotel and more a celebration of design and trendsetting events. This Hotel W is the ideal place to call home during a tech and design-inspired getaway. Overlooking the Han River, it's conveniently located between downtown Seoul and the Gangnam district. A free shuttle ferries guests to nearby Gwangnaru (line 5) and Ganbyeon (line 2) subway stations. Rooms from $1,567 per night.
Sophia Guesthouse
Just off one of Seoul's most youthfully artsy streets, the hotel (Sogyeokdong 157-1, +82 2720 5467; sophiagh.com) has an authentic dynastic feel. The dark-wood Josean structures and courtyard make you feel like you've gone back 150 years, creating a great contrast to – and respite from – modern Seoul on your doorstep. Rooms from $425 per night.