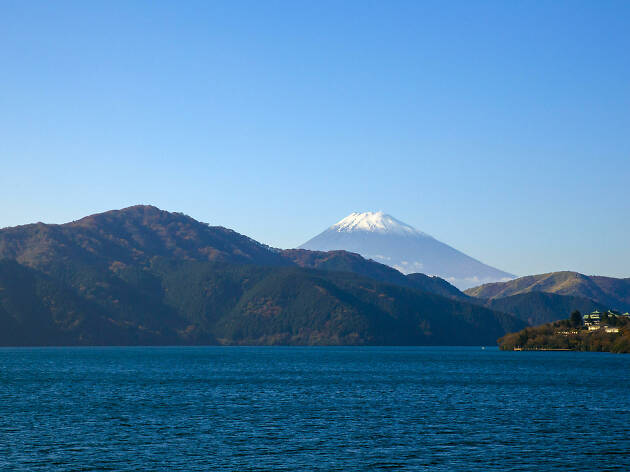 The best things to do in Hakone
With spectacular mountain scenery, soothing onsen and amazing art museums, Hakone makes for a perfect getaway
Mount Hakone lies about an hour and a half by train from Tokyo, which makes it a popular day-trip or weekend getaway for Tokyoites. It has a long and illustrious tradition as a hot spring town – its name even appears in Edo-era (1603-1868) rankings of Japan's best onsen towns. But Hakone is about much more than just bathing. It's got everything from superb art museums to an active volcano – as well as a jaw-dropping view of Mt Fuji on clear days. These are our top picks of things to do and see around the area, from central Hakone-Yumoto and beautiful Lake Ashi to posh but relaxed Gora, which is still one of the most in-demand neighbourhoods for moneyed Tokyo folks looking for a second home.
Best things to do in Hakone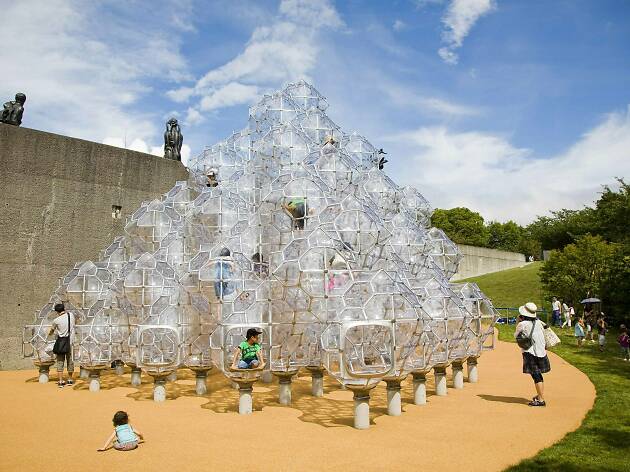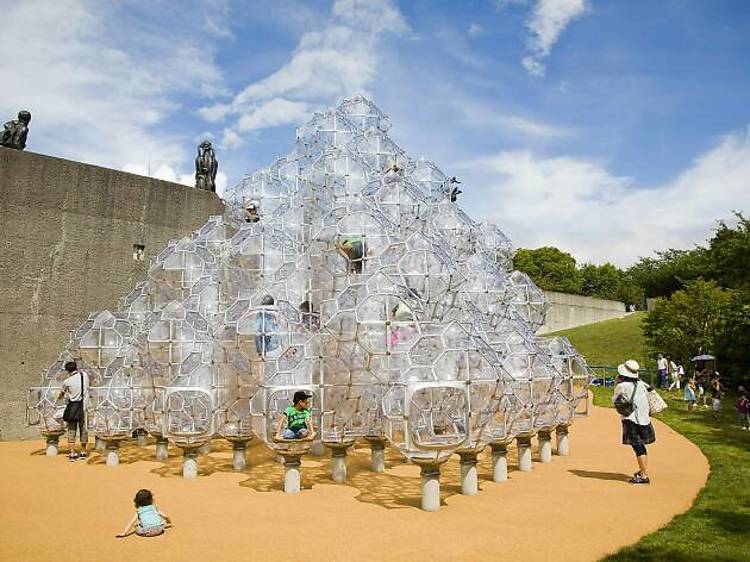 The Hakone Open-Air Museum
You'll find sculptures as far as the eye can see at this unique facility in Ninotaira, which was ahead of its time when it opened in 1969 as the first alfresco art museum in Japan. Here you'll find around 120 modern and contemporary works of art spread across the expansive 70,000 sq m park. There are works by Henry Moore and Fernand Léger plus an indoor exhibition hall dedicated to Picasso. The best part? It's super family-friendly, and some of the installations even double as kids' playgrounds. You could easily spend at least half a day here before soaking your tired feet at the museum's natural hot spring foot bath.

1121 Ninotaira, Hakone, Ashigara-Shimo, Kanagawa. 0460 82 1161. 9am-5pm daily. $116, students $87, children aged 6-15 $58.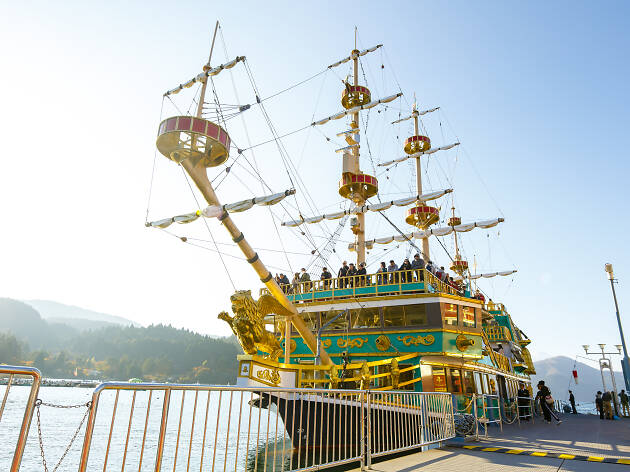 Visit Owakudani, get on the cable car (known as the 'ropeway') for Togendai and you'll soon find yourself at the shore of Lake Ashi. Said to be about 3,000 years old, this still body of water is best viewed from the gaudy looking 'pirate ship' that regularly cruises across it. Gazing out from the deck, you'll be able to spot the distinctive red 'peace gate' of Hakone Shrine, which stands partially submerged in water near the shore, and majestic Mt Fuji towering over the landscape. More active travellers may want to rent a boat and angling gear and head out to try their luck with the local fish, which include rainbow trout, black bass and Japanese lake smelt.

Motohakone, Hakone, Ashigara-Shimo, Kanagawa.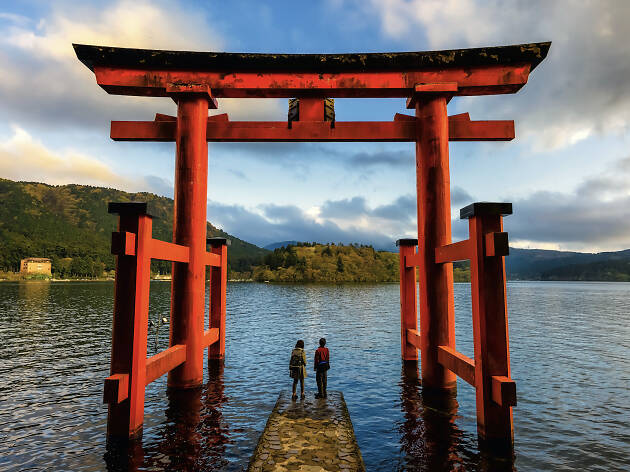 If you're taking the 'pirate ship' from Togendai to Moto-Hakone, don't forget to pay a visit to the Hakone Shrine, whose red torii gate can be seen from the waters. Said to bring luck in battle, its powers have been trusted by the likes of shogun Tokugawa Ieyasu and 12th-century ruler Minamoto no Yoritomo. For a double dose of spiritual clout, continue your walk for another ten minutes to Kuzuryu Shrine, which draws on the legend of a nine-headed dragon that managed to calm a poisonous monster that terrorised Lake Ashi way back in the Nara period (710-794). This shrine is known as a bringer of luck in both money matters and love.

80-1 Motohakone, Hakone, Ashigara-Shimo, Kanagawa. 0460 83 7123.
Shops at Hakone-Yumoto Station
The shopping arcade in front of Hakone-Yumoto Station offers plenty of options for souvenir-hunters. You'll want to start at Tanakaya, where the shelves are lined with yosegi marquetry boxes, hot spring minerals and all sorts of other quirky stuff you can only find here. For edible gifts, consider old-school sweets shop Chimoto, found a bit further up towards the hot spring inn area. Its marshmallow-like yumochi cakes, which you can also order at the in-house café, are especially popular. Note that most of the shops in this area don't take credit cards.

Yumoto, Hakone, Ashigara-Shimo, Kanagawa.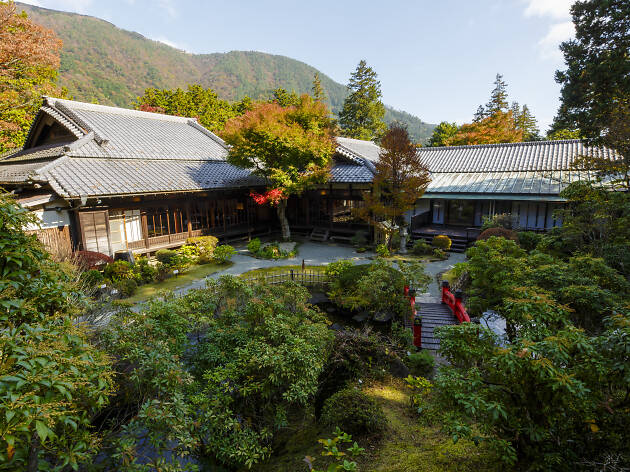 Miyanoshita has attracted customers as a hot spring resort since 1878, when the famous Fujiya Hotel opened in this now very retro neighbourhood. The several late 19th- and early 20th-century buildings lining its streets are now mostly occupied by cafés, restaurants and souvenir shops. Particularly notable among these are Studio Shima, a photo studio founded in the same year as the Fujiya Hotel and visited by the likes of John Lennon and Charlie Chaplin, and Kikkaso, where you can savour a plate of traditional beef curry ($190) at lunchtime. For stylish accessories and knickknacks created by local artists, check out Naraya Café right by Miyanoshita Station.

Miyanoshita, Hakone, Ashigara-Shimo, Kanagawa.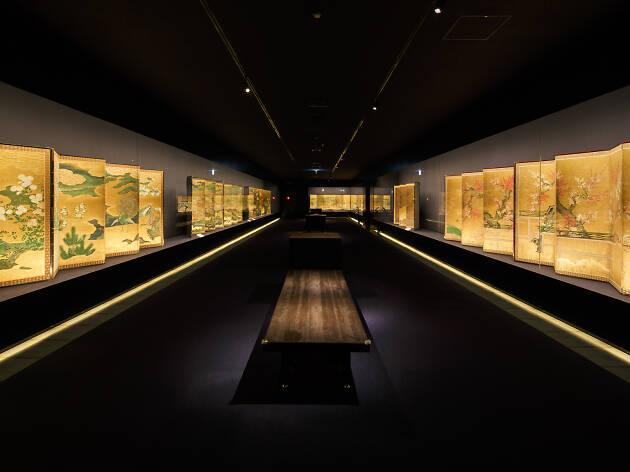 One of the most impressive museums in Hakone, the Okada Museum of Art displays mainly Japanese, Chinese and Korean works on five floors and across 5,000 square metres. Its collection includes pieces from antiquity to the present, making for a really deep dive into the history of East Asian art. The museum's current exhibition (ends March 30) is a five-year anniversary show highlighting the very best of the Okada trove. For the perfect end to your visit, soak your tired feet in the museum's outdoor hot spring foot bath while you admire the stunning mural of the wind god and thunder god.

493-1 Kowakudani, Hakone, Ashigara-Shimo, Kanagawa. 0460 87 3931. 9am-5pm daily, closed Dec 31 & Jan 1. $203, children aged 6-15 $130.
Best things to eat and drink in Hakone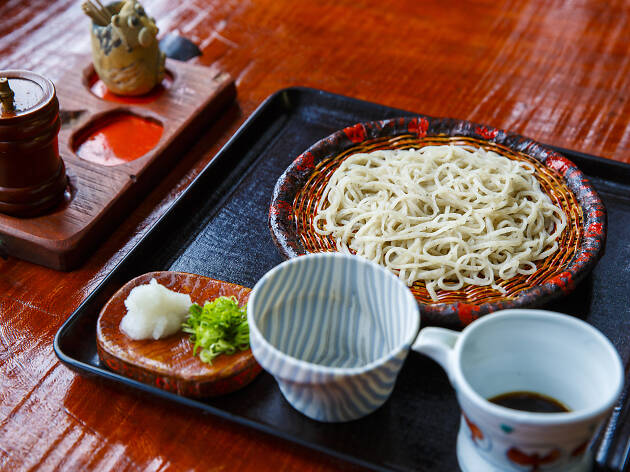 Located just off the road near Ubako, this strangest of soba noodle eateries stands out in more ways than one. Upon arrival, you'll be treated to the avant-garde art of owner Takao Abe, whose peculiar creations include sculptures decorated with broken plates and marbles – it's all supposed to be themed on idiosyncratic French artist Ferdinand Cheval's 'Le Palais idéal'.
Don't let the offbeat visuals distract you: Abe's noodles are excellent, with the most popular options on the menu sometimes selling out before noon. Besides the inaka seiro, featuring hand-cut noodles made with stone-milled buckwheat and served cold, we like the simple kake soba (noodles in hot broth). Make sure to also explore the selection of appetisers, which includes treats such as grilled miso paste ($43) and itawasa (fish cakes served with soy sauce and wasabi, $58).
160-80 Motohakone, Hakone, Ashigara-Shimo, Kanagawa. 0460 84 7500. 11am-6pm, closed Wed.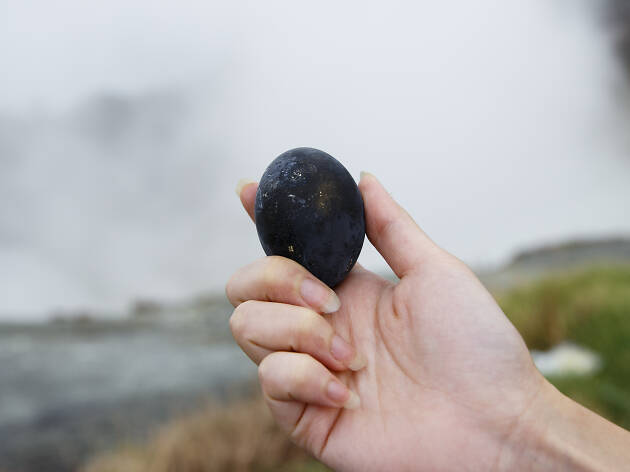 The first place to visit after getting off the train at Hakone-Yumoto, the gateway to Hakone, is Owakudani: a crater formed when Mt Hakone erupted about 3,000 years ago. Steam and a very recognisable sulphur odour constantly rise from its rocky surface, allowing you to sense the power of nature with your eyes – and your nose.
The local speciality is kuro tamago, literally 'black eggs', which get their distinctive colour by being boiled in the sulfuric hot springs. Only sold in packs of five ($36), these eggs look perfectly normal on the inside, and locals believe that consuming them could prolong your lifespan. For the best view of the crater, take the cable car (also known as a 'ropeway') from Sounzan Station to Owakudani Station and make sure to keep an eye out for views of Mt Fuji along the way.
Sengokuhara, Hakone, Ashigara-Shimo, Kanagawa. 0460 84 9605.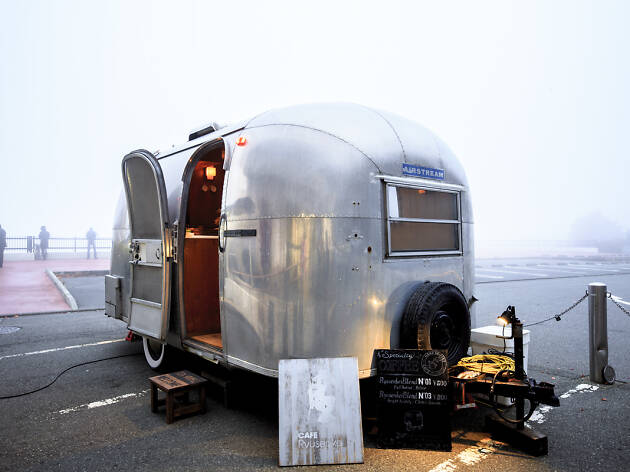 This charming trailer café is technically mobile, but you can usually find it around the Hakone Ropeway's Sounzan Station. A big fan of kissaten (traditional Japanese coffee shops), the owner hand-pours every cup of coffee, and also serves up hot chocolate, matcha tea with milk, mulled wine and soup. Do check the website before heading over, as Ryusenkei sometimes goes on the road for events.

1300-489 Gora, Hakone, Ashigara-Shimo, Kanagawa. 10am-6pm (hours vary by day).
Best nightlife spots in Hakone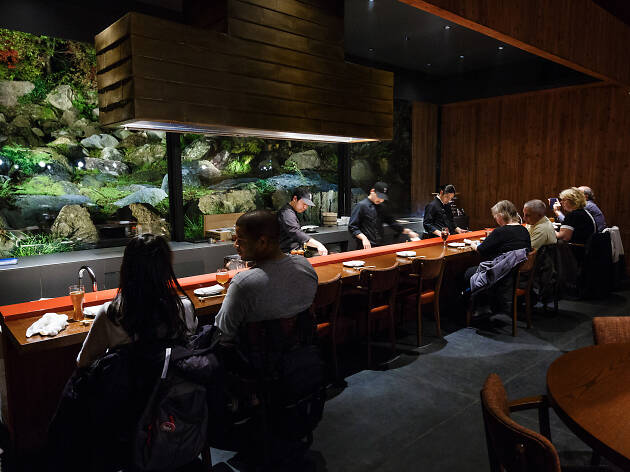 Opened in 2017 by celebrity chef Nobuyuki 'Nobu' Matsuhisa himself, Gora Brewery combines innovative Japanese cooking with craft beer from the microbrewery on the premises. Pair creations such as crispy gyoza dumplings filled with kuroge (black-haired) wagyu meat ($65) and voluminous sushi rolls stuffed with fatty tuna and salmon ($130) with the signature Gora IPA ($58). When you're all filled up and satisfied, close out the evening by resting your legs in the foot bath outside.
1300-72 Gora, Hakone, Ashigara-Shimo, Kanagawa. 0460 83 8107. Lunch & happy hour 1pm-4pm (last orders 3.30pm; beer $36), dinner 5pm-9.30pm (8.30pm).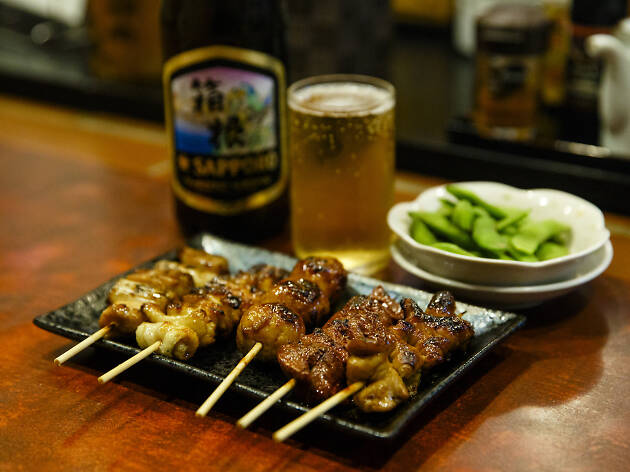 Open until midnight, this friendly izakaya is one of the few options for a late-night meal outside of the hot spring inns of Hakone-Yumoto. Famed for its chanko nabe – the hearty meat and vegetable stew sumo wrestlers love – Karuta also does a range of delicious sake-compatible appetisers. Try the oyaji omakase ($51), a five-skewer set of grilled pork and chicken meatballs, or some lotus root hasamiage ($65). With a hostel nearby, the place often fills up with both tourists and locals from early evening, so you'll want to book a table in advance (note that the staff don't speak English, so get your hotel to make the call for you).
1 Yumoto-Chaya, Hakone, Ashigara-Shimo, Kanagawa. 0460 85 7917. 6.30pm-12midnight, closed Thu.
Best places to stay in Hakone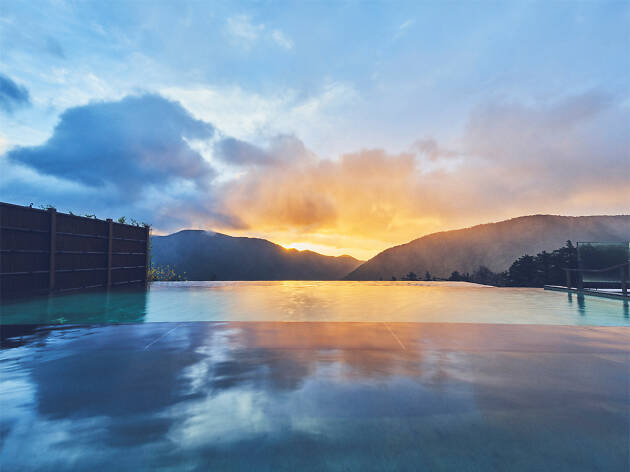 All of the rooms at this classy inn, opened in April 2017, are equipped with private open-air baths filled with hot spring water from Owakudani. In addition to the 120 standard rooms, Ten-yu offers 24 top-floor rooms and six suites, with prices starting from $2,580 (for one person) per night. While soaking in a private bath is relaxing, make sure you check out the shared bathing facilities, which feature an 'infinity onsen' that looks out over the vast wilds of Hakone.

1297 Ninotaira, Hakone, Ashigara-Shimo, Kanagawa. 0460 82 5111.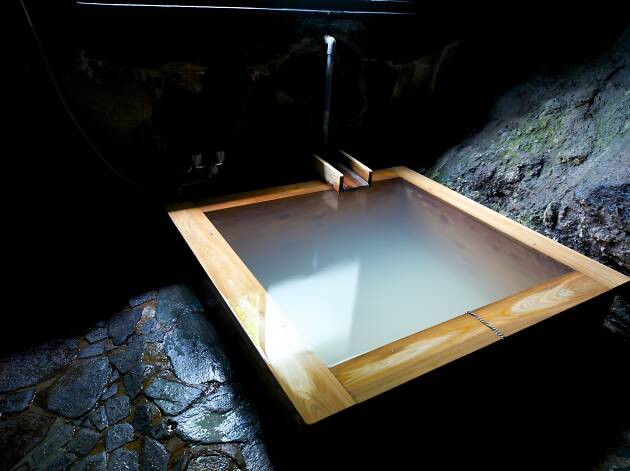 A guest house occupying a renovated old ryokan just a stone's throw from Gora Station, Hakone Tent has earned a loyal following among budget travellers. Dormitory beds cost $255 per night, and the price includes 24-hour access to the on-site hot spring facilities. Guests are welcome to use the shared kitchen, and the bar opens at 5pm every night and fills up quickly.

1320-257 Hakone, Ashigara-Shimo, Kanagawa. 0460 83 8021.
Insider tips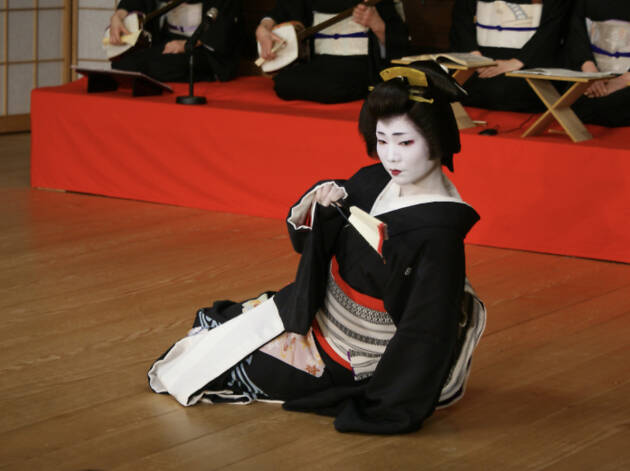 Up to 300 geisha come to practice dancing, singing and shamisen-playing at this traditional house, where free shows are held monthly.

694 Yumoto, Hakone, Ashigara-Shimo, Kanagawa. 0460 85 5338. geisha.co.jp.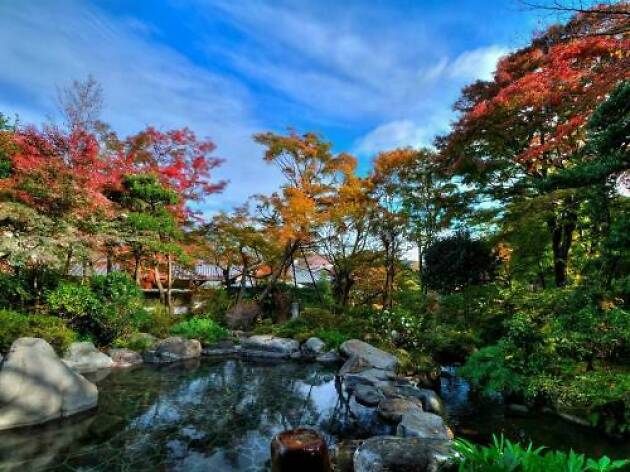 While most onsen in Hakone are only accessible to in-house guests, this public bath, run by the venerable Yoshiike Ryokan inn, opens its doors to daytime patrons between 1.30pm and 10pm. In addition to the hot spring baths, visitors can check out the ryokan's impressive Japanese garden.
597 Yumoto, Hakone, Ashigara-Shimo, Kanagawa. 0460 85 5711. yoshiikeryokan.com/en-gb/onsen-spa. 1.30pm-10pm (last entry at 8pm). $145, children aged 12 and under $110 ($4 'onsen tax' is added to the entrance fees).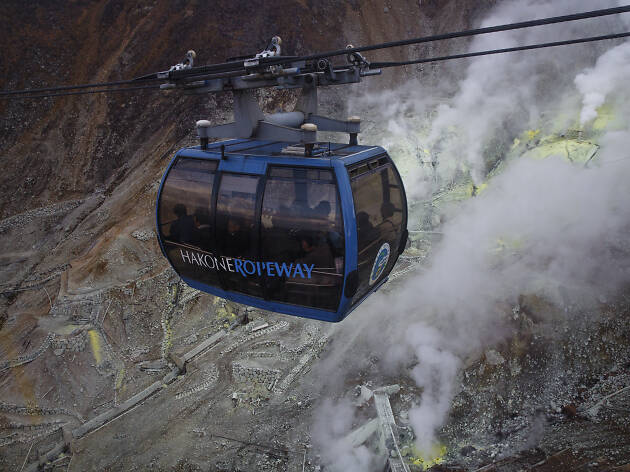 Save on transportation with this convenient ticket, which gives you unlimited rides on the Hakone Tozan Railway, the ropeway (pictured), the Lake Ashi boat cruise and all other major forms of transportation in the area. A two-day pass, which includes a return train ride from Shinjuku, costs $375 and can be purchased at Odakyu line stations and many tourist information centres.
How to get there
Situated just west of Tokyo, there are no flights straight to Hakone, so you need to fly to the Japanese capital first. Your best budget options to Tokyo are HK Express and Vanilla Air, which offer flights from as low as $1,280. For more comfort, opt for Cathay Pacific or ANA. From central Tokyo, take the Odakyu Odawara Line from Shinjuku Station and change at Odawara for the Hakone Tozan Line, which will take you to Hakone-Yumoto. A regular ticket should cost about $90.