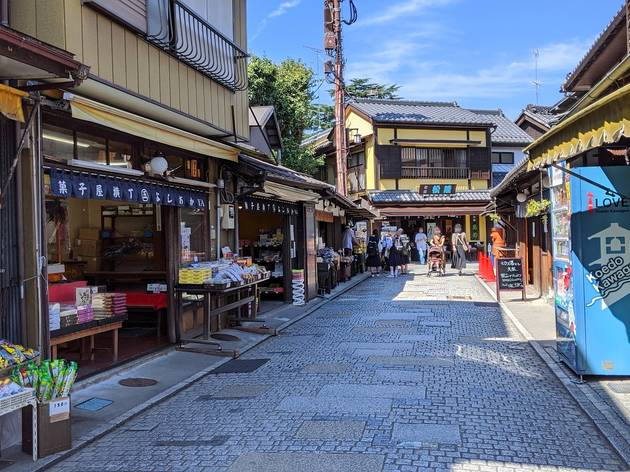 1/6
Photo: Banana18/Photo-AC
Kashiya Yokocho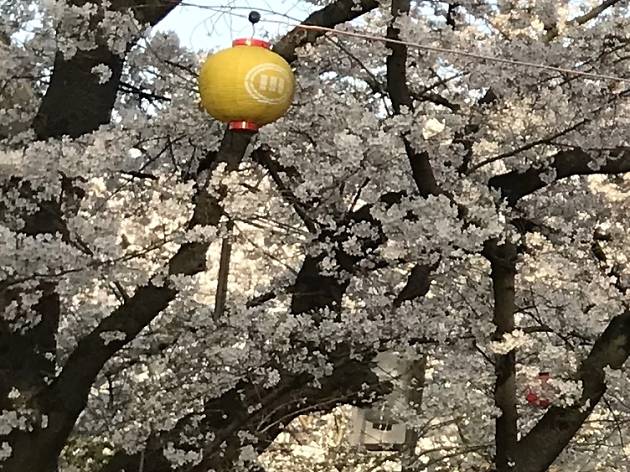 2/6
Photo: Chee Wah Lim
Kawagoe Shingashi River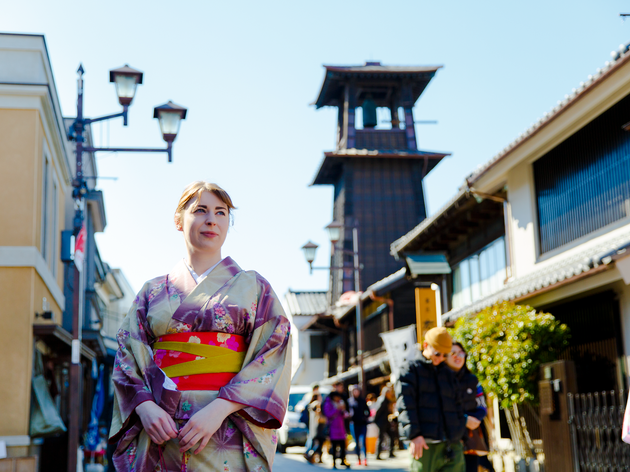 3/6
Photo: Keisuke Tanigawa
Toki no Kane bell tower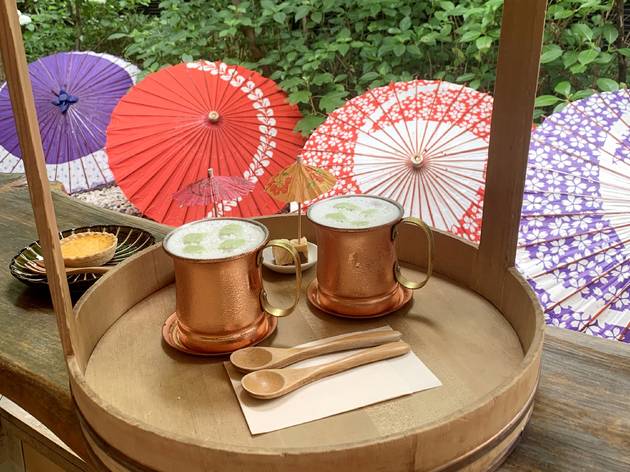 4/6
Photo: Tabea Greuner
Tsubakiya Foot Spa Tearoom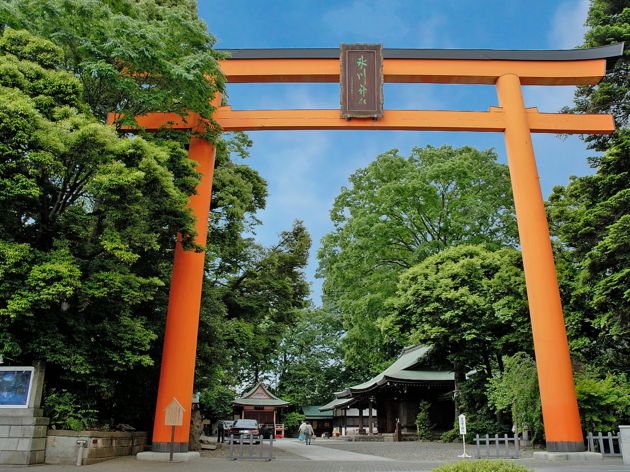 5/6
Photo: Kawagoe Hikawa Shrine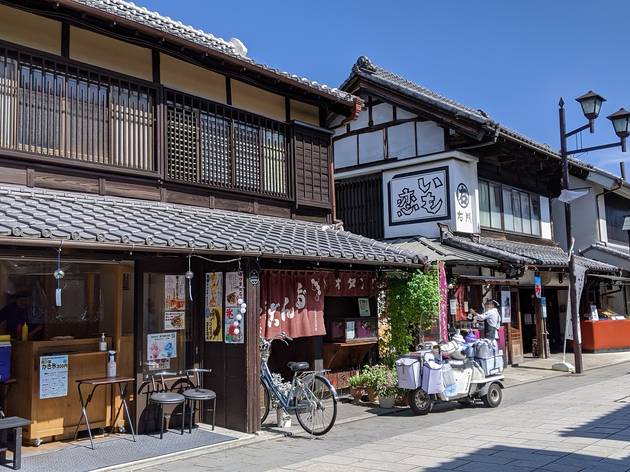 6/6
Photo: Banana18/Photo-AC
Kawagoe's Koedo area
Guide to Kawagoe: best things to do, attractions, restaurants, cafés and shops
How to spend a perfect day at Saitama's Little Edo, just north of Tokyo: visit shrines, shopping streets, tea rooms and more
Kawagoe in Tokyo's neighbouring Saitama prefecture is a popular weekend destination that's just 30 minutes by train from Ikebukuro Station. It's especially famous for its well-preserved Koedo area, known as Little Edo. This small Edo-era (1603-1868) town is packed with souvenir shops, eateries and cafés, all inside kurazukuri, traditional warehouse-style buildings.
You'll spot lots of visitors exploring the historical streets in kimono or yukata while snacking on local treats. Kawagoe's speciality is sweet potato, so keep your eyes open for sweet potato ice cream, or imo kenpi (sweetened sweet potato fries), available along the cosy Kashiya Yokocho, dubbed Penny Candy Alley in English.
But it's not all about food. Kawagoe is a great destination year round: the little stream behind Hikawa Shrine is lined by cherry blossoms in spring, large koinobori (carp streamers) decorate the Taisho Roman Yume Street around Children's Day in May, and the famous Kawagoe Matsuri festival kicks off in October.
To make the most of your visit, we've curated a list with everything you need for a great getaway in Kawagoe.
RECOMMENDED: Head to the seaside for a perfect day in Kamakura

Go sightseeing
The wooden Toki no Kane bell tower is the symbol of Koedo that goes back to the 1600s. The 16m-tall structure was erected by the former feudal lord of the Kawagoe Domain, Tadakatsu Sakai. However, the original tower was destroyed in the Great Kawagoe Fire of 1893, and the current tower is a reconstruction built in the following year.
The Tsuki no Kane bell rings mechanically four times a day at 6am, noon, 3pm and 6pm. There's also a small Yakushi Shrine behind the bell tower, which is believed to be good for eye-related illnesses.
This nearly 1,500-year-old sanctuary is known for granting wishes related to matters of the heart. There are plenty of matchmaking charms sold here, but the most popular one comes in the shape of a red pencil, symbolising the red string of fate. The shorter the pencil gets, the closer you come to your destined partner.
You'll also find wooden boxes filled with omikuji fortune slips shaped like little red snapper fish. Grab a small fishing rod and snag one of these adorable lucky charms, which make for a great souvenir as well.
Kawagoe Hikawa Shrine offers plenty of Instagram-worthy photo ops, so it's worth visiting in a kimono or yukata. There's a picturesque tunnel of ema (small wooden prayer plaques) to walk through, and in summer you can find gates covered in colourful wind chimes, too.
Don't miss the two ancient sacred zelkova trees in the back of the shrine grounds, and if you walk a little further, you'll reach a stream that's lined by cherry blossoms in spring.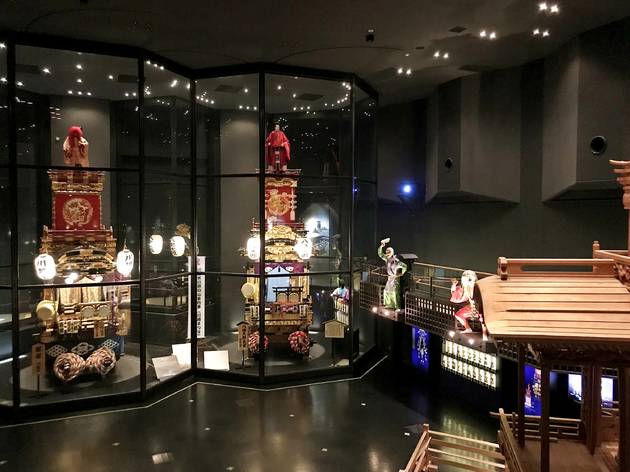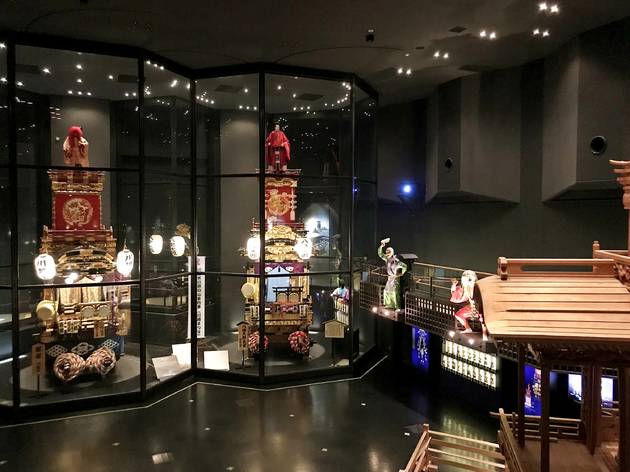 Photo: Tabea Greuner
This museum is dedicated to the massive Kawagoe Matsuri, held anually on the third weekend of October. The festival is famous for its 8m-tall floats that go parading through Koedo's main street. The spectacle, which has its roots in the mid-17th century, reaches its peak at night when the floats are lit up and compete with each other in a raucous performance of drums, bells, flutes and dancing.
If you can't make it to the actual spectacle in autumn, simply drop by the Kawagoe Festival Museum to see two of these beautiful floats on display, complete with life-size dolls on top. Each wooden float is painted with red and black lacquer and decorated with gold leaf. The balustrades and edges feature detailed zelkova wood carvings, and you'll also spot gold and silver embroidered curtains.
To get an idea of what the lively Kawagoe Matsuri is like, be sure to stay and watch the short film shown in the main exhibition hall.
2-1-10 Motomachi, Kawagoe-shi, Saitama prefecture. Apr-Sep 9.30am-6.30pm (last entry 6pm), Oct-Mar until 5.30pm (5pm), closed 2nd & 4th Wed of the month (Thu if Wed is hols), Dec 29-Jan 1. ¥300, primary and junior high school students ¥100.
Take a break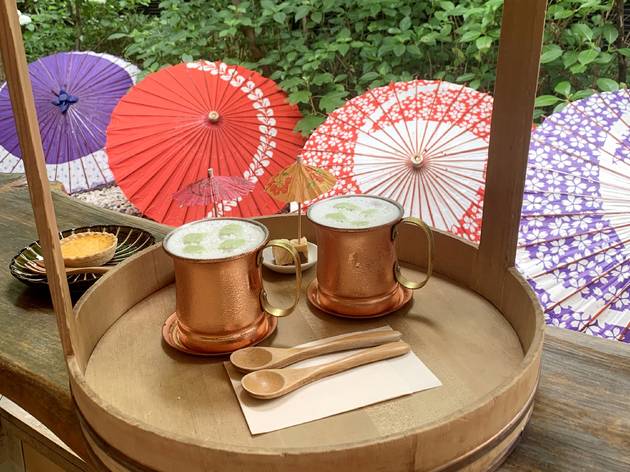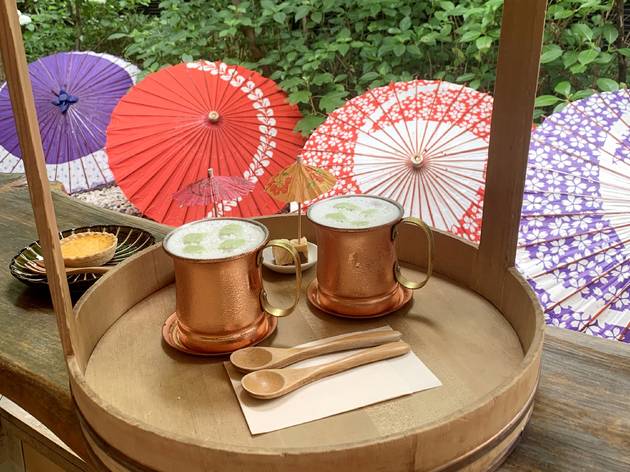 Photo: Tabea Greuner
Tsubakiya Foot Spa Tearoom
This cozy ashiyu (foot spa) is located in the back of Tsubaki no Kura, a two-storey souvenir shop along the main street of Kawagoe's Koedo area, Saiwaicho. To enjoy the outdoor foot spa, you'll have to order at least one drink, however, we recommend the Kawagoe Amami Set (¥1,650) that includes a sweet snack and drink, plus a small towel in one of three different designs representing Kawagoe. You can choose between an egg tart, monaka (wafer cake filled with bean jam) or matcha ice cream, and for the drink: coffee, a matcha latte or genmaicha tea. The outdoor space is decorated based on the season, which makes it a great spot for some Instagram shots.
3-2 Saiwaicho, Kawagoe-shi, Saitama prefecture (Kawagoe, Honkawagoe stations). 049 227 7030. 12noon-6.30pm (last orders 6pm); Sat, Sun & hols 10am-7.30pm (last orders 7pm). From ¥1,320.

Little Edo's Starbucks outlet is easy to overlook as it blends in perfectly with the old-fashioned townscape. The building was designed in the traditional warehouse style, complete with a wooden exterior made of local cedarwood and a typical tiled roof. You'll find it just a few doors down from the Toki no Kane bell tower, the symbol of the area.
Kawagoe's long history is even reflected in the cushions on the shop's benches. They're made with Kawagoe tozan, a local kimono fabric used since the late Edo period (1603-1868) and held in place by decorative traditional ume musubi-style knotted cords.
If the weather allows, opt for the outdoor terrace seats at the back of the store, where you'll have splendid views onto the Japanese garden.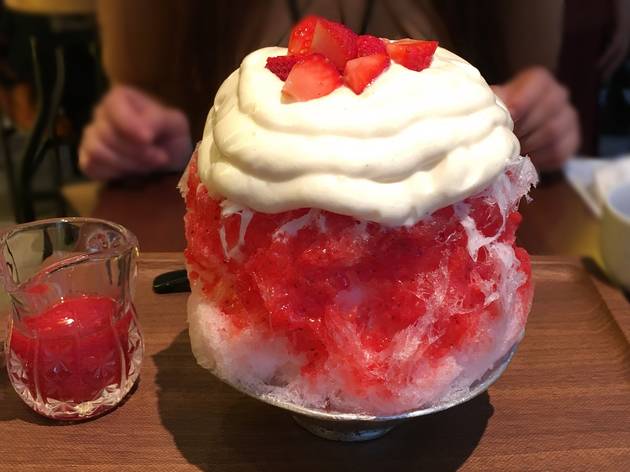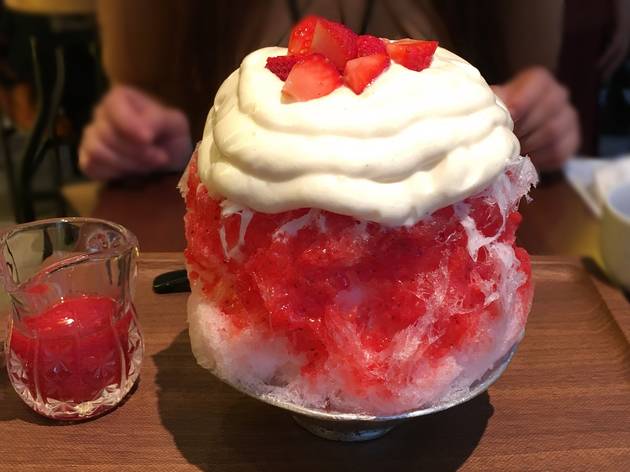 Photo: Kaila Imada
Kakigori (shaved ice with syrup) is the perfect summer treat, and one of the best places to get a taste of it is at Korekaki, short for Kore ga Kakigori ('This is kakigori'). The kakigori are made exclusively with water from the Minami Alps. Besides common fruity flavours such as strawberry, mango or kiwi (¥1,200 each), the little store is especially famous for its unique creations made using local ingredients from Kawagoe and Saitama prefecture.
Opt for the sweet potato kakigori that's served with a sauce made from cassis to enhance the flavour (¥1,200), or the Kagamiya (a Kawagoe sake brand) milk kakigori (¥1,300), topped with condensed jersey milk foam. Another highlight uses local matcha and white azuki bean paste from Hyogo prefecture, which is topped with condensed jersey milk foam (¥1,400). The seasonal lineup changes regularly, so you'll always find something new to try.
1-1-11 Motomachi, Kawagoe-shi, Saitama prefecture (Kawagoe, Honkawagoe stations). 049 214 0858. 10am-6pm (last orders 5.30pm), Jul-Sep until 7pm, closed Wed & 3rd Tue of the month (following day in case of hols), no closing days between Jul & Sep.
Have a meal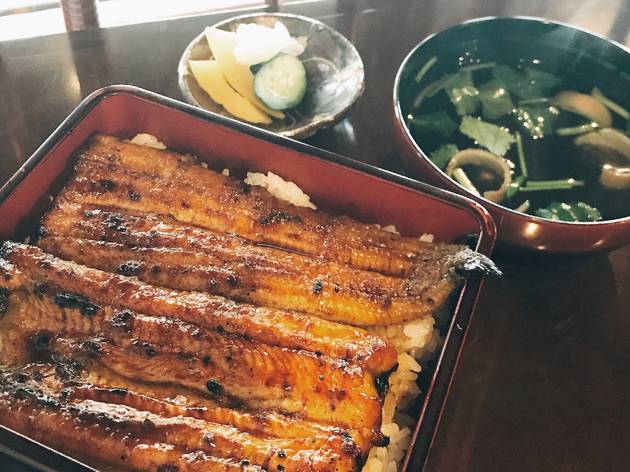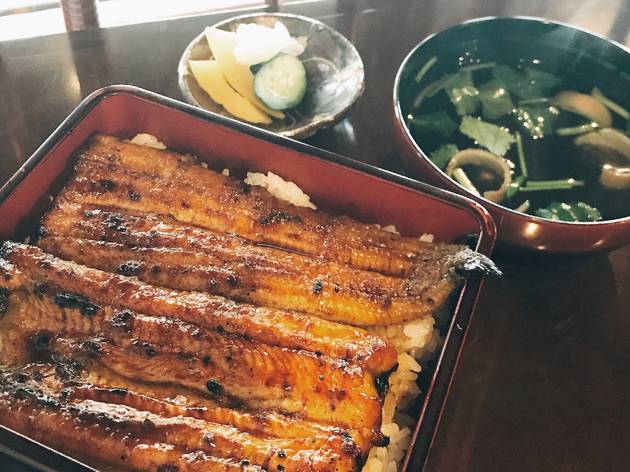 Photo: Tabea Greuner
The most popular lunch option when visiting Kawagoe is unaju (broiled eel over rice, served in a lacquered box). There are many unagi (freshwater eel) restaurants in the neighbourhood serving this local speciality, but Unagi Hayashiya's version is one of the best.
Sometimes you have to line up to get in, but it's definitely worth it. Hayashiya's unaju comes in three different sizes starting from ¥2,420 and is served with pickles and a clear soup containing some of the eel's innards.
2-4 Nakacho, Kawagoe-shi, Saitama prefecture (Kawagoe, Honkawagoe stations). 049 226 3058. 11am-6pm daily.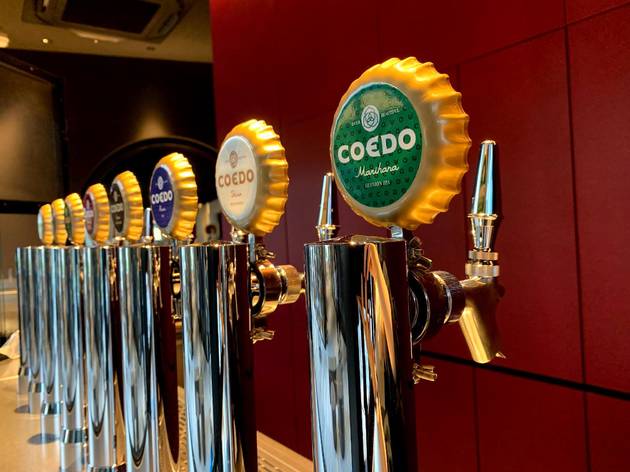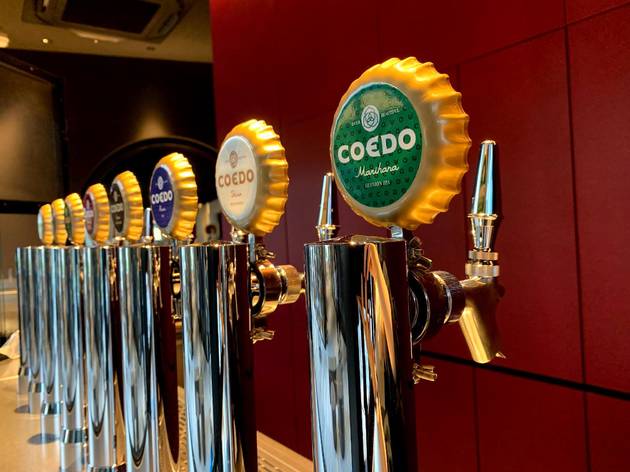 Photo: facebook.com/coedobrewery
Coedo Brewery The Restaurant
Local brewery Coedo is famous for its diverse lineup of craft beer, including its signature Beniaka ale made from Saitama sweet potatoes.
At Coedo's new brewery-restaurant, opened in July 2020, you can not only sample the brand's standard draft beers, but also limited editions brewed right next door. Coedo's staff learned their techniques from a German brewmaster, so you know you're getting world-class beer.
The restaurant's food is based on Chinese cuisine – think homemade dim sum, jiaozi dumplings and dandan noodles – using local ingredients and organic vegetables. Weekday lunch sets start at ¥900 (tax excluded).
If you're looking for a drink to go, head straight to the Coedo Kiosk. The small takeaway shop at the brewery sells bottled and canned beer, and will even refill your growlers, too.
U_Place 1F, 8-1 Wakitahoncho, Kawagoe-shi, Saitama prefecture (Kawagoe, Honkawagoe stations). 049 265 7857 (Coedo Kiosk 049 265 3741). 11.30am-11pm (last orders 10pm), closed 3pm-5pm between Mon-Fri, (Coedo Kiosk 12noon-8pm daily).
Experience local culture
To blend in with Koedo's traditional townscape, it's worth getting dressed up in a kimono or yukata. One of the best and most reasonably priced places to rent a full traditional outfit is Coedo Vivian.
Located close to the Toki no Kane bell tower, Vivian offers kimono/yukata rentals plus hair arrangements for a mere ¥2,200 (¥3,300 for men; ¥4,400 for couples). The deal includes the actual kimono/yukata, undergarment, an obi belt, tabi socks, geta sandals, a bag and hair accessories. You can choose from 500 different kimono and yukata designs and a large selection of belts.
After getting professionally dressed, Vivian will even store your personal belongings until your return, so you can enjoy the town unencumbered. After all, you've got the outfit for the entire day – just make sure to get back to the store one hour before closing time.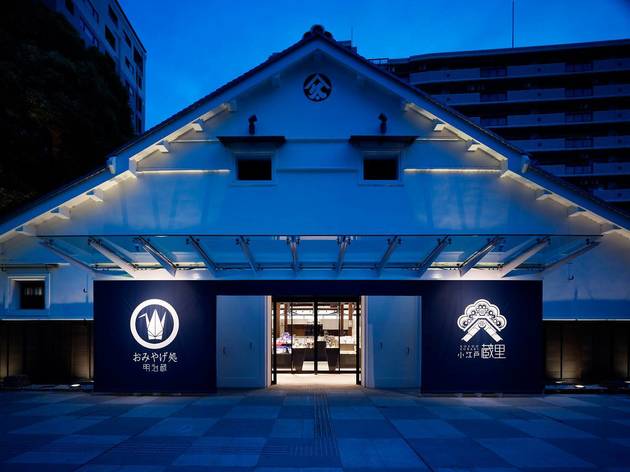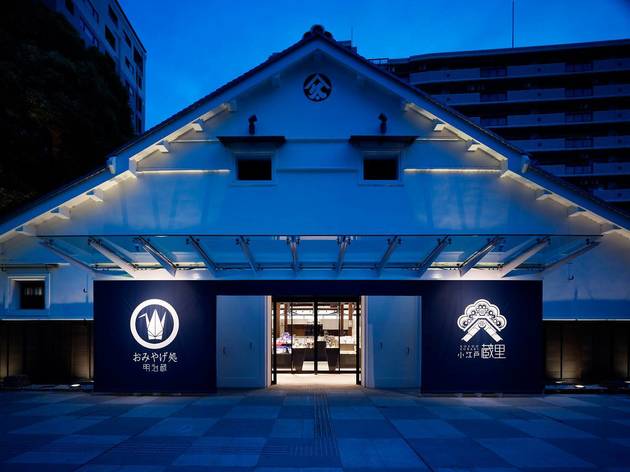 Photo: Facebook.com/小江戸蔵里
This sake spot is a great place to learn about Saitama's local booze. Koedo Kurari consists of three restored storehouses that once belonged to the Kagamiyama Shuzo Brewery, established in 1875.
For some sake tasting, head straight to the Showa Gura, established at the beginning of the Showa period (1926-1989). Here you can sample local concoctions from 34 different Saitama breweries, all via vending machine. For ¥500, you can buy four tokens, each of which will get you one cup of sake.
At Meiji Gura – built in the middle of the Meiji era (1868-1912) – you can find a large variety of souvenirs, including bottles of local sake, monaka wafers filled with sweet bean paste, sweet potato snacks and more. There is also a café on site, offering a range of lunch options and desserts.
Dating back to the early Taisho period (1912-1926), Taisho Gura houses Hasshutei, a restaurant serving meals made from local ingredients. You'll find plenty of sweet potato dishes, set meals and udon, as well as appetisers such as Kawagoe pork kakuni (stew of cubed meat) and Kawagoe zaru tofu.
1-10-1 Shintomicho, Kawagoe-shi, Saitama prefecture (Honkawagoe station). 049 228 0855. Showa Gura 11am-7pm, Meiji Gura 10am-6pm, Taisho Gura 11am-3pm, 5pm-10pm; Sat, Sun & hols 11am-10pm.
More getaways close to Tokyo
Find some of Japan's most beautiful temples, hiking trails and nature attractions no more than a few hours from Tokyo
These luxury campgrounds in neighbouring Chiba and Saitama prove you don't have to travel far to get back to nature
Explore versions of Himeji Castle, Kyoto's famous torii gate tunnel, a Japanese old town and more in and around Tokyo