Cai Rang floating market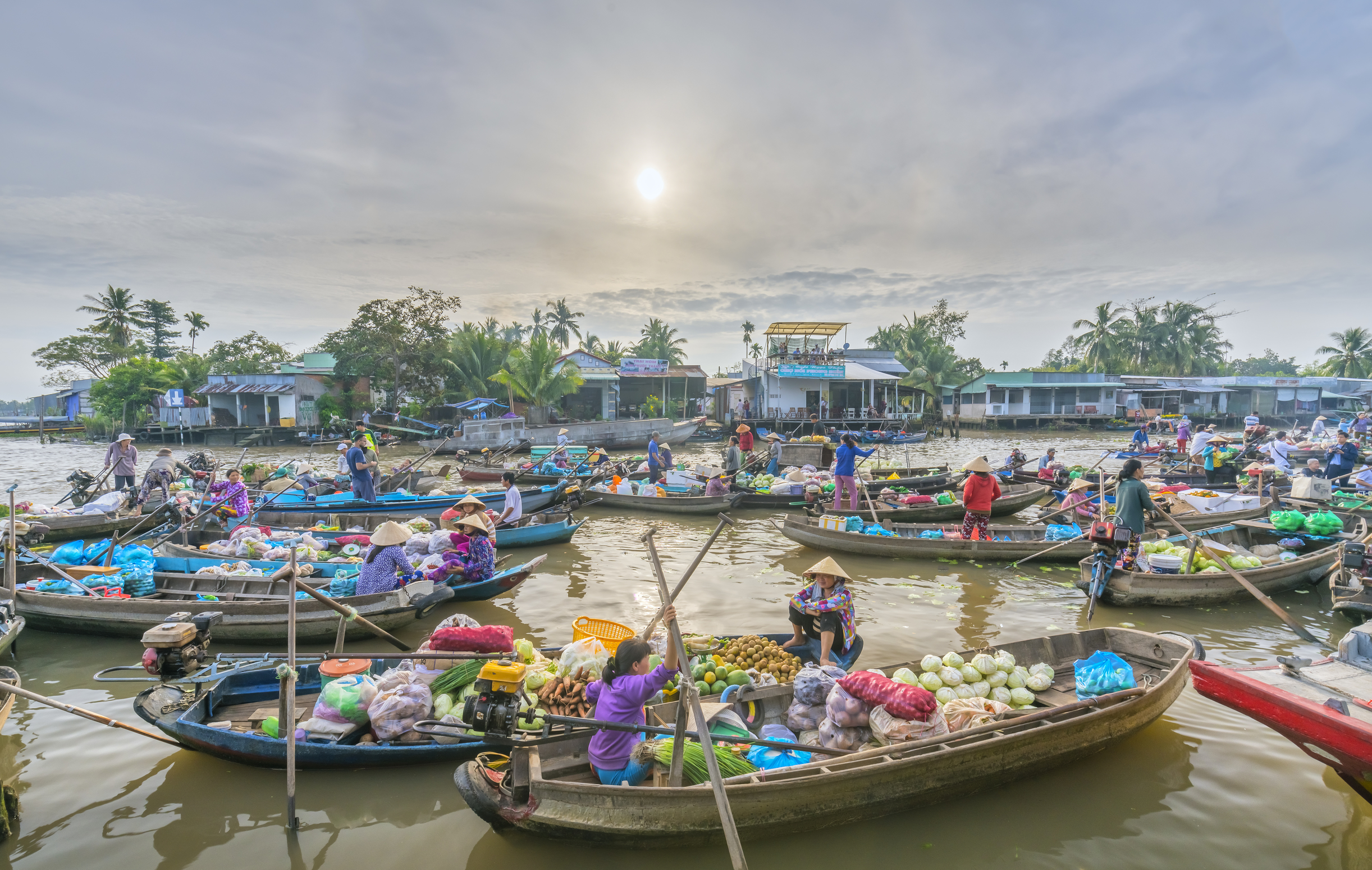 Image: Huy Thoai / Shutterstock.com
One of Can Tho's main attractions is the massive Cai Rang floating market, which stirs to life each day at dawn. The trade is mainly in fruits and vegetables, sold wholesale, in bulk, from the larger boats to the smaller boats. The big boats advertise their wares by attaching samples to long bamboo poles sticking up from their decks, while the smaller craft display their goods in their hulls. Signal to one of the small boat vendors and they'll come speeding over, deftly pulling up alongside your vessel to make the transaction. In addition to produce, some boats offer cooked food, fresh made bánh mì and drinks (including beer and cocktails).
Muoi Cuong cacao farm
Image: Bruce Scott
Cacao was first introduced to Vietnam by French colonialists, although it never truly became a major cash crop. However, the owner and operator of this small-scale, organic cacao farm – who learned how to make chocolate from a book his father gave him – has a booming boutique business with approximately 2,000 cacao trees. The farm tour takes visitors through the process of picking, fermenting, roasting and grinding the cacao beans, with some tasty sampling afterwards. And true chocoholics don't even have to leave, thanks to the on-site Vuon Ca Cao Homestay.
Ninh Kieu Quay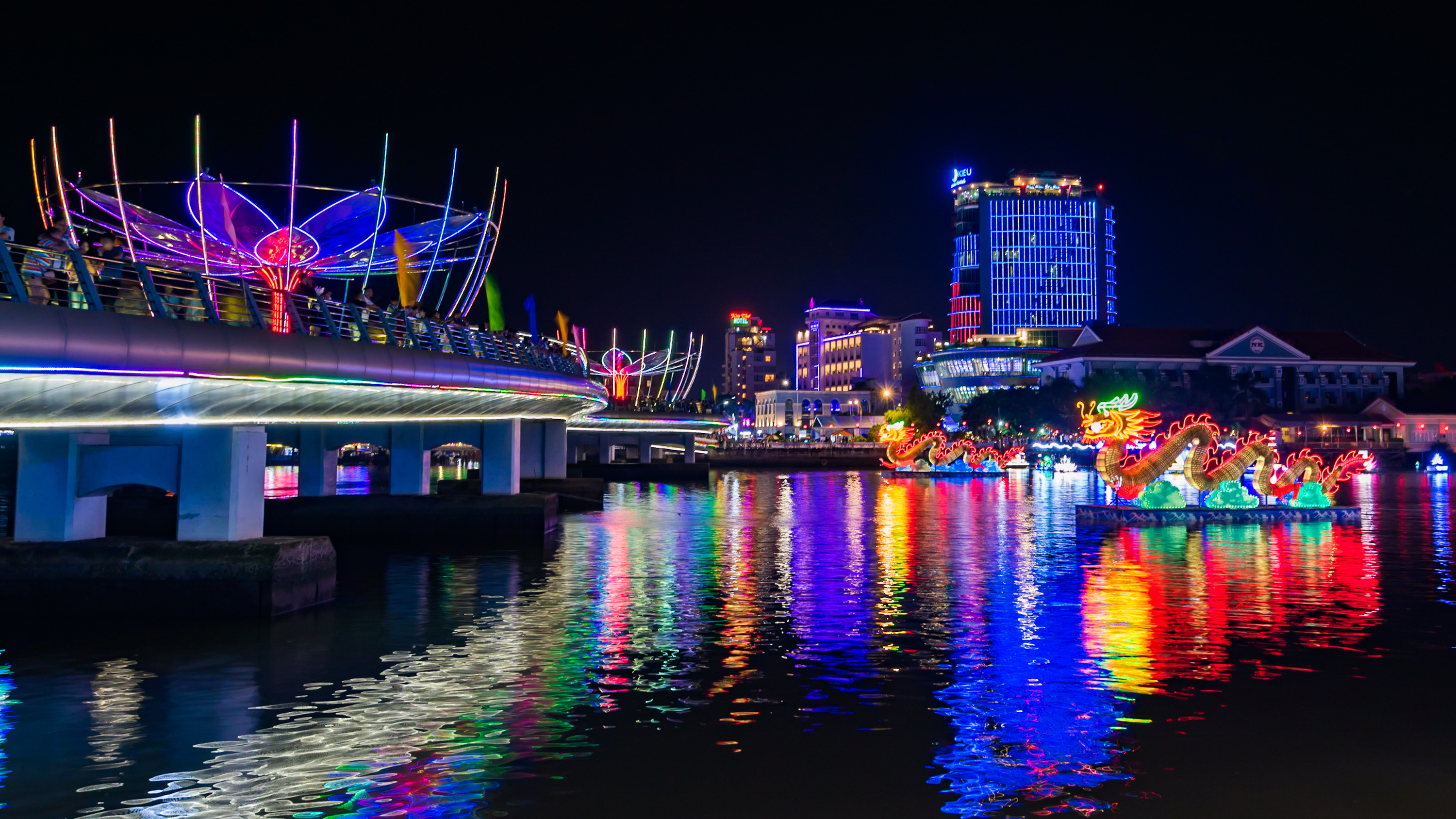 Image: LocHuynh / Shutterstock.com
Also called Ninh Kieu Wharf, this 7,000sqm public space runs parallel to Hai Ba Trung Street and overlooks the Hau River. It's a popular tourist spot, with carefully manicured trees and gardens as well as plenty of nearby restaurants, bars and hotels. One of the main attractions is the Ho Chi Minh monument, featuring a 7.2m bronze statue of a waving Uncle Ho. At sunset the river comes alive with dinner cruise and party boats preparing for their evening excursions, while on land the walking street-slash-night market swings into action. For amazing panoramic views, saunter across the 200-metre-long pedestrian bridge that connects Ninh Kieu to the Cai Khe Islet. Constructed in 2016, the bridge features a pair of giant futuristic lotus bud sculptures and is beautifully illuminated at night.
Historic Binh Thuy House
Image: Azerai Can Tho
An attraction for both film and history buffs, the ornate Binh Thuy House is a visually stunning blend of East-meets-West architectural elements, both inside and out. Built over a 40-year period, from 1870 to 1911, the home was famously featured in the 1992 film The Lover, based on the semi-autobiographical novel by French writer Marguerite Duras, who spent a portion of her childhood in the nearby city of Sa Dec.
Eat your way around the city
Image: Bruce Scott
Vietnam is a foodie's paradise. Every region has its own specialities and spins on traditional recipes. When in Can Tho, don't miss the local version of nem nướng, better known as barbecue pork skewers. They're typically wrapped in rice paper and eaten with a mound of herbs, diced cucumber and sliced fruit like green banana or starfruit. There are tons of noodle dishes to try, too, from gỏi cuốn (summer rolls) and peanut-topped rice noodles to the regional staple bánh tằm bì, rice and tapioca noodles served with pork, herbs and a coconut cream dressing.