10 Tel Aviv & Jaffa bars you absolutely need to go to for a chill AF night out
When you'd rather hang out and relax than dance on the bar with napkins raining down on your parade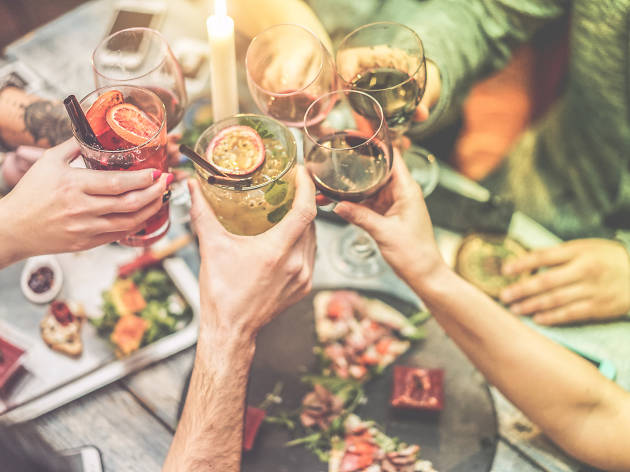 Despite what the Tel Aviv nightlife Gods (or club promoters) tell you, not every night in the White City calls for heavy pregames, dancing on the tables until the sun comes up, and sunrise tylenol chasers to wash it all down. While a crazy all-nighter is necessary once in a while, sometimes you just want a no stress, chill evening with friends–one that involves some casual beers or mixed drinks, a comfortable setting, and overall great company. So if a chill AF evening is what you're after, bring your friends to one of these ten spots. Sit back, relax, and enjoy the show.
The chillest Tel Aviv & Jaffa bars to grab a drink
Located on the bustling King George Street is Silon, an old neighborhood bar that has kept its unique character for the past 13 years. Although it's considered an all time neighborhood bar, Silon still allows for a wild night out. The outdoor seating is great for people watching and talking, but inside you will need to work on your shouting skills, but the music is worth it. Silon serves delicious cocktails, including a Bloody Mary with a gin base rather than vodka that is definitely worth checking out, as well as certain beers otherwise hard to find in Israel. Silon has a happy hour offering 50% off the alcohol menu, which unlike other bars is available every day of the week and on weekends too.
A friendly, neighborhood bar beloved by locals, Margoza is where everyone seems to know your name. It's a no-frills tapas haven, ideal for the last drink of the night, or for an escape away from Tel Aviv's hard-rocking nightclub scene. The kitchen serves a variety of snacks and entrees for those with late-night hunger pains. Margoza also regularly hosts live music, DJs and parties - making their popularity no surprise. There's also great service all around. Check out their happy hour from 18:00-21:00.
A flea-market favorite for Jaffa locals, Main Bazar is a relaxed neighborhood pub, perfect for dinner and drinks with friends. This aesthetic spot sits on a heavily-graffitied alleyway, giving a unique look to this bar. Main Bazar offers a delicious menu, including hummus, salads, pizzas, tapas and more. Come for a meal, or just to sip on one of Main Bazar's signature cocktails, or from the vast wine, spirit and beer selection. For those who haven't experienced the quiet, relaxed nighttime atmosphere of the Jaffa Flea Market, Main Bazar will be a treat!
Where else can you find a bar, cafe, book and record store, and live music venue all in one? Only at Uganda, where alcohol meets great food and culture. Located in the Neve Tzedek neighborhood of Tel Aviv, there is always something funky happening at Uganda, such as a comic book sale, an experimental band playing or an art exhibition. A laid back atmosphere and friendly crowd completes the scene, enhanced by great beers on tap. The second branch to the Uganda in Jerusalem, they also have their own record label and publishing house.
Restaurants, Mediterranean
Nosh on the Carmel Market's best produce while trying out an assortment of over 100 Israeli craft beers at this hot spot. Hip and trendy, this place is always happening and is a great stop for an evening out with friends.
Shem Tov is a favorite for Tel Avivians, located just a half block away from Rabin Square. With a quiet, friendly atmosphere it is the perfect spot for those looking to grab drinks without worrying about getting a table in the bustling city. Shem Tov offers great happy hour specials throughout the week, with 50% off all food and drinks, from 18:00-21:00. Try the oven pizza, one of the favorite drinking snacks Shem Tov offers! This local bar will have you forgetting you're in the heart of Tel Aviv.
Located in the middle of the popular King George Street in Tel Aviv is Rama. Serving the best combination, pizza and beer, Rama is a fun place to sit with friends and enjoy the city. With an extensive beer list, you're sure to find your favorite drink. The pizzas have unique topping combinations, causing some locals to call it the best pizza in town. The atmosphere is relaxed, the patrons are friendly and the service is great, making Rama one of the top places in town to go for an easy meal and drinks.
Restaurants, Mediterranean
While wandering Shuk HaPishpeshim (Jaffa Flea Market), grab a seat at Shaffa Bar serving up local food, seasonal ingredients, and super creative dishes. During the day, the spot is hip and chic; at night, the scene is complemented with creative cocktails and occasional music shows.
Bicicleta is not a bike shop, but indeed a hidden gem of the area. Their star-quality eggplant fries, funky cocktails, all topped with an adorable backyard garden atmosphere, make for a perfect night out with the girls or that special someone. If you're feeling the indoor vibes, the quaint upstairs bar area often plays lovely jazz music to relax to after a long day at work. Save room for dessert, because after their amazing happy hour deals, you'll want to try their halva Toblerone or date cake.
See more bars in Israel