6 Tel Aviv restaurants & bakeries with the most decadent red velvet cake
You don't need Valentine's Day to crave a sweet and sexy chocolate cake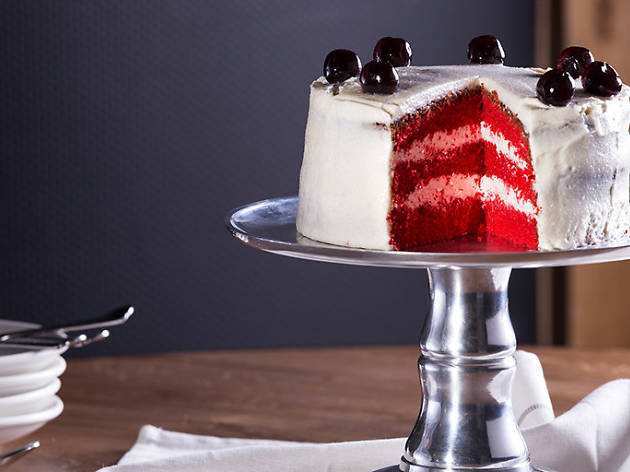 Layer upon layer of moist, red velvety lovin' is perhaps the sexiest thing on the dessert menu. That rich shade of mahogany, a subtle chocolate taste, smooth cream cheese icing, light and airy...just talking about this confection can cause you to climax uncontrollably until you indulge in a slice. Upon finishing, some may even be down for round two with the proper stamina. If you're looking for the best red velvet cakes in town, these Tel Aviv restaurants and bakeries have got just the cure (or at least a truckload of red food coloring).
Red velvet takes the cake
1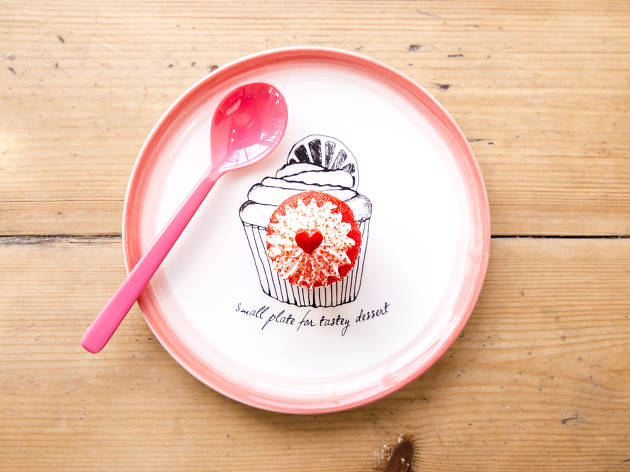 Courtesy of Mor Cupcakes
So Very Vanilla @ Mor Cupcakes
At Mor Cupcakes inside Sarona Market, you'll find the brightest cakes in town. The reason is that there is no cocoa in this cake, but simply color, since this vanilla twist contains no sight of chocolate or cocoa. Topped with contrasting white cream cheese and crumbs, this cake was born to be an Instagram star (NIS 7 for a mini cupcake, NIS 14 for a large cupcake).
But I'm sick of cheesecake! And especially all the talk about this stupid American brand. Well, you're in luck because The Cheesecake Factory doesn't only import cheesecakes. They also shipped in their iconic red-colored cocoa cake topped with velvety cheesecake (ok, so there is some cheesecake in there) with a rich creamy glaze (NIS 30 per slice).
This combination bakery and small café on Ibn Gvirol Street is named after the legendary red velvet itself, so they might as well serve the cream (cheese) of the crop. Here, the recipe is kept top secret. They are only willing to divulge that they're offering a classic red velvet cupcake that contains cocoa and apple cider vinegar, plus a classic cream cheese topping with red cake crumbs (NIS 17 for a large cupcake).
4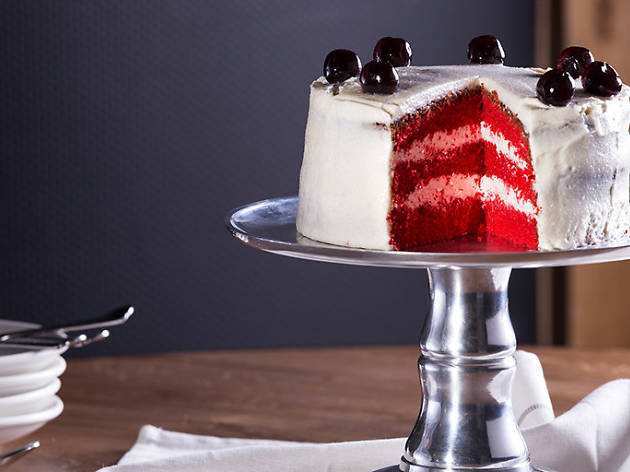 © Sarit Goffen
No more fighting over that one sliver of red-and-white layered bliss. Tito Italiano, the happy Italian from Givatayim, serves his red velvet treat as an entire cake (NIS 120) for all of his diners to enjoy. It is completely breathtaking: the cake consists of illuminating red sponge cake, covered with rich mascarpone cream, and topped with Amarena cherries. If you don't have time to sit for dessert in a restaurant, you can easily take it to go and pounce with large spoons (or your hands...we won't judge).
53 Yitshak Rabin Rd, Giv'atayim
NOLA specializes in cakes from down South, so it makes sense that they whip up a mean red velvet cake here. NOLA honors the traditional style, using cocoa and edible dye to reinforce its red color. You can order it as a cupcake with cream cheese frosting (NIS 16) or go for the homerun with a large cake covered in glaze and strawberries (NIS 260).
Sweet Box, the sweet-looking American bakery on the outskirts of the Levinsky market, offers a sinfully delicious red velvet cupcake or full cake. It too relies on vanilla cake, but it also throws in a hint of cocoa for good merit, and red dye, of course. Topped with cream cheese frosting so sweet that you'll be destined for diabetes in no time. Woohoo! (NIS 6 for a mini cupcake, NIS 160 for a large cake).
Need something to wash that cake down? Check out the best Tel Aviv cafés