Heads up! We're working hard to be accurate – but these are unusual times, so please always check before heading out.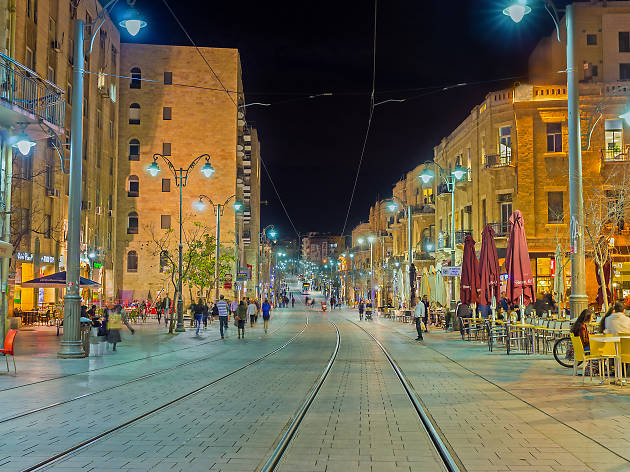 Friday night freedom: Jerusalem restaurants and bars open on Erev Shabbat
Friday nights are reserved for those who love to be social, active and a little bit wild. And Jerusalem certainly makes no exception to that
It's Friday night. You're in the heart of the Holy City, and at the end of a long and exhausting day of exploring the Jewish history and Israeli culture, you really fancy that bite to eat and a drink – or several. But, the sun has set and you're looking around, only to realize that everywhere you see is closed. While for much of the city, Shabbat is a sacred time to be cherished with family and friends, for those less religious, it simply means a temporary goodbye to the exotic diversity of the famous Jerusalem nightlife. Although, that's not entirely true. For dotted around this now silent and crowd-less ancient city, little Jerusalem restaurant hot spots and one particular bar in Jerusalem are alive and booming, and more-than-ready for eager visitors who aren't quite ready to give up their Friday night freedom.
Jerusalem restaurants and bars open on Friday night
With a succulent French/Italian menu that will make the most avid explorers believe that they've bid farewell to the Middle East and stepped into the heartland of Europe, Adom offers one of the most luxurious ways to end your week. Hosting an extraordinary selection of both Israeli and international boutique wines, the budding wine connoisseur in you will undoubtedly be spoilt for choice. If you're looking to escape from the intense crowds of the week, this downtown restaurant has a cosy atmosphere, yet also comprises a surprising amount of space to prevent you from feeling squashed together. All of this is topped off with great service and moderate prices.
Friday Hours: 12:30-02:00
If the extensive touring reminds you of Britain, you may suddenly feel the urge to chow down on some authentic British cuisine. If that's the case, look no further. The Barrel & The Tap offers a soulful British pub environment, comparable to any you're likely to see on an average English high street, complete with signature UK beers. Except this one includes a whopping dose of the relaxed Israeli character thrown into the mix, making the atmosphere chill and the people even chiller. With an authentic selection of drinks, you'd normally have to fly all the way to the land of hope and glory for, Friday nights at The Barrel & Tap ensure that if you can't have an average Jerusalem night, you can at least still have an exhilarating one.
Friday Hours: 18:00-04:00
So maybe you've visited Jerusalem before? Perhaps you'd like your experience to be a little more unpredictable, exotic and even outlandish. For any seasoned traveler, this is more than often not the case. That's why Menza is almost certainly your best bet. With cocktails as creative as this restaurant's entrepreneurial founders, visitors can be certain that upon walking through its doors, you'll end up leaving with a belly full of food and drink far more electrifying than the last restaurant. Fattoosh Mediterranean salad, delectable focaccia, mouth-watering seafood gnocchi and deserts to die for, this trendy and spacious restaurant never fails to impress both newcomers and locals alike, in the quest for sit-down excitement on Friday nights.
Friday Hours: 08:00-Last Customer
Show more
See more restaurants in Jerusalem