Latin flavor: Tel Aviv restaurants cooking up delicious Latin American dishes
1 tequila, 2 tequila, 3 tequila floor. With tangy combinations and margaritas to match, you'll talk tacos all week long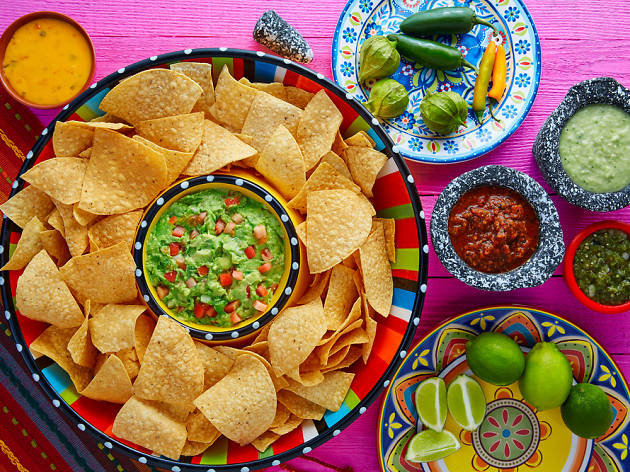 When it comes to grab-and-go grub, locals have mastered the art of Tel Aviv and Jaffa street food – from falafel to hummus and everything in between. So, why not step up to the plate and spice things up with another country's street food? Well, that's exactly what the White City has done. From delicious Venezuelan Arepas in the heart of the Carmel Market to taco Tuesdays and bottomless margaritas at Biggy Z, the Tel Aviv Nightlife bracelet bar staple, these Central & South American Tel Aviv restaurants are so authentic, you'll forget you're in the Middle East.
Taco talk: Tel Aviv restaurants master Latin American food
Margarita and Tequila, tapas and tacos, Diego San is the child of Chef HaAchim and the owners of Casino San Remo – so you know you've landed in gold. It's an attack on all your sense: On the outside you'll see the trendy Levinsky market, and inside you'll hear the coolest music and rub shoulders with Tel Aviv's elite. Oh and don't forget to taste their Mexican taco munchies, Korean bibimbap, and Pad Thai Popcorn – their graffiti-lined communal seating vibe is one to relish.
A relative newcomer on the Tel Avivian Mexican-cuisine scene, Tapachula is a year-old restaurant serving up Tex-Mex classics at the beginning of Rothschild Boulevard. Stop by this spot for a meal or late night snack, ready-to-eat pairs of juicy meat tacos with your hands, or bite into crispy tostadas made with fresh vegetables and smothered in cheese.
With two restaurant locations and another two venues in popular indoor markets, it's clear that Mexicana is a fan favorite amongst Tel Avivians. With a menu that features U.S. inspired Mexican cuisine, there are enough burritos, fresh sides, and bottomless margaritas during Happy Hour to satisfy anyone craving a Tex-Mex bite.
Taqueria serves burritos, quesadillas, and tacos in a casual and inviting atmosphere. When walking the Middle Eastern streets of Tel Aviv, it might be hard to imagine coming across a good taco. However, the tantalizing Mexican spices that radiate from Taqueria's doors will tell your nostrils otherwise.
Biggy Z offers all-you-can-drink bracelet options every night of the week along with great food. Visitors can purchase a wristband that allows them unlimited drink refills, with cost dependent on alcohol of choice. Tuesday is Mexican night, with an exciting menu to go along with it, including nachos towered high with toppings, bottomless margaritas and cocktails that taste like tropical paradise.
This sweet mezcal bar has been serving the hipster neighborhood of Florentin for years. It started as a small neighbourhood bar which then began to receive so much love that the owners eventually had to take over the next door shop to expand the much loved establishment. Mezcal has stood the test of time. The tacos are sensational and wash down wonderfully with the fully stocked variety of tequilas. From tequila tastings to delicious and authentic enchiladas, Mezcal offers a magical meal for all who come and embrace the Mexican cuisine.