"Stuffed!" : The top 8 sandwiches in Tel Aviv
The synergy between two slices of bread and what's inside determines whether a sandwich will be a failure or success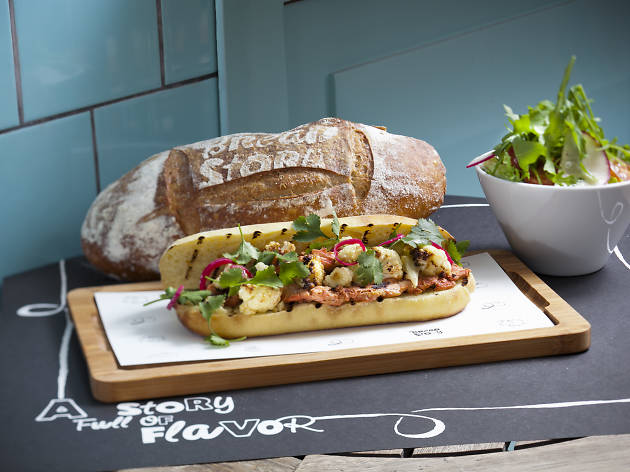 Legend has it that John Montagu, the 18th-century Earl of Sandwich, was responsible for the genius invention that changed the face of the culinary world - the sandwich. The story alleges that the Early liked to play cards so much that every minute away from playing was a waste. One day, in the midst of a game, he was called to eat but instead the Earl asked for a game-friendly alternative where the meat of his meal rested between two slices of bread…and the rest is history.
Fast forward to 2017: there are a lot of sandwiches in this world. However, what sets a sandwich apart from the rest is the synergy between the bread and ingredients stuffed inside. It might come in a crispy baguette, brioche, or hamburger bun. It could be a whole meal or just a snack. You can find it is street food stalls, chef restaurants, or brown paper bags. After much deliberation, we assembled the list of the top 10 sandwiches in Tel Aviv today.
8 mouthwatering sandwiches in Tel Aviv today
1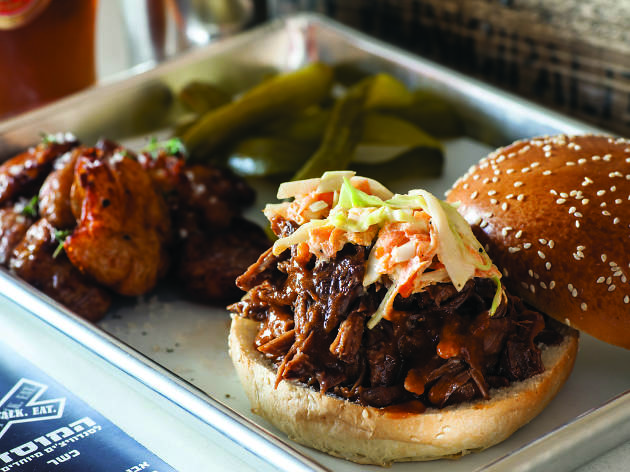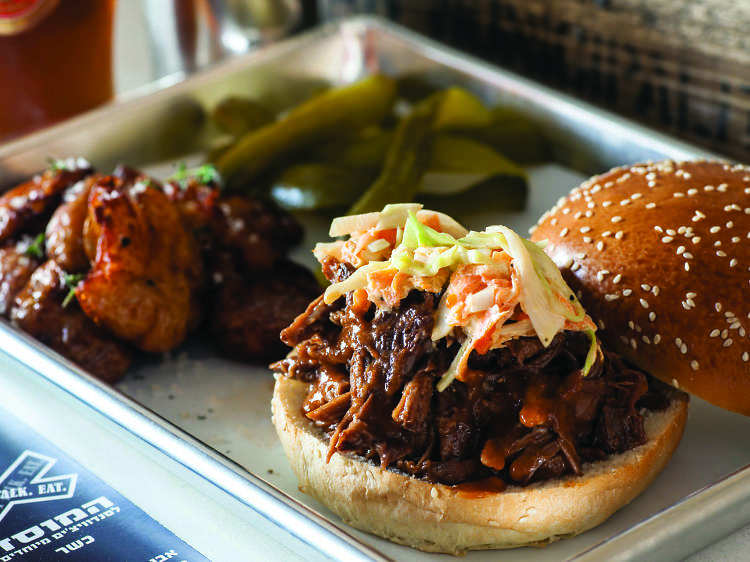 © Assaf Ronen
Sandwich #1 - Special Sandwiches Institute
Ibn Gabirol St, and the Rabin Square district more generally, have become a culinary power area, and therefore, the institution for special sandwiches fits perfectly into the landscape. The owner and entrepreneur Nir Sivik, owner of Nir's Meat Boutique in Emek Hefer who is from an Argentinian family, decided that Tel Aviv is ready for a South American sandwich, and designed Sandwich No. 1: a sandwich stuffed with a special slice of meat imported from Argentina, cooked for 12 hours until it becomes a mass of fine, juicy strings. Spicy BBQ sauce, fresh coleslaw, and pickles give the sweet challah hamburger bun even more tang, and make the meal an indescribable experience.
67 Ibn Gvirol, Tel Aviv (03-5629896)
When the young chef Naor Cohen set up his small stall on the corner of Hashomer Street, he thought that the customers would be merchants and stall owners from the Carmel Market. Accordingly Cohen serves up a workers sandwich, stuffing a fresh ciabatta bread with all the goods of the market: pullet, liver, heart, tahini, amba, pickles, fresh vegetables from the nearby stalls and a little spice. Since this is a worker's sandwich, there is no elegant way to eat it. You have to open your mouth and dig your teeth in - don't worry, the tahini that dribbles down your chin only adds to the authenticity.
Bread Story believes in perfect matchmaking, so each dish is paired with a specific bread that suits it best. The winning Indian couple is the chicken sandwich made with unique curry bread baked in-house. In its base is a thin layer of yogurt with slices of tandoori chicken that are sweet and juicy, roasted cauliflower, fresh coriander leaves and slices of pickled onion. The chunks of chicken are spiced to perfection, the cauliflower adds a crunchy texture and the yogurt balances everything with delicate acidity.
What did we ask for? A little European-style escapism.
The Jambon and Emmental sandwich from Brasserie is more than something to eat, it is a little European-style escapism in the form of a sandwich that is found on every street corner in France, Spain, and Italy. Atop the crispy baguette lies thick slices of Emmental cheese, neatly covered with slices of jambon (ham). Green lettuce and spinach leaves spiced with champagne vinaigrette complement this delicate and modest bundle of joy, which will make you feel like you're in Paris long after the sandwich is gone.
Rump steak served on deep fried bread - heaven or heart attack? Or heavenly heart attack? This new hot spot is serving up scrumptious rump steak sandwiches, but that's just the start. What makes them unique is the special deep fried bread they use called Zalabia. This cloud of carby goodness is fixed with all the works: hand carved rump steak, an aioli like you've never tasted before, arugula and cheese. The only way to understand just how special this steak sandwich is is to experience one for yourself.
6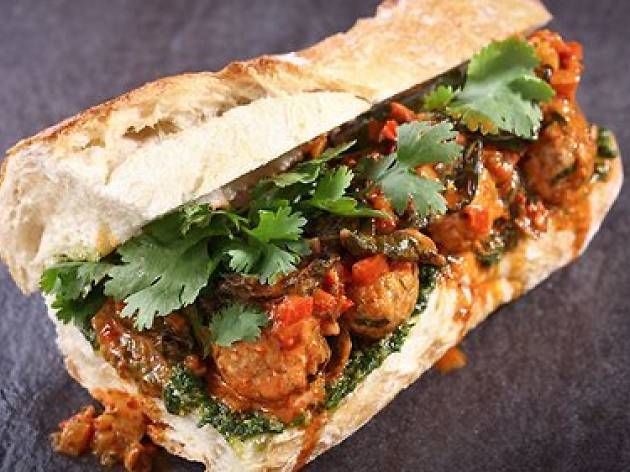 © Dan Perez
Fish Kebab Sandwich - Sandwich
This fish kebab sandwich has two winning flavors: spicy and hot. The patties are made of two types of fish in a sauce of chard, peppers, pickled lemon, coriander seeds, tomatoes, and a little spice, placed in between freshly-baked whole wheat kebabs. The patties are cooked separately and only at the end are they combined with the sauce, so they maintain a firm texture and do not crumble. The gravy is very rich and adds a surprising taste every time.
59 Nahalat Binyamin St, Tel Aviv
What hasn't already been said about the mythical sandwich from Sherry Herring? No list of sandwiches is complete without it, and in this case, we're happily following the herd. Stationed at a stall in the Port Market, the sandwich is built with a crisp baguette from Le Moulin Bakery- one of the best in the city. After they've sliced the baguette in half and spread butter on both sides, it's time for the real deal: pickled herring, reminiscent of the Netherlands or Poland, plus chopped white and green onions, juice from cherry tomatoes, sour cream, and a little spice. This sandwich is the perfect breakfast in the harbor market, and on rainy days you can close your eyes, take a bite, and imagine for a moment that you are in Amsterdam.
8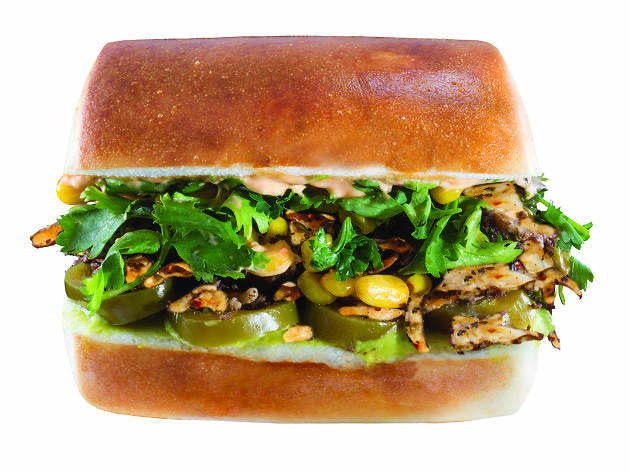 © Anatoly Michaello
The Mexican Concept - Segev Concept
Chef Segev Moshe loves shawarma. However, his posh shop in the Sarona Market is not your average shawarma stall: he serves up meat on a focaccia bread, and adds a variety of spreads and ingredients that are inspired by the world's cuisine. The real winner is his Mexican option. On one side there is a generous layer of guacamole, and on the other side, a generous layer of aioli. In the middle is a heap of juicy shredded shawarma, with roasted corn, tomatoes, onions, and coriander leaves next to it. This satisfying sandwich is a twist on a Middle Eastern classic, that is sure to bring a bit of spice to your life.
3 Aluf Kalman Magen St, Sarona Market
See more restaurants in Tel Aviv