The best Tel Aviv restaurants to order Eggs Benedict
Perfectly poached eggs, heavenly hollandaise and a bready base to soak up the love...what could be better?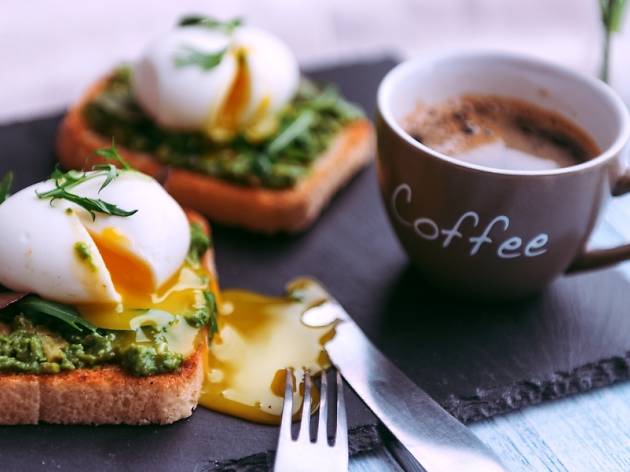 When it comes to dishes like Eggs Benedict, one should really take the time to consider where to eat them. While the classic Israeli breakfast is a solid go-to, "Eggs Benny" is in a league of its own when it comes to morning meals and should be treated accordingly. Really, it's like a relationship – it celebrates the marriage of two separate species, both sides are equally important to the conversation, all ingredients must be taken into consideration when indulging and, well, it's complicated. Having said that, there are a few bold restaurants in Tel Aviv that have decided to take on the challenge, and pamper the Tel Avivians and tourists who seek a taste of home with some pretty good versions of the delicacy. After much devouring and deliberation, we've decided it's safe to recommend these seven places as the best to have the all-American delight, even if some of them are missing the English muffin.
The best Tel Aviv restaurants serving "Eggs Benny"
If you are looking to feel at home when traveling, Norman is the spot for you. With a European atmosphere in every corner of this establishment, you'll forget the Eggs Benedict wasn't made in Europe too.
This is where the Benedicts are bigger, greasier and more sinful - the definition of guilty pleasure. But, like all other sinful delicacies at Truck Deluxe, it's worth every single bite and each and every calorie.
Restaurants, Mediterranean
A lot has been said about the Breakfast at Mashya. The large buffet, the endless selection and the decor. But, if you want to really take advantage of the chef's capabilities, don't miss the Florentine style Benedicts served on a baked challah with creamed spinach, salmon and pesto.
Restaurants, Mediterranean
This is the place to stop by if you're down for a twist. The Claro brunch menu offers Eggs Benedict Mediterranean-style, which means that in addition to the poached eggs on bread, you'll get a roasted tomato, fresh parsley and some red hot chili peppers for a little added heat.
See more breakfast in Israel