The best public places to have sex in Tel Aviv
PDA. All. The. Way.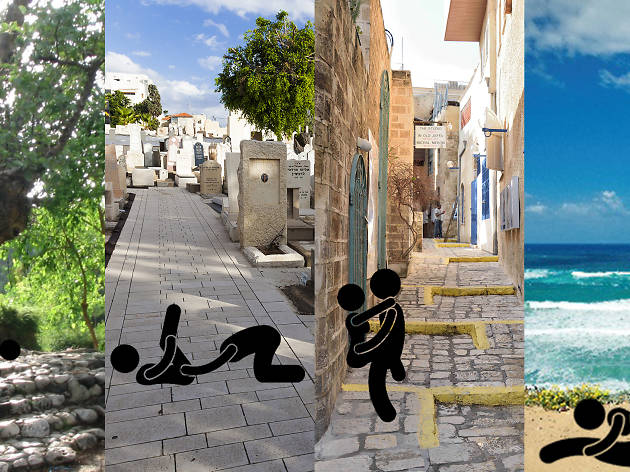 Be vewy, vewy qwiet...
Ups, downs, turquoise colors, and Orientalism. The cobblestone curves of Old Jaffa are so picturesque and romantic, they are just begging you to have sex – until a retiree with a cup of black coffee or a tourist with a Gordon Ulpan backpack and the alluring aromas of sunscreen mixed with body odor reminds you that you are actually in Israel. Start at the Wishing Bridge, where according to the legend, if you make a wish and look out at the sea, your wish will come true (i.e. that no one will interfere in the middle of your business).
Dangerous? Quite indeed.
Comfortable? If you like standing.
Clean? Yes, in relation to the Tel Aviv streets.
One of the open secrets of the city is the undeclared coastal strip located behind the local airport, Sde Dov, between Tel Baruch, Reading, and the Tel Aviv Port. Since it is quite complicated to get to, it is usually rather deserted and awaits you, and only you, certainly at night. The planes that fly over your head will add a little more to the romance, especially if you time them with your climax. Now man up and accept the sand.
Dangerous? Expect full exposure, but at least it's mostly isolated.
Comfortable? Extensive options for horizontal positions.
Clean? Sand!
Attractions, Parks and gardens
Probably the sexiest location in the history of the city, due its proximity to Hilton Beach, this park used to be a meeting place for gay men looking for casual sex, probably at times when they had to hide. In the past, there have been many complaints about violence and harassment in the park, but most of it has disappeared, and the garden remains the perfect babymaking connector between grassy green and ocean blue.
Dangerous? Even those who walk their dogs there know what to expect.
Comfortable? Like the Garden of Eden...with a different kind of snake.
Clean? Yes, they keep their bushes trimmed, and so should you.
Theater, Performing arts space
The ultimate make out corner of the city center. The best of Tel Aviv's singles have been bringing their dates to this "secret" corner between the Mann Auditorium and Habima for years. If you are horny after a performance at the Culture Palace (not judging – what happens at a band camp, stays at band camp) or feeling daring after a drink at Peacock (judging a little bit), head over to one of the garden's various corners, rife with hidden benches, ancient trees, and even running water to complete the picture. Keep in mind that although hidden, this is a busy area (and no, we don't just mean in terms of getting busy) – someone might catch you at any given moment.
Dangerous? Depends when.
Comfortable? If you're a tree hugger, very.
Clean? If you're into the whole Au Naturel ordeal.
Attractions, Arcades and amusements
Luna Park's Ferris wheel
Most of us share fond memories from Luna Park, such as pre-rollercoaster hot dogs as equally delicious going in as coming out, but this can be an attractive site for those seeking other types of thrills. It is morally dangerous given the multitude of children in the area, but if you get to the Ferris wheel on a relatively empty night – say not during the summer vacation – then you can (cautiously) fulfill your utmost desires. The view is breathtaking, the colored lights set the mood, and luckily, it's a fairly slow wheel so you can work on your stamina.
Dangerous? Extremely! Try not to traumatize any children.
Comfortable? Yes, if fear of heights is an aphrodisiac.
Clean? There is a high chance someone just vomited in that very spot.
No, this is not a scene from the film 11:14 and you a tombstone will probably not fall on you at peak climax. There is no doubt, however, that this is a morally dubious location (and there is no shortage of corrupt lovers who frequent it), but it's quiet and deserted, and we have already heard of quite a few wild stories from its frequent flyers (and no, we don't mean ghosts). Tchernichovsky, Bialik, and Arik Einstein will be proud of you...or will haunt you forever.
Dangerous? There are enough hidden corners.
Comfortable? For "dirty" lovers, of course.
Clean? Not particularly.
One of the city's most famous humping roofs. The parking lot that connects Yehuda Halevi and HaRakevet street (or at least what is left of them since the light railway's conception) will not only provide you with a stunning urban cityscape, but also a perfect corner for intimate sexy times in the parking lot – without the terrifying, murder scene atmosphere of other nearby parking lots. Keep in mind that at any given moment a vehicle may drive up there, so it's better to get there when the lot is less active (and you are more).
Dangerous? Pretty safe at night and also nobody cares.
Comfortable? Just find a nice car to squeeze up against.
Clean? If the smell of urine does it for you.
Sex on the beach, apart from the cocktail, is also a common fantasy – one that shatters in the face of reality of the itchy, germ-infested sand that enters your every hole. So maybe it's better to do it on the dock? How about the one at the Tel Aviv Marina. If you reach the edge you get a secluded space for a quiet union, right on the edge of the sea, and one can only hope that your girlfriend just bit your nipple, not a rock-climbing crab on a manic escape mission.
Dangerous? An ability to survey your surroundings allows for fair warning.
Comfortable? Bring a blanket and every little thing's gonna be alright.
Clean? As long as the sewage hasn't reared its ugly head today.
9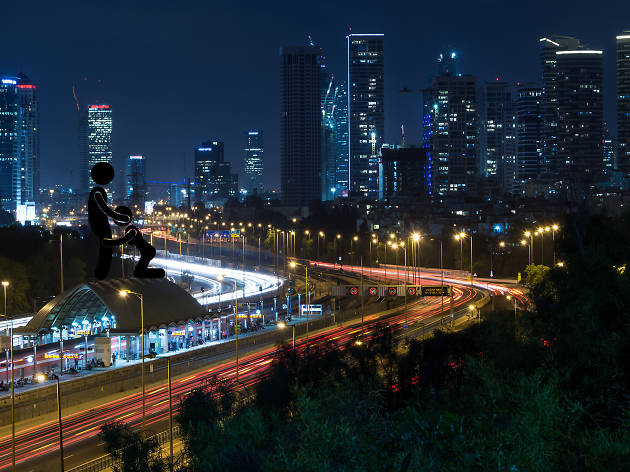 © Shutterstock
The George Wise Street observation
The game of "what's the kinkiest place to have sex in school?" has already made its way to Tel Aviv University. Just outside of it, however, on the western side of its peripheral road, are a few benches and a slope leading towards the train station and the Ayalon Highway, which boasts a spectacular view of all of Tel Aviv and Ramat Gan. At night, it is rather desolate, and if you are secretive enough, you won't have to settle for what disillusioned teenagers call "dry sex."
Dangerous? Drivers might pass, but they're probably too busy enjoying road head to notice.
Comfortable? Benches can be cold and unforgiving, but that breeze!
Clean? Relative to the other nine locations, squeaky clean.
Exhausted from all that work? Time for a nap