Heads up! We're working hard to be accurate – but these are unusual times, so please always check before heading out.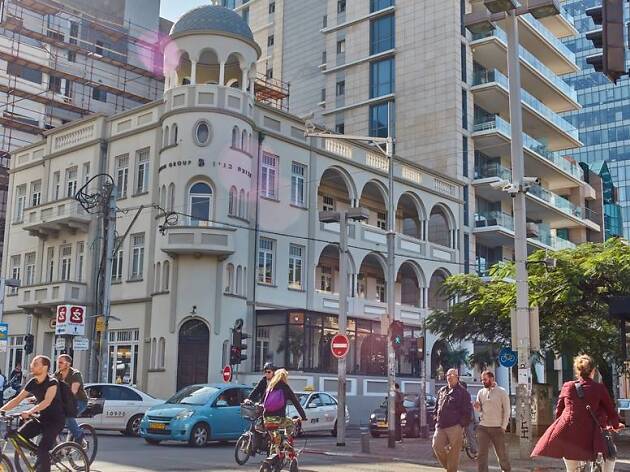 Your Alternative Guide to Tel Aviv's Main Streets
Ditch the map. We've got the lowdown on the top five streets of Tel Aviv
Takin' It to the Streets: while locals are no stranger to these five main rues and visitors will undoubtedly find themselves traipsing at least one–or all–of them, we've decided to break down these all-star destinations to the nitty gritty of what's not to be missed–plus a little history for good measure.
1. Rothschild Boulevard (aka "Kiosk Krack")
© Wikipedia
This tree-lined boulevard is an afternoon stroller's dream and dates back to Tel Aviv's very beginnings. It's name honors philanthropist and Zionism supporter Baron Edmond Benjamin James de Rothschild (1845-1934).
© Shutterstock
• Originally, nobody wanted to live on Rothschild Boulevard as it was Tel Aviv's first water well. Once filled with sand, it became the most expensive street in the city and a major tourist attraction.
• Its iconic trees were inspired by a visit from Winston Churchill in 1921, whereby an anxious mayor Dizengoff uprooted mature trees from neighboring areas to plant down the middle of Rothschild to add a wow factor.
© Shutterstock
While traveling by foot is the best way to experience the boulevard's beauty, the #20 bus also connects Allenby to Habima via Rothschild.
Independence Hall (16 Rothschild Blvd)
Any Birthright guide will tell you that this historical landmark's a no-brainer. Step back in history to May 14th, 1948 to the day the state of Israel was founded and imagine yourself in Ben-Gurion's shoes as you walk past Theodore Herzl's preserved portrait and the original rendition of the nation's flag.
Bino B'Pita (73 Rothschild Blvd)
The Doctor is in, only this time veteran chef Bino Gabso of Dr. Shakshuka is prescribing savory kebabs, lamb, and, of course, shakshuka, all in overflowing, easy-to-grub pitas.
BuXa (31 Rothschild Blvd)
BuXa is renowned for the ultra mod contemporary art lining its chic walls, better appreciated with a beverage in ones hand. Hang out in the upstairs yard, dance the night away on the lower floor, or perch yourself at the bar.
Rothschild Coffee Kiosk (82 Rothschild Blvd)
With its lively local vibe and tempting baked goods, the open-air kiosk smack dab in the middle of Rothschild is sure to lure you in for a quick recharge.
Alphabet (54 Ahad Ha'am St)
Hidden from plain sight between Allenby and Ahad Ha'am, forget about counting those proverbial "Z's" at this club; Alphabet holds true to Tel Aviv's nonstop nightlife reputation with a rotating DJ lineup and an impressive sound system to match.
Spicy Fish at Cantina (71 Rothschild Blvd)
Not even owner Joe Marciano thought this simple bass dish with paprika, garlic, and coriander would become an exceptional classic on Cantina's Italian menu.
2. Ibn Gvirol Street (aka "The Good, The Bad & The Ugly")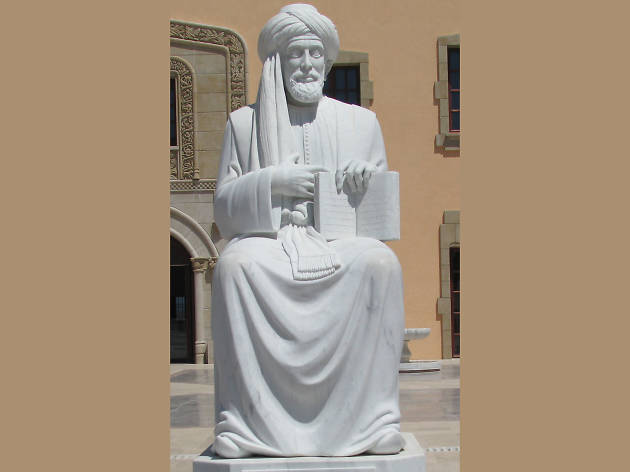 © Wikipedia
While there is very little poetic to say about this honking, bustling, never ending commercial street, it is named after Solomon Ibn Gvirol (1021-1070 CE), an 11th Century Andalusian poet and Jewish philosopher who published over a 100 poems in his day.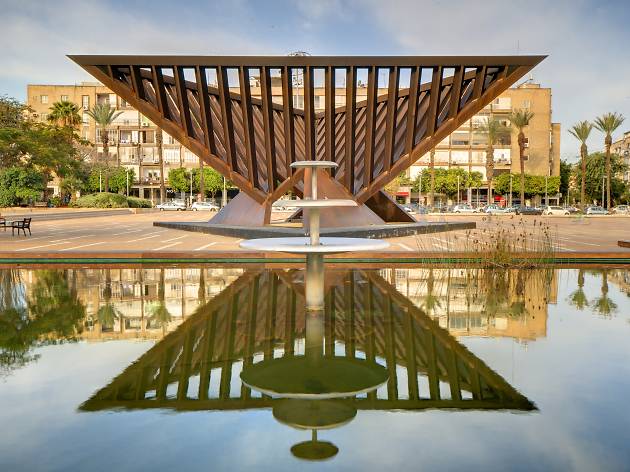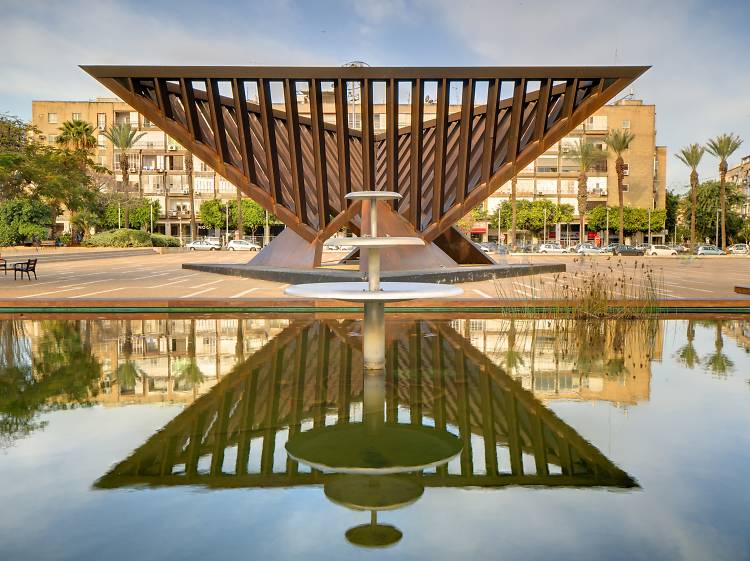 © Shutterstock
• According to writer Raymond Scheindlin's research for his book "Wine, Women, & Death: Medieval Hebrew Poems on the Good Life", Ibn Gvirol was considered a social misfit – a particularly fitting description of the Tel Avivian street in his namesake and its contemporary goings-on. Today, the loud and obnoxious hub is a stream of bracelet bars and hole-in-the-wall street food stops with traffic galore. But you can't avoid it. Something necessary like getting to the ministry of something or other always brings you back.
• In his poems, Ibn Gvirol was self-described as short and ugly.
• His best-known poem, Keter Malkut ("Royal Crown"), is considered one of the greatest poems in all of Hebrew Lit and is a whopping 900 lines of prose.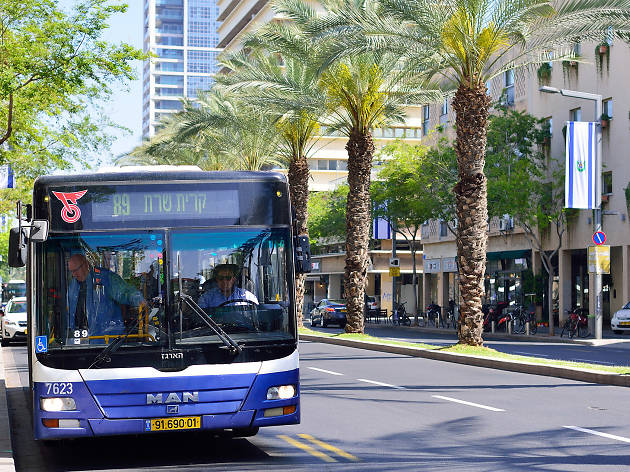 © Shutterstock
Almost every central bus heads down or through Ibn Gvirol at some intersection or another – but the 26 or 126 are your best bet.
Rabin Square
Named in memory of the location of the senseless assassination of Israel's Prime Minister, Yitzhak Rabin, the legendary square has since become a meeting point and event space for annual festivals, celebrations, and holidays.
Vitrina (36 Ibn Gvirol St)
All your juicy burger cravings will be banished at this trendy joint – where even the most self-described burger snob can't get enough. Douse that bun with fancy purple beet ketchup and garlicy mayo plus add sides like sweet potato fries topped with parmesan.
The Streets (114 Ibn Gvirol St)
Locals flock to this unassuming corner café for strong beans, a welcome and cozy atmosphere, and just the right touch of hip.
Tommy & Annika (1 David Hamelech Blvd)
Just off of Ibn Gvirol, this magical little toy shop inspires kiddies big and small (and playful adults) as they explore themselves packed with unique and original toys. Expect scientific and fantastical games, adorable backpacks and greeting cards, and plenty of high-quality play things for all ages - plus an upstairs haven for innovative weekly classes and workshops.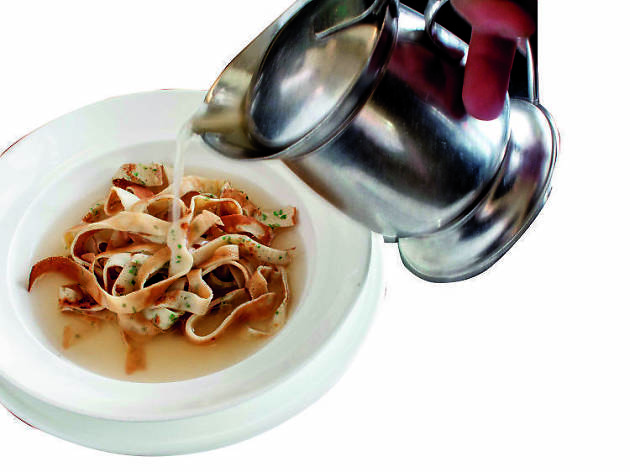 Crab ravioli from Brasserie (70 Ibn Gvirol St)
While a smattering of the Brasserie's dishes could very well be huddled under this umbrella, we are going for the crab ravioli for its simple poise, delectable pink peppercorn cream sauce and sheer quality of ingredients.
3. Allenby Street (aka "A Night To Remember...or Forget")
© Wikipedia
This personality-packed street is named after General Edmund Allenby (1861-1936)–nicknamed "The Bull"–who led the British Empire's conquest of Jerusalem from the hands of the Ottoman Empire in the early 20th century.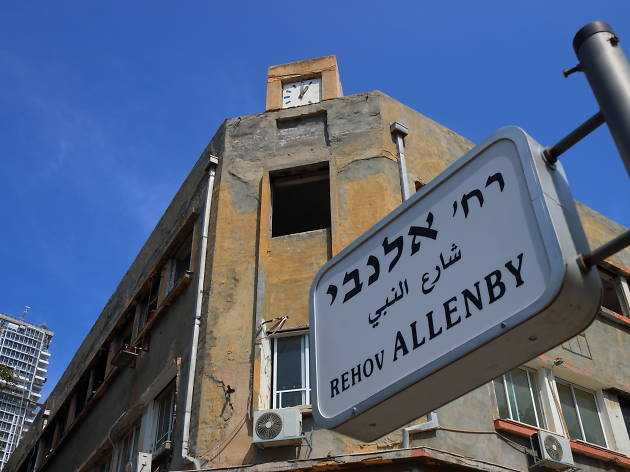 © Shutterstock
• Allenby Street used to house the hottest Super Club in Tel Aviv: Allenby 58, which hosted the best local and international DJs from 1994-2000
• When General Allenby first came marching in with his platoon and was informed of the street's name, he immediately made a U-turn
• The street was originally given the name Derech Hayam
© Shutterstock
Catch the #4 bus that runs along Allenby from the Ben Yehuda junction all the way to the New Central Bus Station.
The Great Synagogue (110 Allenby St)
This iconic synagogue has been a part of the city's religious center since the early days of settlement. While many come from far and wide to worship inside, even more locals flock from near and dear to worship its perimeter, blessed with culinary treasures, worthy of prayer.
Jasmino (97 Allenby St)
Sick and tired of the same old slightly-below-average shawarma? Restaurateur Shaul Tevet's unexpected gem is a simple, yet sensational pita paradise, offering four charcoal-grilled options (kebab, chicken, housemade sausage, and veal heart) served fresh to order.
Beit Hapsanter (99 Allenby St)
Characterized by its dark, funky decor, heavy velvet drapes, and electronic house music, this mysterious Berlin-esque nook is the perfect escape from your typical Tel Aviv bar scene, and reality.
Edmund Café (97 Allenby St)
If you think you've already come across the best cup of coffee in Tel Aviv, sample a bottle of Edmund's 7-hour Guatemalan cold brew and then we'll talk.
We Must Shop (30 Montefiore St)
The owners have worked in fashion companies all over the world, from New York to Russia. They design some of the clothing themselves, while also exclusively importing fine garb from Japan and Korea. Their online selection is enormous, so don't fret about finding something you like - there's something for every style and taste. Prefer to try clothes on before purchasing? They just opened a new boutique stop on Montefiore Street and the clothes look even better in person.
Halper's Books (87 Allenby St)
Prepare to spend whole afternoons crouched in this English-friendly secondhand bookshop's narrow, maze-like aisles, amidst the soothing smells of leather bound Victorian literature, tattered detective thrillers, travel memoirs, and more.
Ham and Cheese Toast at HaMinzar (60 Allenby St)
You might know it as a grilled cheese, toastie, or croque monsieur, but there's only one version Tel Avivians live by: HaMinzar's "Ham and Cheese Toast" composed of buttery bread, bubbly cheese, and topped with the ultimate deadly sin: ham.
4. King George Street (aka "Bohemian Bliss")
© Wikipedia
There is something innately local about King George Street. The iconic street that makes up the White City's urban core gets its name from King George V who reigned during the British Mandate.
OzenBar PR
• Every Friday from mid-morning to late afternoon, a "doggy adoption" centre is set up along the Gan Meir park fence boarding King George Street.
• The headquarters of the Israeli right-wing Likud party is located on this street inside the Jabotinsky House (38 King George St).
© Shutterstock
Catch the #25 or #125 bus that runs along the entire street between Carmel Market and Masaryk Square.
Gan Meir (Between King George St and Tchernichovsky St)
At first glance, Gan Meir is not the most pleasing on the eyes. Dig deeper, however, and this oasis of green is the epitome of parks: a dog park, grassy picnic-perfect area, basketball court, pint pong tables, pond, public library, Landwer Café, and Gay Center.
Miznon (30 King George St)
Eyal Shani's pita-centric eatery is as much about the loud and lively atmosphere as it is the iconic whole roasted cauliflower, pita and tahina nibbles, and mouthwateringly intimate meat and veggie-stuffed pitas.
Tepale (87 King George St)
The unofficial Arak bar of Tel Aviv, Tepale is all about authentic Tel Avivian vibes. With Israeli music playing, cheap alcohol, and a welcoming crowd, this local favorite will bring you into the fold of becoming a regular.
The Little Prince (19 King George St)
The perfect literature haven for bookworms. Nurse some tea or a cold beer while you browse, or curl up in the dreamy atmosphere of the bookshelf-lined courtyard with a classic.
Comics and Vegetables (40 King George St)
Comics don't usually bring to mind vegetables, unless you're at this award-winning shop packed with comic books and related apparel that will appeal to international comic enthusiasts spanning generations.
5. Dizengoff Street (aka "Sleazy Deezzy")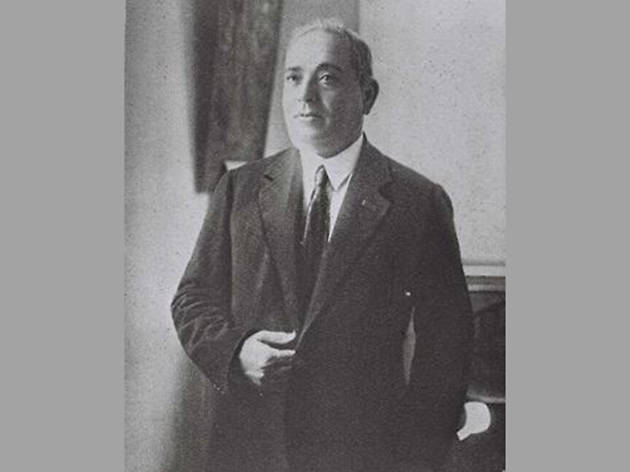 © Wikipedia
This rambling rue is named after the city's very first mayor, Meir Dizengoff (1861-1936), and one of the country's forefounding Zionists.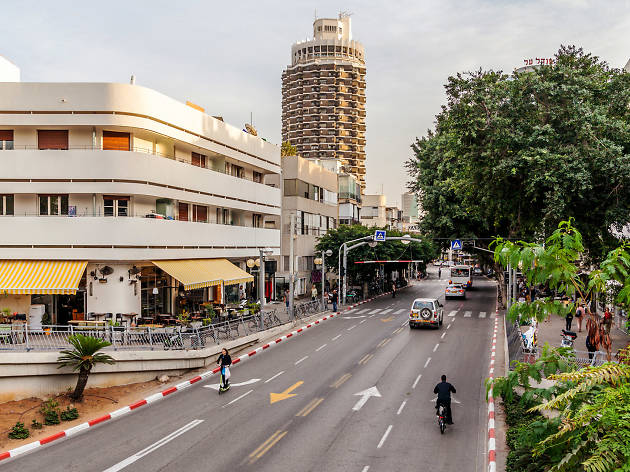 © Shutterstock
• While studying chemical engineering at the University of Paris, Dizengoff met Edmond James de Rothschild (another big shot personality), who sent him to Ottoman-ruled Palestine to start a glass factory that would later supply bottles for Rothschild's wineries.
• In modern Hebrew slang, Dizengoff has been turned into a verb and lehizdangeff means 'going out on the town down Dizengoff.'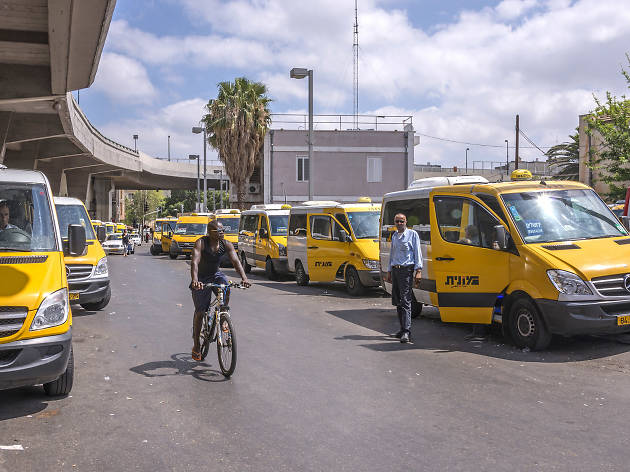 © Shutterstock
Catch the #5 monit sherut going up and down the street - from Rothschild Boulevard to Ha'TaRuach Street, just before Tel Aviv Port.
Dizengoff Center (50 Dizengoff St)
Holding court at the very top of the street from the south end, and lovingly dubbed "Ha Center" by locals, this anxiety-inducing maze of shops and randomness is always bustling and always a meeting point.
Brooklyn Pizza (276 Dizengoff St)
You can take the Hasids out of Israel, but they'll end up in Brooklyn anyway - Brooklyn Pizza that is. Fold that oversized cheesy triangle in half and grub like a serious New Yorker, and prepare for unbuttoning your jeans after their piping hot calzone oozing with Nutella hits your lips.
223 (223 Dizengoff St)
Award-winning cocktails make this legendary bar a mainstay and at the helm, mixologist Ariel Leizgold, is a mad scientist of creativity. No matter what you choose, you can't lose.
NOLA American Bakery
Nola is an adorable American bakery and cafe on Dizengoff Street known for its nostalgic treats, including chewy chocolate chip cookies, homemade peppermint patties and Nola's signature Mud Pie—made of Graham cracker crust and filled with chocolate fudge, cream, pecans and chocolate.
Banker (210 Dizengoff St)
For boho-chic sophisticates, this boutique staple is a go-to shop for layered basics by American Vintage, doyenne looks by local designer Julliett, and a smattering of unique handmade jewelry.
Helena Rubinstein Pavilion (6 Tarsat Blvd)
An annex of the Tel Aviv Museum of Art, this unassuming building at the base of Tel Aviv's Culture Square (which includes Habima Theatre and the Bronfman Auditorium) hosts contemporary artists like Robin Rhode and Louise Bourgeois.
Sabich with cheese at Sabich Frishman (42 Frishman St)
We can vouch that the wait is worth the fried eggplant doused in cheesy goodness wrapped in a fluffy cloud of pita. 'Nuff said.