19 things we learned about David Bowie from his Time Out interviews
As we're still mourning the death of musician, artist, actor and all-around style icon David Bowie, Brent DiCrescenzo combs our archives for the best moments from our chats with him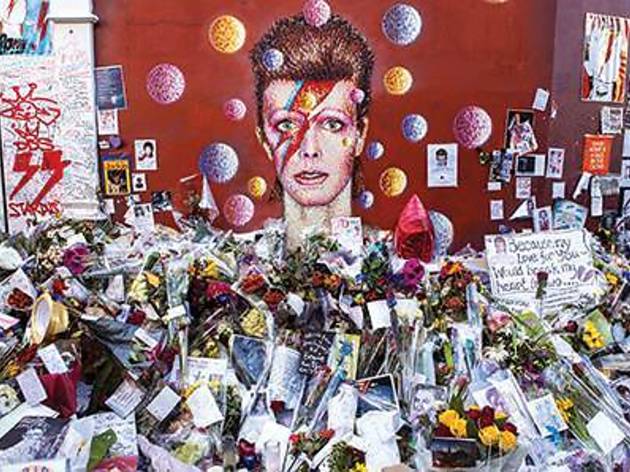 Our love affair with David Bowie dates back to the early '80s, when his hair was blond and voluminous, watching him lean jadedly in the Australian heat in the "Let's Dance" video and torment Jennifer Connelly's baby brother in Labyrinth. Years later, we discovered his eternally cool Berlin period and watched him continue to shapeshift into a cyberpunk godfather. But as a magazine that started in London in 1968 – not long after struggling rocker Davy Jones took the name David Bowie, from the large American hunting knife – Time Out has a relationship with the pop icon that dates back to the beginning.
Time Out was there when Bowie played the Rainbow in April 1972 (where Lou Reed told our rather psychedelic reporter, "The kid's got everything… everything"). We reviewed Ziggy Stardust upon its release ("flamboyant, thrusting aggression"). We rang him up at his home in Bermuda in 1998. Bowie even wrote a tour journal for us in 2000. Digging through the archive, it is fascinating to see the rock god go through his ch-ch-changes – and to seem human. Who knew he liked football?
Here are our favorite factoids and moments from Time Out's Bowie features in 1973, 1983, 1998 and 2000.
He wrote book reviews for Barnes & Noble.
"I've started doing book reviews for Barnes & Noble! They saw that I did a lot of book reviews on the site, and they figured that it might not be a bad thing if they got me to do some for them as well. I gave them five categories I'd be interested in reviewing, from art to fiction to music. The first one I've done is Glam by Barney Hoskyns. What's it like? Excellent." [April 1998]

He was afraid of Y2K.
"Personally, I don't think I'll be anywhere near aeroplanes or elevators on that day, that's for sure. There are two or three well-known techheads who have already set up their own multi-year supplies of store cabins in the desert. They've taken guns and they're actually preparing for the breakdown of society as we know it." [April 1998]
Beat poets were possible supervillains.
"I got to know William Burroughs and he told me that one day he went into a French patenting office and, for approximately $5, bought himself a copy of all the plans for making a black noise bomb. What is it? Well, it works on the principle of the opera singer and the glass… This guy had devised a method that reduces flesh to mush and leaves the building standing." [April 1983]
Pink Floyd played "the brown note."
"I remember Pink Floyd messing around in the '60s with black noise. They were trying to get the audience to debowel themselves during the performance. That met with a lot of amusement. A whole audience shitting themselves!" [April 1983]
He could outparty the Stones.
"They'd see me a few days later and find out that I hadn't been to bed! It was unreal, absolutely unreal. Of course, every day that you stayed up longer – and there's things that you have to do to stay up that long – the impending tiredness and fatigue produces that hallucinogenic state quite naturally. [Chuckle, wink] Well, half-naturally." [April 1983]
He was a Redskins fan.
In our interview, we learned Bowie bet on the Miami Dolphins in Super Bowl XVII despite being a Redskins fan, and despite the best attempts of his session players to convert him to the Jets. [April 1983]
He nearly lost his mind.
"I had the slight impression that I might go to a hospital and not get out again. I felt that imbalanced at the time. This was late in 1976. Fortunately, I was able to pull out of it with the help of two or three friends who either came to Berlin with me or were in Berlin. I realized how close I was to either completely screwing myself up or not being around anymore." [April 1983]
He loved Low, but hated its influence.
"Terribly important album for me personally. And the position [Brian Eno and I] adopted on Low coloured what was to happen in English music for some time. That 'smash' drum sound, that depressive, gorilla effect set down the studio drum fever fad for the next few years. It was something I wish we'd never created." [April 1983]
He lamented fame with John Lennon, but didn't remember much of it.
"After meeting in some New York club, we'd spent quite a few nights talking and getting to know each other before we'd even gotten into the studio. That period of my life is none too clear, a lot of it is really blurry, but we spent endless hours talking about fame, and what it's like not having a life of your own any more. How much you want to be known before you are, and then when you are, how much you want the reverse." [April 1983]
His makeup in The Man Who Fell to Earth sounds icky.
"The skin of my character in The Man Who Fell to Earth was some concoction, a spermatozoon of an alien nature that was obscene and weird-looking. I think it was put together with the whites of eggs, food colouring and flour." [April 1983]
Though that was not his first starring role.
"My first true film appearance was years earlier [than 1969] in a movie called The Image, an underground black-and-white avant-garde-type thing done by some guy. He wanted to make a film about a painter doing a portrait of a guy in his teens, and the portrait comes to life and, in fact, turns out to be the corpse of some bloke. I can't really remember all the plot, if indeed it had a plot, but it was a 14-minute short and it was awful." [April 1983]
He subscribed to no specific religion.
"I was a Buddhist mime songwriter and part-time sax player, or it became like that. I just couldn't see the wood for the trees. I was trying everything. I mean, my whole life is made up of experimentation, curiosity and anything that seemed at all appealing." [April 1983]
He was a dumpster diving mod.
"A popular thing was to go down the back of Carnaby Street late at night and raid the dustbins. Because in those days if anything showed the slightest sign of deterioration, or a button was missing, or there was the least thing wrong with it, they used to throw it out, so you could pick up the most dynamite things down there!" [April 1983]
His father owned a wrestling club.
"It's part of my family mythology. His father died and left him a lot of money, so he put it into a London club for wrestlers in Soho, a nightclub that was gangster and wrestler-oriented." [April 1983]
His early manager conducted marketing research.
[Bowie manager Tony] De Fries smokes large cigars (honestly) and at those gigs, wandered around the audience asking them questions about the show. He carried a clipboard wherein all the replies were entered. Doubtless they would come to be analyzed at some kind of de-briefing session following the show. [February 1973]
He had a hard time remembering lyrics.
"I also find that if I've been off the road for a long time I too have simply no recollection of the lyrics. For the six-show promotional for the 'Hours…' album that I did last year, I took along a ring binder – its contents religiously studied – which once placed on a strategically positioned music stand, I found I didn't need after all as the form and words came flooding back at show time, presumably by osmosis." [June 2000]
His nickname in the BowieNet chatrooms was "Sailor." [June 2000]
He dreamed of an art museum for your pockets.
"[Damien Hirst] gave me a Perspex-boxed sardine in formaldehyde, about five inches long. It started me off on devising a Portable Art Collection that could be carried most conveniently in the various pockets of one's attire." [June 2000]
Security was lax at the 1971 Glastonbury Festival.
"A Dutch girl, even more stoned than myself, insisted on jumping on stage to duet with me on the then completely unknown 'Oh! You Pretty Things.' All in all, a delightfully light and silly couple of days – all Tolkien and mushroom." [June 2000]