Interview: Ost & Kjex
As the Norwegian duo Ost & Kjex gears up to visit Istanbul, Seda Pekçelen talks to Petter Haavik (Kjex) about the group's brand new album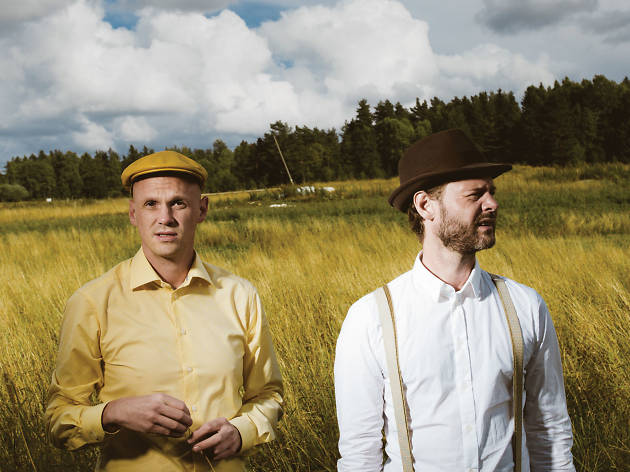 After a five-year hiatus following Cajun Lunch, your third album Freedom Wig comes out this month. What took you so long?
Yes, it's been too long. Touring and raising four children (two each) takes time and creative energy. And just before we finished, we decided to rewrite almost the entire album. Once we started, things moved pretty fast, though, and the timing couldn't feel any better now. We are actually very happy that we spent the extra time on the album.
When did you decide that it was time for a new album?
It was actually right after Cajun Lunch. Some of the sketches were written around the time it was released.
Let's talk about Freedom Wig. Are there any collaborations? Where did you record the album? What do we need to know about it?
We collaborated with a lot of musicians. Bugge Wesseltoft played the piano, while JAW from dOP did a duet with Ost, which was actually recorded in our studio five years ago. Anne Lise Frøkedal, who did the vocals on the track "Indie" from our Lulu EP, provided vocals for this album as well, and you can also hear Hanne Kolstø's vocals on one of the tracks. Norwegian contemporary composer Ole-Henrik Moe did some beautiful string arrangements; Jens Carelius and Arild Hammerø from a Norwegian desert rock band did vocals and guitars on a couple of tracks; and Tore Brevik from Mungolian Jetset provided magical percussion all over.
The album was recorded in various locations such as Berlin, a cottage in the woods outside Oslo, our studios and on the road. Ost and I usually don't work together directly but send ideas back and forth. Towards the end, Martin Stimming came over and helped us with the final arrangement and structure of the songs. That was a true blessing at a time when we had worked on it for so long that we had lost the perspective a bit, so thanks, Stimming!
"Ost & Kjex" means "cheese and biscuits" in Norwegian. Your biography states that you use food as inspiration, and your first two albums' titles also referenced food. Where does this passion for food come from?
Of course we love food! Back in the day, we were asked to do a project where we animated music characters for an animation company. We came up with the idea of using cheese and biscuit as characters, hence the name Ost & Kjex and the use of cheese and biscuit as a sound source. It created a gastronomical universe for lyrical and musical inspiration. By the way, I wouldn't say we're bad cooks.
When you guys first met, you were in a metal band called Beyond Dawn. What was that like? How did you transition from metal to electronic music?
I think we were around 15 years old when we started playing together… Wow. It must have been 1988 or so. We knew Ost from skateboarding and asked him to join in on bass. Luckily for us, he broke his leg while skating and had to stay home, so he learned how to play the bass. We were always curious about new styles of music, and death metal was a new and fresh thing at the time. When electronic music boomed in the '90s with the help of Warp Records, it caught our attention.
Freedom Wig will be released on the Diynamic label, as was your previous album. How did you decide to work with them?
When Ost and I started to make electronic music as a duo apart from Beyond Down, we came across Solomun and Diynamic on MySpace and loved their sound, so we contacted them. After that, things got moving and we released the EP Federgewicht together. Diynamic is just a perfect label, really the only choice for us. We're also very good friends.
When you released Cajun Lunch, you said you were surprised that Diynamic was interested in you. Now that you've played all over Europe and are about to release your third album, are you still surprised?
Yes! One should never stop being surprised. It feels really good to work on something for that long.