Date Restaurant & Designers' Corner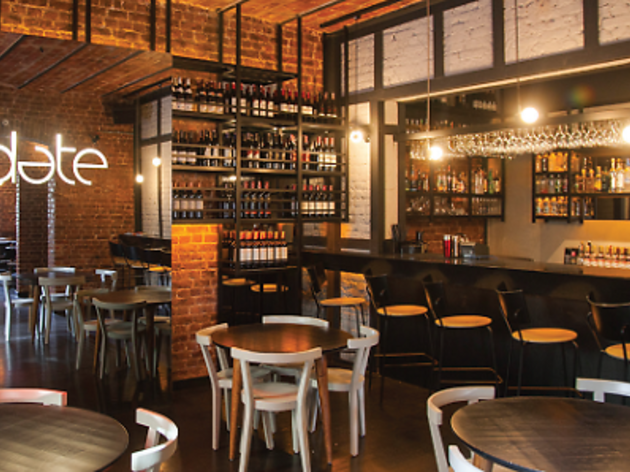 Time Out says
This new restaurant at the corner of Asmalımescit and Şişhane is housed in a wonderfully restored building from 1873. The lower floor may seem like your regular restaurant-bar, but it's on the second floor that you'll find traces of Date's past life as Ümit Ünal's atelier – three showrooms make up the Designers' Corner part of the establishment, and in them you'll find special collections by some of Turkey's leading designers like Gamze Saraçoğlu, Mehtap Elaidi, Nej, Nihan Peker, Simay Bülbül and Evren Kayar. Of course there are also the up-and-comers, plus promises of pop-up shows, talks and workshops to come.
The menu at Date is mostly Mediterranean with the occasional Turkish and international twist. We start our meal with the toasted bread and strained yogurt mezes that arrive before each meal, though what we've really got our hearts set on is the chicken liver pâté served with apple and mango marmalade. Our recommendation is to try everything that this starter comes with for the full effect. Seafood features prominently on the menu, and the sour-smoked flavour of the octopus carpaccio served with purslane, sorrel and Parmesan is not to be missed. Other winning dishes we had a chance to sample from the starters menu (8-30 TL) were the 'gravlax' with fennel salad and avocado, which lost nothing from its flavour despite the smoked salmon; the almond hummus made lighter by the not-overpowering taste of tahini; the mussels with tomatoes and celery in a beer sauce; and the meat tartare served with rocket and gherkins.
It's hard to leave behind the starters and work your way into the mains (18-45 TL), but the tender sea bass served with tomato concasse, artichokes and French beans certainly warrants the transition – just be sure not to pass up the flavourful veggies in favour of the fish. Our second favourite main course at Date is the steak grilled medium-rare, served with manchego cheese, truffles and buttery asparagus.
If you've managed to save room for dessert, we recommend not skipping the crème brûlée, or rather the trio of crème brûlée: the first with Turkish coffee, the second with mint and limoncello and the third, orange, aniseed and cardamom. And, of course, that obligatory scoop of ice cream.
Date also offers a satisfactory selection of domestic and imported wines, though the bar certainly steals the show – particularly during after-hours, when the venue takes on a club-like feel. If you happen to venture out to Date on a Friday night, you'll find yourself amidst a 'Save the Date' party – preferably with a fruity, spicy Date vodka cocktail in your hand.
Details