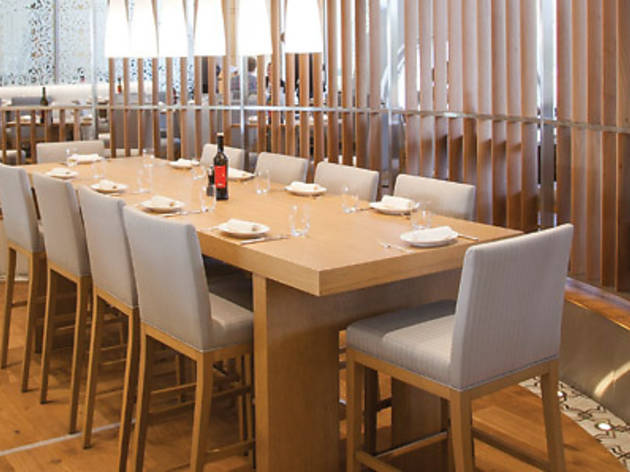 Time Out says
Though the name suggests Istanbul-specific flavours, the scope of this new eatery in Grand Hyatt Istanbul is much wider. The first thing you notice as you enter is the sizeable open kitchen located right in the middle of the restaurant, and it holds your attention too, as Italian Executive Chef Fabio Brambilla and his team cook up your meal right before your eyes.
The Turkish and Mediterranean cuisine 34 specialises in is served 'family style', with the mezes like stuffed grape leaves in olive oil, roasted eggplant, spicy paste and cracked wheat salad plopped right in the middle of our table. You might be wondering where the Mediterranean touch comes into play – it's in the lightness of each dish, a clever move to entice but not fill, as the main courses are the real draw here.
The place where these show-stealers are crafted is the Smoke House, aptly named for the large kebaps and marinated meats that emerge from its grill. The idea of eating a true Adana kebap in such a modern restaurant with an international flair might have you puzzled, but the result is very much satisfying.
If you're anything like us, your eyes and mind will have been fixated on the dessert buffet throughout your meal. The variety is simply staggering, from traditional milk- and sherbet-based Turkish desserts to fruit tarts (the apricot is a must-try), cream desserts, crumbles and much more. Whatever you choose, be sure to pair it with at least one scoop of gelato, courtesy of Frambilla, the self-proclaimed gelato fan who attended a Masters programme at Art of the Authentic Italian Gelato to master his craft.
As you leave, you'll be tempted to promise yourself you'll come back to 34 solely to sip your way through a bottle of wine in the Charcuterie & Cheese Room, located right to the left of the entrance. We certainly did, prompted by the sight of over 30 domestic and imported cheeses (we managed to glimpse Konya tulum and smoked Circassian) and charcuterie products. And we intend to keep that promise.
Details