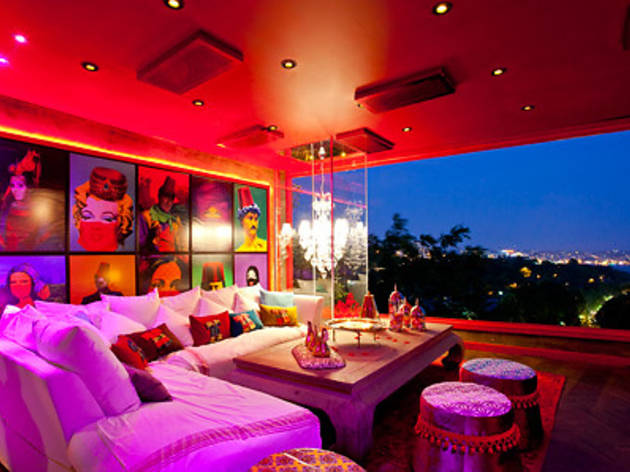 Time Out says
Friendly warning! We're working hard to be accurate. But these are unusual times, so please check that venues remain open.
Arabesque is another Lebanese princess of our city, fitting with the Lebanese cuisine trend. Located inside Maçka Demokrasi Park, Arabesque differs from all the other Lebanese restaurants out there – this is a pop-art-loving, graffiti-clad venue. The view is absolutely breathtaking, both inside and outside. The arabesque architecture is made even more eyecatching with touches like the stage being set inside a bakkal (small shop) stuffed with Arabic products. You'll also see portraits of Marilyn Monroe and Sophia Loren wearing face veils in the lounge section, where you can puff on a nargile after your meal. Beirut's famous graffiti artist Yahya Muhakkin personally lent colour to the walls.
The service also follows the overall concept of local and authentic. Darbuka (traditional drums) are used as ice buckets, and an old ud (stringed guitar-like instrument) is used as a shot server. 'Orient Express', the watermelon-cucumber mojito, comes in a tea pot with tea glasses, while the food is served on trays that resemble embroidered cushions. Conventional dishes and flavours with different twists in ingredients make up the menu.
As starters, ten different meze come to the table: couscous and babagannoush with pomegranate syrup, creamy cucumber and tomato dip, potato salad with garlic and fennel, grilled peppers filled with cheese, hummus with tomatoes and basil, an olive-oil specialty, spinach with chickpeas, musakka and chickpea mantı. The couscous with pomegranate syrup and the chickpea mantı are our favourites. Before the warm appetizers arrive, çiğ köfte (raw meat patties made with pounded wheat and chilli powder) are served by two traditionally-dressed Lebanese waiters. The warm appetizers include grilled börek (pastry) with cheese and saffron, eggplant with yogurt and minced meat, falafel and a delicious sucuk (sausage) with green peppers, served in a pot. Kibbeh with sour cherries is the most popular warm appetizer, though it's not available every day. The main course selections are Moroccanstyle chicken tandoori, steak with couscous and olive oil-cooked vegetables, chicken, kebap and sucuk shish.
At Arabesque, they know how to have fun. A sparkling and limber zenne (male belly-dancer) weaves through the tables as you dine. There are also curvaceous belly dancers here who take the stage for part of the evening. The Arabic music, the architecture that surrounds you, the colours and the glamour – and, of course, the MC who repeatedly asks that you 'put your hands up' – all get you in the mood to get on your feet. Beirut's famous DJ Alexis Nohra is the music director At Arabesque, where you'll have the chance to hear Arabic poporiental hits performed in dance halls across Beirut. Don't be surprised if you see Arab and Lebanese tourists, who seem to be enjoying the venue the most – almost convincing you that they have travelled all that way just for Arabesque.
The prices are quite reasonable for a venue of this calibre. The set-menu, excluding drinks, costs 70 TL on weekdays and 85 TL on weekends. The cocktails range from 25 TL to 30 TL. From the menu Sangria 30 TL Orient Express mojito 25 TL
Details