Arşipel Sushi Bar & Restaurant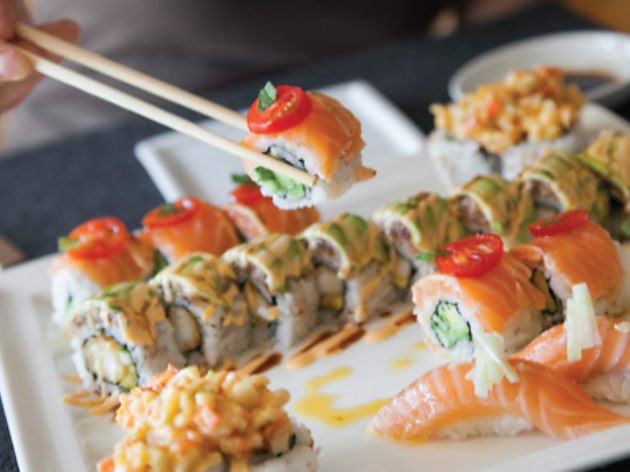 Time Out says
Local seafood restaurant Arşipel recently piqued our curiosity when Japanese symbols and bamboos strated to spring up in its décor. Turns out Arşipel's transformation is limited to the lower floor, which now operates as a sushi bar and Japanese fusion restaurant.
You'll find traditional Japanese flavours interpreted to suit a European palate, though we hear a second menu of strictly Japanese dishes is in the works. Perhaps the best feature of Arşipel's new undertaking is the reasonable prices – there isn't a single roll over 30 TL on the menu, an amount comparable to main courses offered at most area restaurants.
In addition to sushi and sashimi, you'll also find fried fish, noodles, rice and even chicken on the menu. We start with the Shake Carpaccio (23 TL), or delicate slices of salmon served in a light vinaigrette sauce. By the time we move on to the assorted roll platter, we've confirmed our positive thoughts about the all-Turkish sushi chef's talents. A classic in most Japanese restaurants by now, the Dragon Roll (25 TL) with eel, cucumbers and avocado is quite tasty, as is the Aburi Roll (24 TL) with salmon, cucumber, asparagus and cream cheese. Without a doubt the best sushi varieties Arşipel offers are the Fuji Roll (27 TL) with crab and avocado and the restaurant's specialty Arşipel Roll (27 TL), a delicious mix of shrimp tempura, spicy tuna, mango and avocado.
If you're squeamish about raw fish, you can also opt for the Yaki Suzuki, or sea bass flavoured with orange essence, as well as the Ebi Chilli, which is fried shrimp covered in a thin layer of sweet and spicy sauce. But really, we must insist that you at least give the sushi a try – you won't be disappointed.
Details