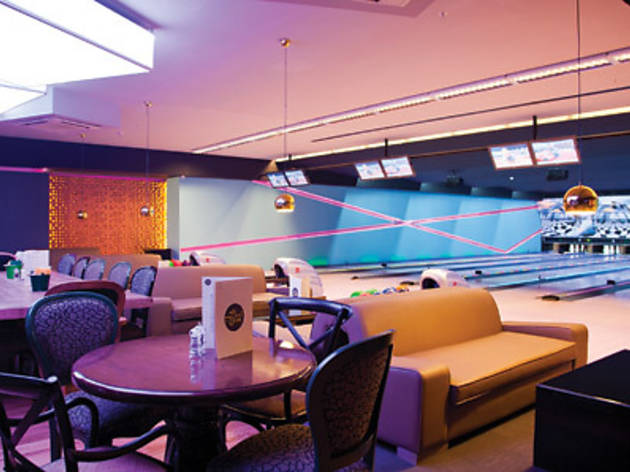 The prospect of eating, drinking and gaming, all in one place, might conjure up images of university dorm rooms, but hold that thought for a minute. Sprawling across 1,200m2 on the fifth floor of Cinemaximum, one of the most central buildings on İstiklal Caddesi, Bowl Room takes the idea of blending these three concepts and runs wild with it. First, let's get one thing straight: if you're in the building to catch a movie, put it out of your mind to spend time at Bowl Room until the film starts – with space for up to 400 people, this isn't the type of place you could squeeze in between séances. We recommend you start off by tasting some of their appetising cocktails at the large, circular bar smack in the middle of the venue. Crafted out of solid wood, the bar, as well as the lighting overhead, is quite majestic.
Right in front of the bar, you'll find a nine-lane bowling alley. The lane on the far right can be separated from the others with heavy curtains to create a special atmosphere for groups. Amateurs can also take private bowling lessons.
Right behind the bowling lanes, you'll see tables in various sizes, which make the ideal place to watch the combative contests or grab a snack. A corridor to the other side of the bar extends to the pool room, which features two American pool tables and a seating group that faces İstiklal Caddesi. Though it's not the ideal place to dine, this area is good for a game of billiards and some drinks.
Before you get to playing, though, it's a good idea to stock up energy with some food – Bowl Room's menu consists of mostly American and Mexican fare, which suits the venue's on-the-go vibe. You'll find burgers, wraps and pasta as well as sauce-rich mains. Enjoy them as you listen to the resident DJ spin soulful house, disco, house, groove and funky tunes.
From the Menu
Spicy potato fries 8 TL
Tenderloin salad 18 TL
Veggie noodle with soy sauce 17 TL
Grilled salmon 25 TL
Frozen cocktails 25 TL
Venue name:
Bowl Room
Contact:
Address:
İstiklal Caddesi, Fitaş Building 12
İstanbul


Opening hours:
Monday-Friday 11:00-02:00; Saturday, Sunday 11:00-04:00