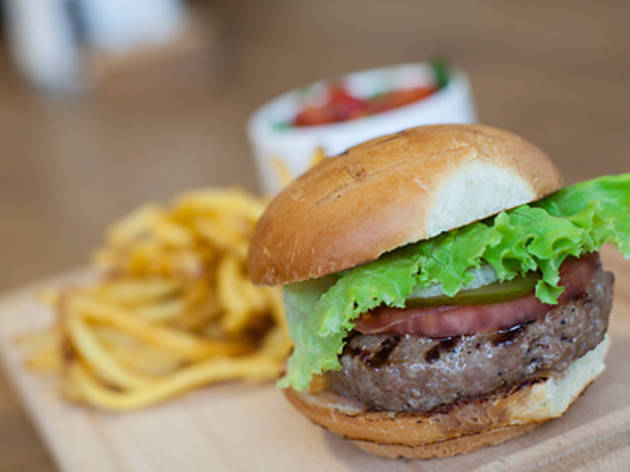 Time Out says
This new eatery on Ihlamurdere Caddesi pays homage to one of New York's most notable burger locales through both its name and quality burgers. As can be expected, Burger Joint's trademark is the 160-g meat used in the hamburger and cheeseburger. The venue favours a classic burger, choosing not to accompany the meat with any sauces that detract from its taste nor any competing flavours like caramelised onions – all you get are tomatoes, lettuce, onion and pickles, which enables you to taste the meat with every bite. The same goes for the cheeseburger, which doesn't let anything get between the praise-worthy meat bought from Bebek Kasabı (Bebek Butcher) and the cheese that goes so well with it.
For those who aren't hamburger fans, Burger Joint also offers wraps made with rump meat sliced in chunks. The eatery's also ambitious when it comes to chips, which go through a three-stage frying process to achieve their golden colour. Yet another surprise at Burger Joint is the complimentary mint and rocket with pomegranate molasses, a nod to Hatay cuisine.
All in all, Burger Joint's got our vote for one of the best gourmet hamburger locales around the city in terms of its price/performance ratio.
Details