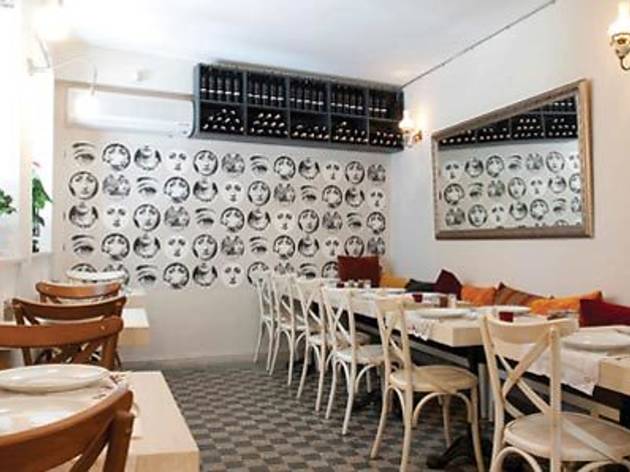 Time Out says
Meaning 'he who invites to dinner' in Ottoman, Dai Pera focuses on an Istanbul palate that has been somewhat forgotten with the spread of Italian, Far Eastern and Chinese cuisine. Dai Pera, located immediately to your right after passing 45'lik next to the Galatasaray High School, came into being from a demand, among busy business people and students, for a restaurant that makes homemade meals. The dishes at Dai Pera are cooked daily with pressed olive oil brought in from Ayvalık; the menu is therefore not fixed but changes every day, as well as from lunch to dinner. Note that some dishes are available on a steady basis.
During the day, homemade meals are served on tiny tables covered with floral tablecloths, while in the evenings, the atmosphere changes dramatically with the dimming of the lights, taking on a romantic ambiance. Instead of homemade meals, the menu is made up of a rich variety of cheeses, Turkish olive-oil dishes, homemade smoked meats, squash patties, and cheese soufflés, accompanied by wine. Meat-stuffed grape leaves, pit roasted lamb and rice with onions, nuts, diced liver and currants, bulgur rice with sweet basil-spiced meat, and mantı with chickpeas are among Dai Pera's favourites. After work is also a perfect time to stop in and wind down over a glass of wine and a cheese plate. We recommend you try the honeyed sirloin steak off the evening menu as well.
The décor is eclectic. Arzu Hanım has taken an original approach, having tables and shelves made out of logs and other pieces she's bought and collected. At first glance from outside, the wallpaper on the back wall creates a striking impression. On Fridays and Saturdays, there are evenings of music. Two street musicians who are here to visit Istanbul lend a thoroughly unique atmosphere when they play in the evenings. Ideal for throwing off the day's stress after work!
From the Menu
Artichokes in olive oil 9.50 TL
Squash patty plate 11 TL
Homemade mantı 12 TL
Honeyed sirloin steak 24 TL
Homemade baklava 8 TL
Cheese plates 15 TL
Details