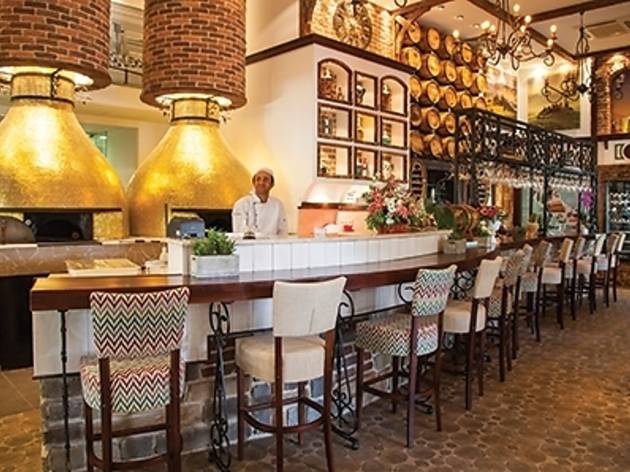 Anatolian-side residents have long known that Misina Balık in Fenerbahçe boasts one of the city's most extensive menus for fresh seafood. This has everything to do with owner Suat Yılmaz, who doesn't hesitate to travel all around Turkey's shores to source the best ingredients. Now, with his new restaurant Due Forni, Yılmaz has evidently set his sights on Italian cuisine.
Located across from Göztepe Park, Due Forni aims to be a neighborhood eatery with a true Italian at the helm. Chef Matteo Bertuletti learned Italian cuisine in his homeland before moving to London to broaden his gastronomical vision. He's also got plenty of experience with seafood, courtesy of the time he spent in Sardinia, so he knows how to work with the ingredients provided by Misina.
Due Forni gets its name from its two massive ovens that can exceed the 400 degrees needed to bake pizza like it should. To taste the results, we recommend trying the smoked salmon, grilled zucchini and mascarpone pizza (35 TL) or the one with beef bresaola, arugula and grana padano (36 TL). The handmade pastas and risottos come with plenty of options and range from 30-46 TL. If you have trouble deciding, know that you can't go wrong with any fresh seafood-based dish.
The restaurant also offers an extensive wine selection and is equipped with a play area for kids. On weekends you'll find breakfast options such as mini calzones and Anatolian cheeses. Duo Forni's only drawback is its interior décor, which we found a tad too extravagant for our taste, but with such flavorful fare, we're more than willing to overlook it.
Due Forni
Prof. Dr. Hulusi Behçet Caddesi 10, Göztepe.
(0216) 350 00 90 / www.dueforni.com.tr.
Daily 10.00-00.00.
Venue name:
Due Forni
Contact:
Address:
Prof. Dr. Hulusi Behçet Caddesi 10, Göztepe
İstanbul


Opening hours:
Daily 10.00-00.00.