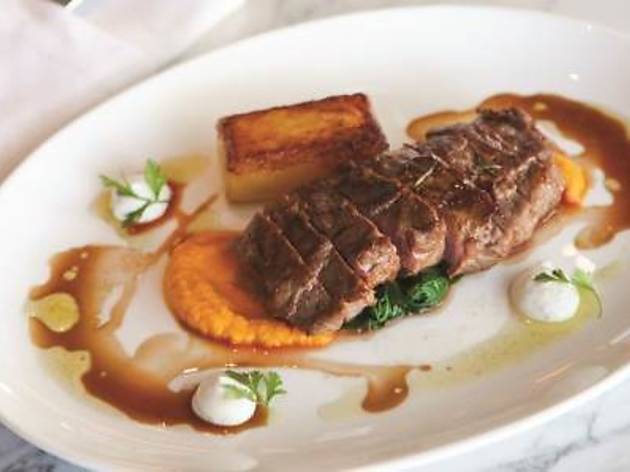 Time Out says
This British-inspired 2,200-square-metre venue, brought to Istanbul in collaboration with international restaurateurs D&D London, offers a full selection of eating and drinking environments – a dining room, a bar and lounge area, and two private dining rooms connected by a gallery and a wine cellar. The most coveted spot this summer is bound to be the terrace, which has the peaceful feel of a typical English garden.
Dark wood, smoky grey and copper hues dominate the interiors by Conran & Partners, which feature marble columns and other cult design objects. The classic English chairs in the lounge area beckon, as does the bar, illuminated by the Hoxton Art Gallery-designed lighting installation with a candlelight effect.
DUKE's menu, overseen by famous French chef Mickael Weiss, offers a contemporary take on classics and transports the flavours of modern-day London to Istanbul's Trump Shopping Mall. There is an open kitchen as well as two sushi bars, one of them located on the terrace alongside a charcoal grill and a wood-fired oven. On the menu you'll find sashimi, various breads, appetizing tarts and both grilled and oven-cooked options. The sommelier helps pair the perfect wine or champagne with your meal.
Weiss's most noteworthy contribution is undeniably the chef's table, where you can create your own menu to enjoy with the chef at a 10-person dinner party. What we love the most about the detail-oriented DUKE is that it sticks to a pricing policy they call 'affordable style and luxury'.
Details