El Beso Restaurant & Club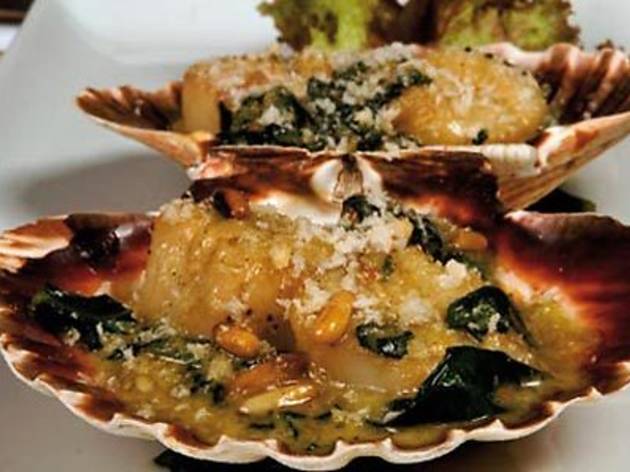 Time Out says
The venue shares an entrance with Planet, and is located on the hill going down towards Aşşk Kahve. As soon as you enter, the first thing you can't help but look at is the dark colored patterned ceiling. Accompanying the dark ceiling is the color white, which dominates the rest of the venue. As you walk towards the panoramic view, on the right side of the venue you can see the painting of a bold redlipped woman, along with the words 'you are beautiful'. Making you feel good is a great way to make you want to eat, if you ask us!
El Beso's menu mainly consists of Mediterranean foods; starters, salads, tapas, risotto and paellas, pasta and pizza, main courses and desserts. For the main course you are able to choose between fish, white and red meat. Do not neglect to taste the dishes that are prepared in a special oven. For those who are watching their weight, there is a separate light menu. Breakfast is served daily from 07.00, and on Sundays there is brunch between 10.00-14.00. The prices are a little over the top in comparison to average prices in other venues.
As a trial run, we advise you to gather six of your friends and reserve a table overlooking the Bosphorus. Aside from being a restaurant, El Beso is also a nightclub. After 23.00 on two special nights of the week, Lounge FM turns up the music and starts the fun with their Djs. The kitchen closes at 11.00. After a certain hour, the cocktail shows at the bar become the center of attention. On Wednesday nights the nightclub hosts Latin nights, and can also host special parties for anybody interested. The venue even has a Latin party on Sundays after brunch.
From the Menu
Cherry vinaigrette artichoke 21 TL
Accordion calamari salad 23 TL
Paella Valenciana 35 TL
Chocolate tart with chestnut 21 TL
Basil martini 28 TL
Details