Fink Roof Café-Bar-Lounge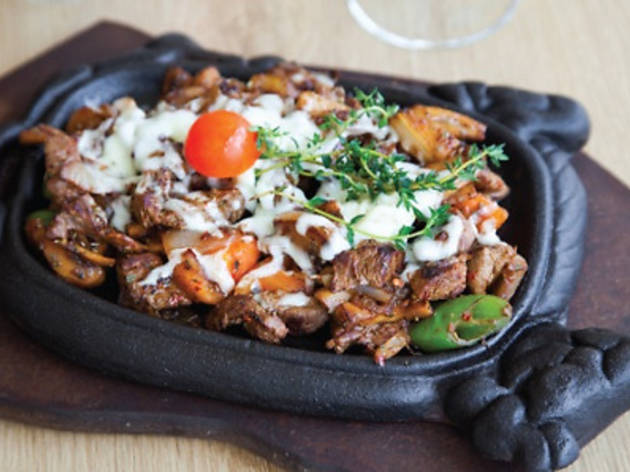 Given the popularity and congestion of Bebek's classic venues, it's no wonder that locals sometimes resort to grabbing a bite in the park dueto lack of options. A new Istanbul recruit (by way of Bodrum), Fink could be a possible addition to the list of alternatives. Even that slither of sea visible from between the trees, right above Bebek Park, could be reason enough to visit the two- storey eatery's terrace.
The menu's long enough to satisfy those working in the area for quite?a while, with the usual offerings ?of pasta, wraps, sandwiches, hamburgers and salads. It's hard to miss the Fink Roof special, a blend of tenderloin strips, mushrooms, onions, green peppers, tomatoes and melted kaşar cheese that looks and tastes a whole lot like a fajita. The smell is so enticing, in fact, that you're tempted to say 'I'll have what he's having' when someone over at the next table orders it.
One of the best things Fink has going for it is that most of the items on its extensive list of importedwines (from France, Italy, New Zealand and Australia, just to name a few) are offered by the glass. We particularly recommend trying the cheese plate (featuring Emmenthal, Roquefort, mozzarella, Pecorino, Gruyère, Parmesan and aged?kaşar as well as grapes, walnuts and roasted ciabatta bread) and sampling your way through the wines not bad at all for a dinner with a Bosphorus view. You can also opt for the open buffet brunch on Sundays, which costs 38 TL per person.
From the menu
Cheese plate 25 TL
Fink Roof special 29 TL
Tiramisu 16 TL
Kayra Vintage Shiraz glass 19 TL bottle 105 TL
Apple martini 23 TL
Venue name:
Fink Roof Café-Bar-Lounge
Contact:
Address:
Manolya Sokak 1/1-2
İstanbul


Opening hours:
Daily 10.00-02.00.