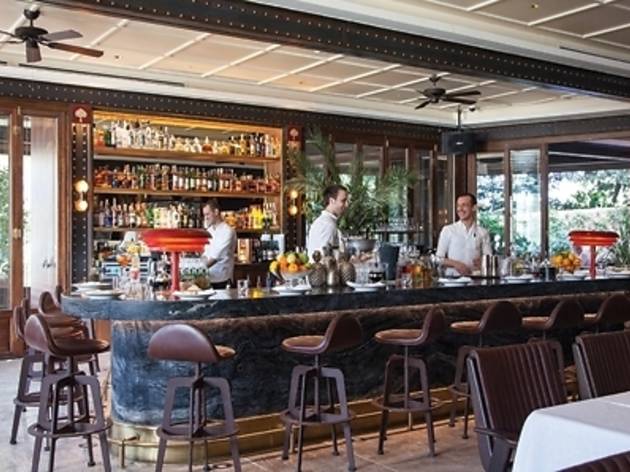 Time Out says
Owners Aliye Turagay and Joost Rooijmans, the couple behind SekizIstanbul and Bird, have gone all out with their latest venture, Flamingo, a restaurant-bar located on the corner of the InterContinental but completely independent from the hotel.
With a full list of weekend dinner reservations since the day it opened, Flamingo could easily be a posh venue in New York, London or Paris. Its décor bears the Autoban signature, with two performance spaces, a bar and a kitchen (the latter separated by an elongated window) all facing one another. In the kitchen you'll find young chef Emre Şen from Lavanda Hotel in Şile, where Istanbulites once travelled just to have dinner. A graduate of the Italian High School, Şen quit his architecture studies in Italy in favour of gastronomy, later studying at the Culinary Arts Academy of Istanbul and working alongside Mehmet Gürs at Istanbul's Mikla and the Michelin-starred Chef Maurilio Garola at Treiso in Italy. At Flamingo, he aims to deliver the same Mediterranean flair that made Lavanda a hit.
Most ingredients, from the bread to the cream, are prepared right in Flamingo's kitchen, where no pre-packaged, processed or industrial goods are allowed. The Italian-heavy menu is as grand as the space itself, which makes it hard to choose. There are the soups (pea, Jerusalem artichoke, rocket) that aim to position the dish as a summer staple, as well as notable starters such as octopus carpaccio, beets with goat cheese and foie gras torchon. The pizzas come straight out of an oven transported to Istanbul from Naples, and Flamingo is also ambitious when it comes to the eight types of homemade pasta and four types of risotto – our pick is the risotto with porcini mushrooms. Other dishes well-worth trying include the couscous with cumin and oven-roasted chicken thighs, beef tenderloin served with potatoes and asparagus, celery salad, tuna tartare, tagliatelle with crab, and seafood in a copper pan. Dessert-wise, the chocolate mousse, chocolate tart, panna cotta and tiramisu might all seem like ordinary fare, but they certainly don't taste like it.
The wine menu includes close to 200 bottles from Turkey and around the world, while the cheese and charcuterie plates instead adhere to the idea that 'less is more', with select flavours like Parmigiano-Reggiano, blue Stilton and the gourmet Spanish cheese Jamón Ibérico de Bellota Pata Negra.
After 22.00, Flamingo takes on a dance-floor vibe with Rooijmans's music selection. You'll find speciality cocktails like the 'Make Me Cry' and 'Mastika Magic' alongside classic drinks – as well as Flamingo's own Prosecco cocktails and wine spritzer (26-30 TL). Hands-down this summer's favourite new venue, Flamingo also caters to lunch crowds on its cool veranda. If you intend to visit at night or on the weekend, we seriously recommend making reservations, especially for the garden. Dinner and drinks costs upwards of 100 TL per person, so don't say you haven't been warned.
Details