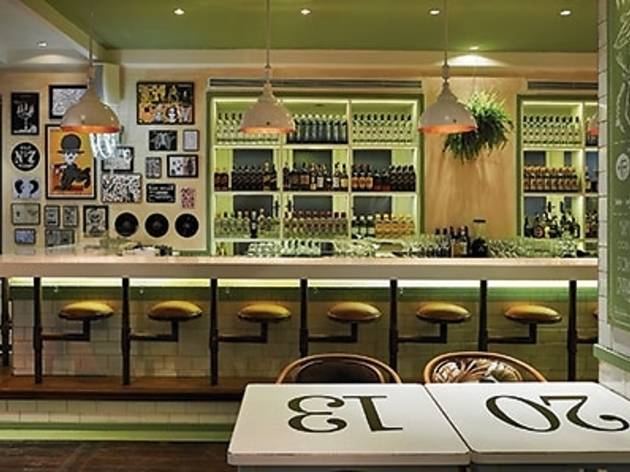 Rumelihisarı has come under the spell of a Pacific breeze lately, and it can be traced right back to Floripa, a brand new restaurant whose atmosphere and menu help set it apart from the other eateries lined up along the shore. The white woodwork, large plants and light green-painted walls stroke your face like a breeze the moment you step in the door. The special cocktails and South American-inspired boards on the walls reinforce this feeling.
Perhaps that's why Floripa is as lively as can be even at lunch hour on a weekday. The first items we notice on the menu are a wide variety of starters and salads, followed by enticing pizzas. If you were in the habit of sharing a pizza and salad at Mama, no need to worry, as you can continue the tradition at Floripa.
The tomato soup, revamped with mozzarella, is a must try. The most expensive item on the menu is the wood fired sea bass at 58 TL, though it is more likely you'll pay 30-40 TL per person for a meal consisting of a salad, drink and coffee.
We also recommend checking out Floripa for breakfast or brunch on the weekend. The breakfast spread for two with unlimited tea and a fresh Bosphorus breeze costs 25 TL. Served from 10.00 to 16.00 on Sundays, the brunch menu also comes with a great variety of food for reasonable prices.
DJs Doğuş Cihan, Cüneyt Çilingiroğlu and DJ Yigal and Gadi perform at Floripa on Wednesday, Friday and Saturday nights, respectively (Çilingiroğlu DJs as a social responsibility effort, donating all of his revenues to the Association for the Support of Contemporary Living). To keep up with Floripa events, visit facebook.com/barfloripa. Seda Naniç Zeybek
Venue name:
Floripa
Contact:
Address:
Baltalimanı Caddesi 4, Sariyer
İstanbul


Opening hours:
10.00-02.00