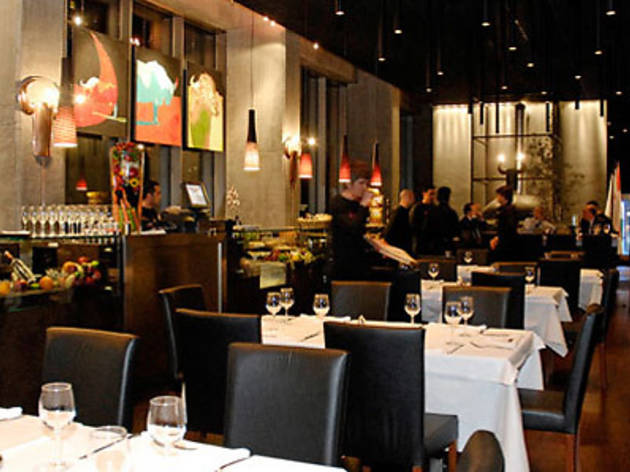 With mostly black decorations and white tablecloths, the minimal lighting provided by pipe-like fixtures hanging from the ceiling, and black leather chairs, Fratelli La Bufala is a very stylish Italian pizzeria. A glass wine shelving system separates the restaurant from the residence. Don't expect to get in without a reservation, with so may pizza lovers working in the neighbouring plazas, it's impossible to just turn up and get a table. 'Fratelli' literally means 'brothers' in Italian. Naples-born Giuseppe, Antonio and Gennaro La Bufala worked in and opened pizzerias in New York, Madrid and Milan, quickly becoming Italy's largest pizza chain. Today, with 86 franchises including Rome, Miami, Rio de Janeiro, London, Washington, and now Istanbul.
The restaurant's main feature, the 'Napoliten pizza' lounge where you can watch the pizzas being prepared before they're placed in a special brick oven. The pizza chef from Napoli prepares the dough so that the crust is thick and crunchy while the centre is almost paper-thin, so it's almost impossible to eat a slice without folding it up. Except for tomato paste and cheese, the ingredients are added after the pizza has come out of the oven. A standard size pizza (32cm) is perfect to satisfy one person's hunger. Pizza varieties abound with everything from the Margherita to the calzone, tropical to the Americana. The menu has numerous other choices too: types of caprese, gateaux, lo zuccotto di melanzane and other starters specific to Naples. Along with risottos, soups and pastas, burgers and meat selections, salads and desserts, every weekday from 12.00-14.00, specials from the Campania region are available. The wine menu features both Turkish and Italian selections.
Venue name:
Fratelli La Bufala
Contact:
Address:
Levent Loft, Büyükdere Caddesi 201
İstanbul


Opening hours:
Daily 12.00-23.30.