Hayal Kahvesi Şaşkınbakkal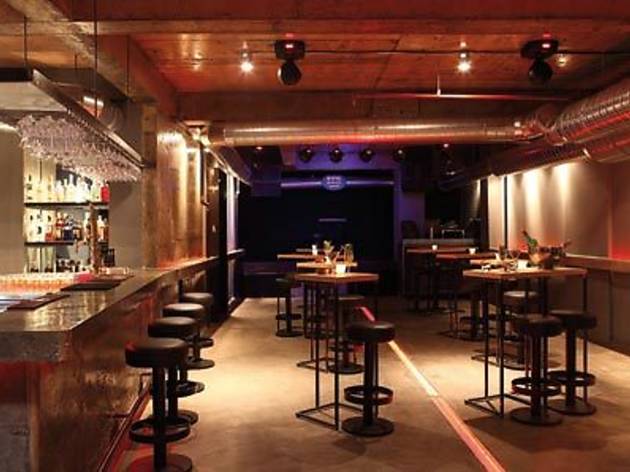 Time Out says
The entry floor and front yard is more of a restaurant-cafébar, while the front yard with its waterscape is perfect for summer. When compared to the other Hayal Kahvesi branches, the menu is definitely richer. The menu featuring hints of Italian and world cuisine is prepared in a way to complement each drink. They're especially ambitious with their pizzas. In fact, you can even find the legendary pizza of 'The King and I' on the menu. This pizza is made up of double mozzarella, sucuk (Turkish sausage), ham, sausage and mushrooms. Every pizza except for the 'King and I' is made with a thick crust.
We arrive at Hayal Kahvesi Şaşkınbakkal early in the morning, when the breakfast plate is served from 10.00-14.00. The breakfast plate is well presented and satisfying. The appetizers include kısır (a cold dish made with salad vegetables and olive oil), falafel, grilled hellim cheese wrapped in grape leaves and vegetable spring rolls. Before we move on to the Italian pastas, risottos, noodles and burgers, it's time for the main course. There are classics like New York steak, T-bone steak and Café de Paris steak, as well as teriyaki grilled salmon, poached sea bass and 'Hayal'et' (dream meat), which is exclusive to Hayal Kahvesi (a steak coated with fresh cheese and a special mushroom sauce, served with steamed vegetables). New York cheesecake, fried ice cream and Turkish-coffeed parfait drizzled with caramel sauce take the main stage as desserts.
You'll find all the drinks offered at the other Hayal Kahvesi branches here, as well. Amongst many different concoctions, the Cuban cocktails stand out. There are mojitos, Cuba libres, pina coladas and daiquiris, the favourite of Ernest Hemingway. Of course, when you hear the name 'Hayal Kahvesi', you immediately think about live music.
There are different live performances at Hayal Kahvesi Şaşkınbakkal every day. The performance stage is located on the bottom floor. Here, you can view stand-up comedy or theatre performances on Mondays, talks and concerts with celebrities on Tuesdays, cover groups and concept nights ('80s, '90s) on Wednesdays, jazz performances on Thursdays, star concerts on Fridays , DJ performances and a capella groups on Saturdays and live karaoke nights on Sundays.
From the menu
Breakfast plate 24 TL
'King and I' pizza 25 TL
Kısır with walnuts and pomegranate syrup 8.50 TL
Teriyaki grilled salmon 32 TL
Fried ice cream 13 TL
Details