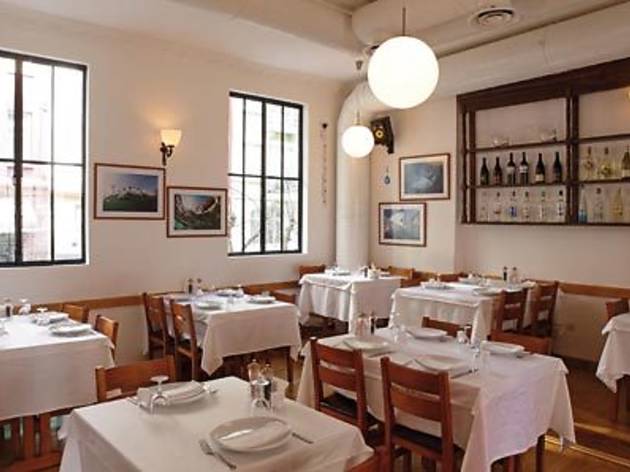 Owner Tarkan Şahin opened this restaurant upon noticing the lack of good fish and meze restaurants in the Cihangir neighbourhood. With its white tablecloths and minimalist décor, Hayat Cihangir is a portrait of refinement. Some of the authentic starters to look forward to are octopus salad, marinated sea bass, topik, olives with walnuts, kaya koruğu (roseroot salad), deniz börülcesi (cooked seaweed salad), fava bean spread, patlıcan borani (an eggplant dish), and balık turşusu (pickled fish). Zucchini flower is also served and isn't a meze you can find just anywhere.
The hot appetizers served predominantly include seafood, and include grilled octopus, fried calamari, balık kokoreç (diced fish with spices), buttered shrimp, fish patties and balık böreği (fish wrapped in filo dough). Some of the dishes that are unique to this resto are Parmesan mussels and an octopus casserole. The green salad they serve contains at least 7 types of greens.
Onto the entrées that are divided into 4 types: Daily fresh fish varieties, köfte (meat patty varieties), entrecote and beef sauté cooked (and served) in a clay dish. The prices and fish served on the hot appetizer menu vary based on the season. From the dessert variety, there's cooked quince with fresh crème and semolina dessert with ice cream - we highly recommend the latter!
We have to mention that if you want to go A la Carte, a 10% service charge will be added to the bill. For groups of 10 or more, a fixed menu is available, which includes 8 meze dishes for every 4 people, salad, Parmesan mussels and your choice of octopus casserole or grilled octopus. As for entrées, a choice of 1 of the 4 entrées on the menu is served and the meal is topped off with several plates of seasonal fruits and Turkish coffee. The price for the fixed menu with a set limit of alcoholic beverages is 75 TL and 90 TL for bottomless beverages. This is the ideal stop for anyone looking to enjoy a classical meze and fish feast.
From the menu
Parmesan mussels (each) 5 TL
Beef sauté in clay 22 TL
Semolina dessert with ice cream 8 TL
Venue name:
Hayat Cihangir
Contact:
Address:
Akarsu Caddesi 25/1
İstanbul


Opening hours:
Daily 10.00-24.00.