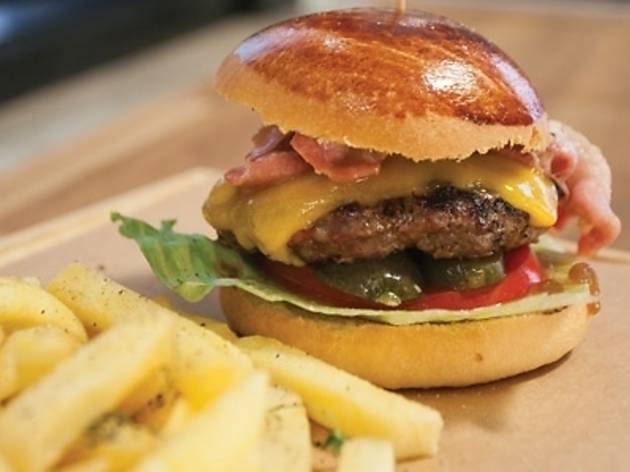 Time Out says
The time when hamburgers were offered with a few boring alternatives and served up without any of your input has thankfully come to an end, yet even in the age of the customised hamburger, vendors seem to have hit a snag when it comes to variety. Enter İzi (aka İzzet Uzunhasanoğlu), who stepped up to the plate just in time.
This tiny Asmalımescit venue has mustard-coloured stools, walls covered in black-andwhite graphics and a unique burger joint vibe, as well as a menu that its competitors are already drawing inspiration from. Don't get too attached to the list of offerings – which is short enough to fit on a small piece of paper – since it changes every fortnight.
On our visit, the hamburger alternatives we came across were the İzi Burger, Mexican İzi Burger, Laz İzi Burger, Hangover İzi Burger and Vegetarian İzi Burger. From what we could see, men were more likely to eat at least two burgers while those with smaller appetites would avoid the messy buns for more 'polite', bakery-produced breads. The Mexican İzi Burger (17 TL) contains an unmissable blend of red bean puree, guacamole, saladeno and Bloody Mary sauce, as well as the all-important 120-gram beef entrecote patty. Even without the jalapeño peppers you might expect, the level of spice is perfect. The ketchup here, made from real tomatoes, is nothing like the sauce you're familiar with, so be liberal with it. Their signature flavour is the İzi Hangover, packed with real bacon, avocado and Bloody Mary sauce – sure to be a hit among late-night Beyoğlu crowds. If none of these appeal then jot down the burger you want and the kitchen will give it a go for you. İzi Burger also hosts parties with DJ entertainment from 19.00 to 23.00 on Thursday nights.
Details