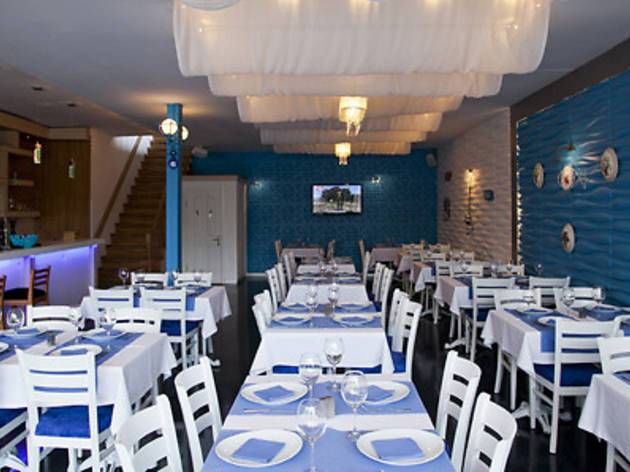 Before you start to think 'Another fish restaurant?' you may want to hear KalaBalık's story. A newcomer to the Kuruçeşme neighbourhood, the eatery's standard appearance shows no signs of the chef in the kitchen: Stathis Dapiapis, who worked for long years in Greece before bringing his wealth of expertise in Greek cuisine to Istanbul. So it's no surprise that the Greek meze on the menu are loyal to the authentic recipes. Of particular note are the caciki (a light dish made with yogurt, cucumbers, garlic, olive oil and vinegar) and tarama (fish roe). The pan-fried saganaki made with a special kind of cheese is also popular, though for an even cheesier kick, we recommend the buyurdu featuring three different kinds of cheese stewed with tomato sauce. The homemade lakerda (salt-cured bonito) is also different than what we've had before. Before we move on to the main courses, let's appease those of you who might not like fish by noting that KalaBalık also offers chicken and red meat. Take the traditional Greek dish, souvlaki: here, chicken, veal or lamb souvlaki are served with grilled onions and peppers. Still, the most popular main courses are the stews, particularly the stewed mussels and shrimp doused in ouzo, which lends the dish its characteristic aroma. The saffron paella is also a good shareable option, but be sure to leave room for dessert. Daily offerings of chocolate soufflé, oven-cooked helva (semolina dessert) or helva with pistachio and carrots taste even better when you know that they're on the house.
FROM THE MENU
Rustic Greek salad 13 TL
Tarama 10 TL
Lakerda 15 TL
Stewed mussels with ouzo 19 TL
Saffron paella 25 TL
Veal souvlaki 25 TL
Venue name:
KalaBalık
Contact:
Address:
Muallim Naci Caddesi 99, Kuruçeşme
İstanbul


Opening hours:
Daily 10.00-02.00.