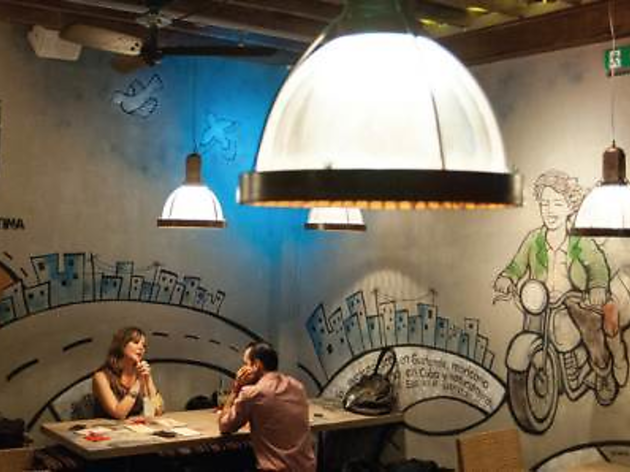 A newcomer to Tünel, La Paz (named after the Bolivian capital) was born out of engineer brothers/owners Alp and Erdem's long-lasting love of all things Latin American. Alp's been doing salsa for years, while Erdem's affinity for the culture dates back to his time in Argentina – which is also where he met and fell in love with a Spanish teacher named Alejandra.
It is her touch that lends the eatery a truly authentic feel, evident in details like bill boxes made out of Argentinean cacti, pillows covered in Bolivia's Inca designs and Cuban cigar patterns on the floor, each one brought back by Alejandra from her travels. The décor also makes room for more glaring signs of Latin American culture, like reminders of Che's famous motorcycle journey as well as posters and banners along the walls.
Designed by Argentinean chef Deniz, the menu offers traditional eats that Latin Americans consume daily. The main selection includes five special dishes from Bolivia, Peru, Argentina, Nicaragua and Brazil. We take Erdem's advice and try the Bolivian tamales (13 TL) with pureed corn, cheese, veggies and aniseed, the latter's sharp flavour giving the dish an unusual edge. The Peruvian Aji de Galana (13 TL) is a filling yet light dish with potatoes, chicken, red peppers, saffron, rice and sauce. The menu details the story behind each dish to not only feed but also educate diners. We learn, for instance, that one of the most significant characteristics of Argentinean cuisine is to blend sweet and savoury, best exemplified in the chicken and pineapple salad, which we highly recommend as a light lunch option.
La Paz also excels in its selection of hard-to-find coffee brought in from micro roasters in Latin America. In terms of alcohol, you can try one of the Argentinean or Chilean wines or opt for the Dark Mojito (24 TL), whose caramelised flavour makes it a great, strong alternative to the original. Before we take our leave, we end our meal on a sweet note with the Flan de Coco (8 TL), a crème caramel that's undergone a fruity remake with the addition of coconuts and pineapple. For those in search of something new, La Paz is likely to be a new favourite in Tünel.
Venue name:
La Paz
Contact:
Address:
Ensiz Sokak 10/1
İstanbul


Opening hours:
Mon-Fri 11.00-23.00; Sat 11.00-01.30.