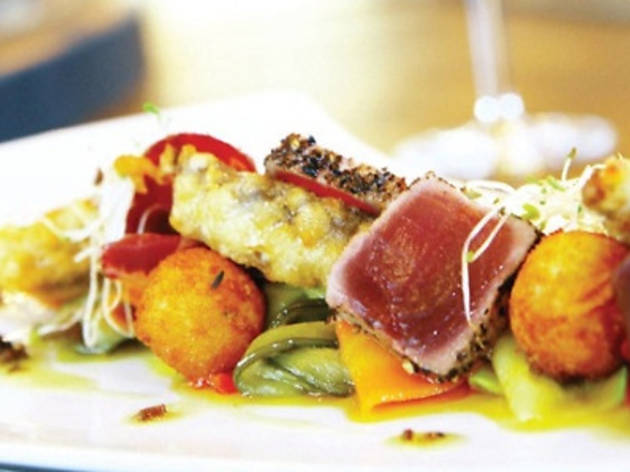 The first branch of Le Méridien Hotels to open up in Turkey necessarily has a stylish restaurant. Located on the fourth floor of the luxury hotel, La Torre first strikes you with its spacious atmosphere and modern décor, courtesy of Sinan Kafadar. Each carefully thought out detail is fully visible in the sun-drenched dining area, though there are also special sections set aside for business dinners and private meetings. Chef Tarkan Özdemir's menu fuses Mediterranean and Far Eastern cuisines in a way that appeals to the Turkish palate. Visit at lunch to try the open buffet menu (whether you're a guest at the hotel or not) or try the à la carte menu overseen by the chef at any hour of the day.
The variety of flavours are perfect for the adventurous, and unlike most other similar venues, the portions are quite filling. Try a starter like the modern Turkish börek (filo pastry) creation featuring pastrami inside kadayıf (oven-baked shredded wheat soaked in syrup), sea bass inside baklava dough or duck legs served inside güllaç dough (a dry, thin sheet made with cornstarch and flour), a blend of the old and the new, of sweet and salty. The main courses include pasta, risotto, pizza, saltwater and sweetwater fish, farm and country products, all of which are crafted using the same principle of combining different flavours. The sea bass coated in olives and pine nuts has an innovative brittle-like exterior, and the slow-cooked codfish has such perfect harmony with the veal uykuluk (sweetbread) that it's worth visiting La Torre just to try this dish. The waiters' knowledge about the food and their professional, courteous attitude are also worth a mention. Indeed, both the ambiance and the dishes at La Torre are shrouded in modesty – nothing is over the top, including the desserts, which are Tarkan Özdemir's specialty. Favourites from the dessert menu include Eve's apple, served inside a clear green, edible apple form; the chocolate dome dessert whose top melts when you pour the hot chocolate sauce; and the cooling mojito. A delicious meal like this surely deserves such an ending.
FROM THE MENU
Modern Turkish börek creation 26 TL
Sea bass coated in olives and pine nuts 62 TL
Shoulder of lamb covered in dukkah spice mix 58 TL
Eve's apple 22 TL
Venue name:
La Torre Restaurant
Contact:
Address:
Cengiz Topel Caddesi 39
İstanbul


Opening hours:
Daily 06.30-23.00.