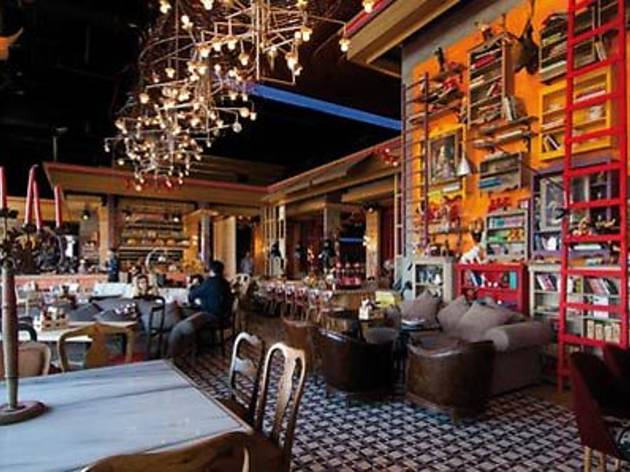 1/2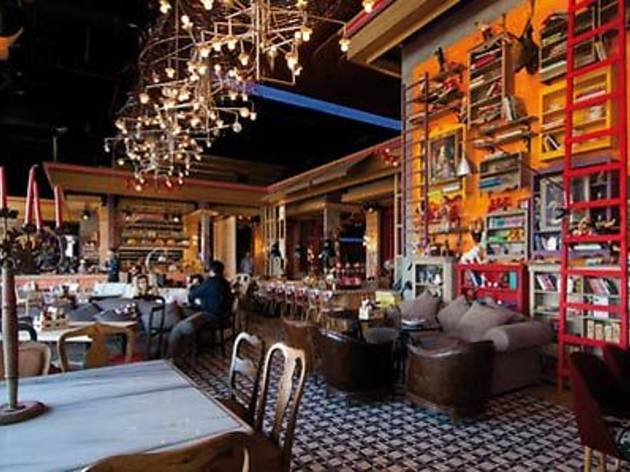 2/2
Limonata is a different concept that breathes new life into Çapamarka, whose ambition comes through in the names of their outrageous projects like Al Jamal and Joke Circus. Limonata, with its low key vibe, has a less palpable ambition; the freshness that limonata (Turkish for "lemonade") suggests is at the core of its concept. Still, the prices are reasonable, while the presentation and ingredients sacrifice none of the quality to which we're accustomed.
The venue includes a terrace that smokers can enjoy freely and where non-smokers can inhale the panoramic Istanbul view. The walls are lined with bookshelves of all shapes and colours, with books, objects and knick-knacks all along the shelves. The seating arrangements are varied, our favourite being the socialising corner, with its long table that recalls a picnic table and large bowls of tomatoes, limes and lemons. There is a bar on one side with bottles, glasses and a sink. The section that leads out to the terrace is covered in glass from floor to ceiling, and famous quotes about lemonade are scribbled on blackboards along the highceilinged walls that surround Limonata. The kitchen is open, which is perfect for those who are curious to see what goes into their food and how it's made. The bar, where green apple and melon lemonades, as well as specially mixed cocktails, are made, is as big an attraction as the kitchen.
It's impossible to skip dessert at Limonata, since the dessert buffet includes bonibons, cookie jars, peach and apricot clafoutis, apple candies, chocolate cupcakes, brownies, marshmallow lollipops, biscotti, lemon tart and should we continue? The pizza oven in the entrance is a good place to hang out when you can't find a seat, but it's impossible to resist the mini pizzas, which means you're full before you even reach your table. There's something for everyone on the menu here. Pastas and risottos are listed under the 'Limonaid fat menu,' while white and red meat dishes, as well as pizzas and steakhouse alternatives are listed under the 'oradan buradan' menu. There are the dishes that have changed shape thanks to Limonata, like the entrecote posing as döner. It's oven-roasted with hummus and served with a yogurt-and-purslane sauce. It's a must-try.
From the Menu
Soup of the Day 7 TL
Omelette 10 TL
Falafel-to-go 16 TL
Risotto-like pizza 14 TL
Entrecote-like döner 19 TL
Blue moon limojito 20 TL
Venue name:
Limonata
Contact:
Address:
Teşvikiye Caddesi City's (sinema katı)
İstanbul


Opening hours:
Daily 12.00-02.00.